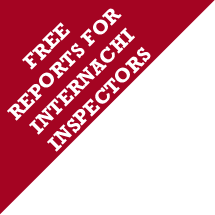 InterNACHI Inspectors
Get With The Program!

For iPads and Android Tablets

*All tablets actually
---
We think you'll love for tablets.

It's fast. Seriously fast, and easy to use. Record your findings during inspections with no internet connection, then upload to our website to publish the final report. This software was designed by inspectors, tweaked, tuned and refined for speed and ease of use.

Try it out right now with your desktop computer. Or watch a 1-minute video
There's no software to install. Simply vist the link below and add a user account with guest for the username and inspector1 for the password:

https://www.reporthost.com/rh4t2.asp

Enter this link in your tablet's browser if you want to try it out on your tablet. We don't think you'll need it, but if you do, here's a tutorial. By visiting the rh4t2.asp link above, you agree to ReportHost's terms of use.
"Love love love the tablet version. I am using an Acer Iconia Android. I had bought AHIT's Inspectit back in August but the sluggish response and speed of use has made me stop using it and go back to ReportHost. This is by far the best in-the-field reporting software going right now. I've tried the Android versions of allinspections, 3D, Quikreports, and obviously AHIT's Inspectit. Just can't top the usability and speed. Speed speed speed is the #1 issue that I am after. Your use of HTML5 and making the in-field product the same as what is displayed back at the office computer is awesome. This product flat out works wonders for me speed-wise. I just did a 2200 sq ft inspection in 2 hours and now all I have to do is throw in the pics and I'm done. Can't say enough good things about the product. You've won me back with the technology. Thanks for making something so unique and functional."
-Glenn Fricke, DG Construction & Inspections
---
Don't have a tablet or mobile computer? No problem.

You can use ReportHost's printed field notes during inspections, and then enter your findings in our easy-to-use web forms. Our field notes match what you see on RH Mobile, so if you ever decide to upgrade to a tablet you'll be right at home and ready to work. Even if you do use RH Mobile, it's good to keep a copy of your field notes with you in case you tablet fails or if its batteries die. Watch a 1-minute video

InterNACHI inspectors get 15 FREE REPORTS with

Sign up with ReportHost now and receive 15 FREE reports! Your free reports never expire. There are no up-front costs with ReportHost. We only bill you after you use up your free reports. Pay per report, or choose our subscription plan that can bring your cost down as low as $0.50 per report.

You get more with

Our tablet software and easy image resizing/uploading software is FREE. We back up your published reports and customized report templates nightly for FREE. Software upgrades and support are FREE. Your customizable ReportHost home page is FREE. Hosting your reports and sample reports is FREE. Professional report writing templates with thousands of pre-written, field-tested comments are FREE. Learn more.

ReportHost's web-based service means there is no software to buy or install, bringing a peace of mind that traditional software can't. You can write and access your reports from any computer with an internet connection.