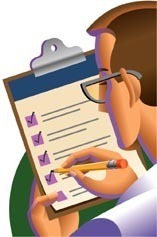 Receive 10 free reports!
From clients:
"What an awesome report! I have NEVER seen such a clear, understandable, helpful report."
"This is the most incredible, informative, thorough inspection report I've ever received!"
"Your reports reflect your professionalism. Thank you for doing such a great job."
"The report is great - the information presented and the pictures are terrific. It appears to be a report that will be hard to dispute or argue about."
"Wow, this is awesome, complete with digital photos & icons. This is interesting and informative. Thank you so much for the report and your time and professional analysis."
"BTW, this report looks GREAT!"
Publish the best reports in the industry with

ReportHost is a web-based service for writing home and property inspection reports- no software to buy or install, bringing a peace of mind that traditional software can't. Write and access your reports from any computer with an internet connection. Work off-line in the field using your mobile device.
Sign up with ReportHost now!

10 Free reports (15 for ASHI, InterNACHI, CREIA, NAHI or NASHI members, and students)
Free software for iPads, Android tablets and others (e.g. Kindles)
Free upgrades, support, maintenance and additional user licensing
Free fully customizable report templates with industry standard narratives
Free on-line report and document hosting
Free customizable home page indexed by all major search engines
Pricing as low as $0.50 per report, and only after you use up your free reports.

Watch a 1-minute video overview of ReportHost
Try us out right now!

(No software to install, no registration required)


Special offers:

FREE twelve month ASHI membership!
Two Great Ways to Inspect
ReportHost for tablets

Video

Fast, flexible way to record your inspection findings with iPad and Android tablets, or any portable device with a web browser. No internet connection is needed during inspections. It's free!

Start your report while you're on-line.
Record your inspection findings off-line.
Upload your report to our website, then publish.

Printed field notes

Video

Low tech, simple way to write reports. All you need is a clipboard, pen and a web browser.

Print field notes from your report template.
Record your inspection findings with your field notes, pen and clipboard.
Enter your notes through our website forms, then publish.
Publish reports through our website with our web-based service
Your reports and templates are hosted on our servers and backed up nightly.
Deliver reports by simply sending a link to a report in an email. No faxing, printing or email attachments are needed.
Publish reports with any operating system (Macintosh, Windows, Linux, etc.) from any computer with an internet connection and web browser.
Easily reload, revise and republish your previously published reports.
See when your reports were first visited, last visited, and how many hits they've gotten.
Your reports are secure on our servers, and can't be tampered with.
Download inspection/client information
Upload published report PDFs
---
Lately I have been receiving offers from many companies that claim there home inspection software is the best and easiest inspection reporting software. Well to get right to the point, I have been using Report Host from the start of my business, Report Host is the best and only inspection software I use and will ever use. I recommend your home inspection report system to all Inspectors and all in training inspectors. I get praise from all my clients and realtors about my reports, thank you for making my business more successful. YOU GUYS ROCK!!!!
- Dave O'Donnell
ProToCall Home Inspections
---
I get rave reviews on my reports and quality of pictures and ease of opening when I send to customers..THANK YOU FOR A GREAT report format.... you make me look good.
- Jerry Lozier
Jerry Lozier Home Inspections, LLC
---
"I was using ReportHost ever since I started doing inspections, then I took a few years off to follow another business opportunity. I returned to doing inspections and of course returned to ReportHost only to find a great product even more improved, I wouldn't consider any other method of reporting! My clients say how professional and thorough the reports are, and they love the informative links included. Keep doing a great job!"
- Michael Saxton
"House and Home" Inspection Services
---
"Over the past six years, I have until now tried many different software programs, approx. 6 including Homeguage and Porter Valley InspectVue. Your system is by FAR the best there is to offer. It is the most reliable and fail safe software, and especially for multi Inspector Companies, just like ours. If you want to compete with the top inspector companies, then you better go with Reporthost Pro/Tablet PC. Using your software has resulted in me to grow from an individual home inspector based company six years ago to a multi-inspector company with six inspectors, and still growing. There is just no other alternative!"
- Gary Williams
A Sure Look Home Inspections, LLC
---
"I would just like to say thank you for this wonderful software. I have tried all the demo reporting software out there and nothing beats ReportHost."
- Vaughn Hill
Monroe Home Inspection
---
"Just wanted to take a second and let you know, that you guys are the best. My customers love their reports and never have any issues reading and understanding them. I get a lot of compliments and have many for you from me. I am proud to say that I use ReportHost for all of my reports and I couldn't be happier. Thanks guys"
- PJ Greenwell
Greenwell Home Inspections of Central FL, LLC
---
"As always, ReportHost is the most outstanding inspection reporting system out there. It really sets me apart from the other inspectors as my clients all tell me that it's format and structure appears to be so clean, easy to read and understand. Just wanted to say thanks for making your product the best available and for making me look even better to my clients."
- Joseph Smith
Treasure Valley Maintenance & Inspections LLC
---
"Hi, I am a real estate agent in Portland, Oregon and the inspector I was using used your report format which I liked. He just moved out of the area and I am looking for a new inspector. Can you give me a couple inspectors names from the Portland area that use this service? Thanks Greg"
- Greg Herson
Real Pro NW Real Estate
---
"I still constantly get compliments on my reports. People are really impressed with the format. You have as fine a product as I have ever seen. I appreciate the fact that you guys constantly make it better."
- Michael Dove
Home Buyer's Inspection Service
---
"When I took my " Pass the Exam " course, there was an ad leader on the sales info that said "Win a Free Suite of Reporting Software". During the course, the instructor told us, "Whoever gets the highest passing score on their first time taking the state exam, will win the $750 suite of software for reports, etc. Well, I got the best grade, and I got the software, complete with free yearly upgrades. Isn't it funny though, I use ReportHost instead."
- Lance Ben Yisrael
Integrity Integrated Services
---
"As a new home inspector, I was perusing sample home inspection reports from other companies who did not use Reporthost. All I can say is the difference is night and day.Thank you for providing such a cost effective and intuitive software.Your hard work and dedication is truly appreciated."
- Lyndon Leong
On Point Home Inspections LLC
---
"ReportHost, you are the best reporting system available. My clients love the report. The realtors and attorney's love the report. I think by using pictures it takes the guess work out of what is being inspected. It is the best for clients that can't be present during the inspection. Keep up the great work!"
- Dave Reynolds
New York State Home Inspections
---
"Just thought I'd share.....we are getting RAVE reviews on our reports. We do about 2 inspections per day and hear wonderful feedback once or twice each day! Most go on and on about how easy they are to read etc."
- Aaron and Peggy
Travis Real Estate Inspections, Inc.
---
"You know, I've used your report writing site well over 100 times and I sit here still wowed as to how nice it is to use and totally customize to my liking. Looking forward to the next 1000."
- Mike Gauthier
INSPEC
---
"I feel like I just found a $1000-bill laying in the street; you just stripped that much off my planned start-up costs!!! Your system ROCKS, and I look forward to a long future with ReportHost."
- Brandon Nelson
Brandon Nelson Home Inspections, LLC
---
"I have only written 5 reports with ReportHost, but already I love it. It is my only choice now. After my last report I got my first ever letter of appreciation and it specifically mentioned the report. You are now a vital part of my company's reputation. Thanks for the wonderful product, keep it up."
- Daniel R Frend
Freestate Home Inspection Services, LLC
---
"Today I used your ReportHost Report System for the first time, and although I made a few mistakes, once I went through it, it was very easy to use, informative, and I can't thank you enough for the great product. Guess which Report system I'll be using from now on - I especially like the "Summary Page" this will be great for Realtors that don't have time to read through 30 pages of reports."
- Ron Bracklow, PE
B & B Property Services
---
"Let me say that I think your product is FANTASTIC! It's so good I am sorry to say that I won't share it with my peers."
-Mark Smith
Hill Top Home Inspections Inc.
---
We use the ABCpdf PDF component for HTML to PDF conversion.