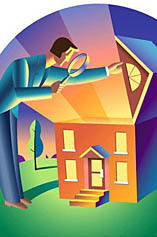 Home
Try us out right now!
Features
How it works
A report explained
Sample reports
ReportHost for tablets
Report templates
Schools and students
Pricing
FAQ
Contact ReportHost
Sign up now
Receive 10 free reports!
From clients:
"What an awesome report! I have NEVER seen such a clear, understandable, helpful report."

"This is the most incredible, informative, thorough inspection report I've ever received!"

"Your reports reflect your professionalism. Thank you for doing such a great job."

"The report is great - the information presented and the pictures are terrific. It appears to be a report that will be hard to dispute or argue about."

"Wow, this is awesome, complete with digital photos & icons. This is interesting and informative. Thank you so much for the report and your time and professional analysis."

"BTW, this report looks GREAT!"
Sample Home and Property Inspection Reports
Inspectors use ReportHost's features in different ways to fit their business needs and personal styles - with flexibility to customize content, present your logo and company information in your own way, tailor (or chose not to include any) header and footer information at the beginning and end of the report, size and label photos in a variety of ways, duplicate or delete or move sections and items, and more...
---
Residential
|
Commercial
|
Specialty

View
General Home with Structural Pest Inspection: This inspector makes full use of the header at the top of the report (the language between "View summary" and "How to read this report"), and the footer at the end (where he includes his follow-up inspection policy and Scope and Limitations). He draws widely from ReportHost's pre-written Limitations and Concerns. He uses ReportHost's "Limitations" language for each section of the report.

---


View
Residential home: This inspector customizes his comments to provide his client with lots of additional information.

---


View
Home with Pool: This inspector includes technical drawings as well as photos. He also inserts InterNACHI information for prospective buyers into the body of this report. He uses ReportHost's pre-written comments and concerns widely, along with Quicklinks included in a number of concerns.

---


View
Residential home: This inspector adds sections to the Table of Contents. He includes SOP information in the footer at the end of this report, and has chosen to include all Concern types in the Summary Report.

---


View
Residential home: This inspector has included multiple photos on the title page. His header is an explanatory note with his signature included. He makes extensive use of ReporHost's prewritten comments and concerns, including Quicklinks.

---


View
Residential home: This inspector includes his Agreement as the footer at the end of this report.

---


View
Townhouse: This inspector saves time by using his finger to point inside photos (rather than inserting an arrow later), and also includes technical drawings. He makes heavy use of ReportHost's pre-written comments and concerns.
---
We invite all of our active users to post up to 5 Sample Reports on our web site. This is as a service to our users to increase the visibility for their business and on the web. View all sample reports posted by active ReportHost users