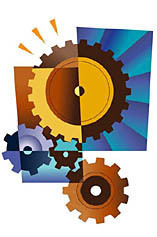 Receive 10 free reports!
From clients:
"What an awesome report! I have NEVER seen such a clear, understandable, helpful report."
"This is the most incredible, informative, thorough inspection report I've ever received!"
"Your reports reflect your professionalism. Thank you for doing such a great job."
"The report is great - the information presented and the pictures are terrific. It appears to be a report that will be hard to dispute or argue about."
"Wow, this is awesome, complete with digital photos & icons. This is interesting and informative. Thank you so much for the report and your time and professional analysis."
"BTW, this report looks GREAT!"
How ReportHost works
ReportHost lets you record home and property inspection findings with an iPad, Android tablet or other portable device. You can also record your findings with printed field notes, a clipboard and a pen. If you have a tablet or laptop, use our free ReportHost for tablets software, otherwise use field notes printed from your customizable templates. The steps below show both workflows for producing reports:
---

With ReportHost for tablets

Video
With an internet connection, start your report on your device by logging in to our website, choosing a report template, and entering the client name and property address.
Then with no internet connection needed, record your inspection findings and take pictures as needed. Select items that apply, fill in values where needed, and change default texts if needed. Your report gets saved automatically as you go.
At the end of the inspection, review your report with your clients.
With an internet connection, upload your report with its pictures to our website from your tablet or portable computer.

With printed field notes

Video
While logged in to our website, print field notes from your report template.
During the inspection, record your findings on your field notes by circling items that apply and writing information where needed.
At the end of the inspection, review your findings with your clients.
------ Then ------
With either ReportHost for tablets or your printed field notes
Log on to our website with a web browser.
Upload inspection pictures taken with your digital camera to our website.
Enter captions and add arrows or circles to pictures if needed.
Edit your report title and select one or more pictures for the title.
------ Then ------
With ReportHost for tablets
Assign any inspection pictures uploaded from a digital camera to specific report items.
Spell check and make final edits.
With printed field notes
Write your report by transcribing your inspection findings from your printed field notes to our forms on our website.
Assign inspection pictures to specific items.
Change text of items if needed. Add or delete items if needed.
------ Then ------
With either ReportHost for tablets or your printed field notes
Publish your report.
Deliver your report by sending a link in an email or printing it.
---
Which way is better?
You'll save time by using ReportHost for tablets since you avoid having to enter your written findings on our web forms. However if you don't have a tablet, printed field notes work great! They're simple, low-tech and 100% reliable. In fact we recommend you keep a copy of them with you or in your vehicle just in case something happens to your tablet (battery dead, dropped, etc.). They're a great backup.