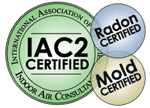 My Promise to You
Choosing the right home inspector can be difficult. Unlike most professionals, you probably will not get to meet me until after you hire me. Furthermore, different inspectors have varying qualifications, equipment, experience, reporting methods and yes, different pricing. One thing for sure is that a home inspection requires work, a lot of work. Ultimately a thorough inspection depends heavily on the individual inspector's own effort. If you honor me by permitting me to inspect your new home, I guarantee that I will give you my very best effort. This I promise you.
Specialist in Home and Building Assessments since 1993 serving Wayne, Oakland, and Macomb counties. Mold, Radon, Lead, Water, Asbestos, and Indoor Air Quality testing is also available from Tricor Inspection. Call to schedule a detailed inspection with free insect and mold assessments included.
Todd Beekman
Tricor Inspection LLC
Michigan Licensed Builder #2101105450
Inspected once, Inspected right! ®
http://www.tricorinspection.com
Whether you are buying or selling a home you should always incorporate the services of a home inspector that is certified by the International Association of Certified Home Inspectors (InterNACHI). That is why I have worked hard to become a member of InterNACHI and I promise to provide you with excellent service.
As an InterNACHI member I:
* Pass InterNACHI's Online Inspector Examination every year. This general, not association-specific exam is an industry standard required by InterNACHI and some state licensing boards,
* Adhere to the industry's largest, most comprehensive Standards of Practice,
* Abide by InterNACHI's Code of Ethics,
* Follow a strict continuing education policy that requires, among other things, that I receive 24 hours of continuing education each year,
* Have completed InterNACHI's ethics "obstacle course" which ensures that I am aware of my ethical duties as a home inspector,
* Have signed and submitted an affidavit legally agreeing that I have and will continue to adhere to all InterNACHI standards, see
http://www.nachi.org/sop.htm
ethics and education requirements.
A Full Inspection Includes:
As a InterNACHI member I must adhere to InterNACHI's Standards of Practice. This means I will attempt to inspect all of the following (when accessible):
* Roof, vents, flashings, and trim,
* Gutters and downspouts,
* Skylight, chimney and other roof penetrations,
* Decks, stoops, porches, walkways, and railings,
* Eaves, soffit and fascia,
* Grading and drainage,
* Basement, foundation and crawlspace,
* Water penetration and foundation movement,
* Heating systems,
* Cooling systems,
* Main water shut off valves,
* Water heating system,
* Interior plumbing fixtures and faucets,
* Drainage sump pumps with accessible floats,
* Electrical service line and meter box,
* Main disconnect and service amperage,
* Electrical panels, breakers and fuses,
* Grounding and bonding,
* GFCIs and AFCIs,
* Fireplace damper door and hearth,
* Insulation and ventilation,
* Garage doors, safety sensors, and openers,
* And much more...
What Really Matters
Buying a home? The process can be stressful. A home inspection is supposed to give you peace of mind, but often has the opposite effect. You will be asked to absorb a lot of information in a short time. This often includes a written report, checklist, photographs, environmental reports and what the inspector himself says during the inspection. All this combined with the seller's disclosure and what you notice yourself makes the experience even more overwhelming. What should you do?
Relax. Most of your inspection will be maintenance recommendations, life expectancies and minor imperfections. These are nice to know about. However, the issues that really matter will fall into four categories:
1. Major defects. An example of this would be a structural failure.
2. Things that lead to major defects. A small roof-flashing leak, for example.
3. Things that may hinder your ability to finance, legally occupy or insure the home.
4. Safety hazards, such as an exposed, live buss bar at the electric panel.
Anything in these categories should be addressed. Often a serious problem can be corrected inexpensively to protect both life and property (especially in categories 2 and 4).
Most sellers are honest and are often surprised to learn of defects uncovered during an inspection. Realize that sellers are under no obligation to repair everything mentioned in the report. No home is perfect. Keep things in perspective. Do not kill your deal over things that do not matter. It is inappropriate to demand that a seller address deferred maintenance, conditions already listed on the seller's disclosure or nit-picky items.
Pre-Listing Inspections
Eventually your buyers are going to conduct an inspection. You may as well know what they are going to find by getting there first. Having an inspection performed ahead of time helps in many other ways:
1. The seller can choose a certified InterNACHI inspector rather than be at the mercy of the buyer's choice of inspector.
2. The seller can schedule the inspections at the seller's convenience.
3. It might alert the seller of any items of immediate personal concern, such as radon gas or active termite infestation.
4. The seller can assist the inspector during the inspection, something normally not done during a buyer's inspection.
5. The seller can have the inspector correct any misstatements in the inspection report before it is generated.
6. The report can help the seller realistically price the home if problems exist.
7. The report can help the seller substantiate a higher asking price if problems don't exist or have been corrected.
8. A seller inspection reveals problems ahead of time which:
1. might make the home show better.
2. gives the seller time to make repairs and shop for competitive contractors.
3. permits the seller to attach repair estimates or paid invoices to the inspection report.
4. removes over-inflated buyer procured estimates from the negotiation table.
9. The report might alert the seller to any immediate safety issues found, before agents and visitors tour the home.
10. The report provides a third-party, unbiased opinion to offer to potential buyers.
11. A seller inspection permits a clean home inspection report to be used as a marketing tool.
12. A seller inspection is the ultimate gesture in forthrightness on the part of the seller.
13. The report might relieve a prospective buyer's unfounded suspicions, before they walk away.
14. A seller inspection lightens negotiations and 11th-hour renegotiations.
15. The report might encourage the buyer to waive the inspection contingency.
16. The deal is less likely to fall apart the way they often do when a buyer's inspection unexpectedly reveals a problem, last minute.
17. The report provides full-disclosure protection from future legal claims.
Copies of the inspection report along with receipts for any repairs should be made available to potential buyers.
Contact me to schedule a pre-listing inspection today.
http://www.westbloomfieldhomeinspection.com/
INSPECTION AGREEMENT
Click on the "Sample Report" link at the top of page to review
Click on the link below to review and print the "Standards of Practice" document.
http://www.nachi.org/sop.htm