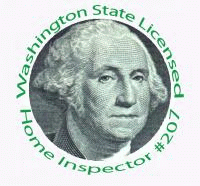 King of the House, Inc
Steven L. Smith, President
Washington State Licensed Home Inspector #207
Washington State Licensed Structural Pest Inspector #69078

Thank you for using King of the House, Inc. for your home inspection. I know your home inspection is very important to you. And your business is very important to me. If I can help in anyway after the inspection, please call or Email me at the Email address or telephone number provided on this report. And, if you are happy with King of the House, Inc. please refer my company to your friends, your realtor and anyone you believe could benefit from my services. King of the House, Inc. not only performs inspections for purchasers, but also for people planning to sell a home who wish to estimate the amount of work that needs to be completed before listing the house.

A home inspection is a visual, and not an exhaustive or invasive, inspection of a home by a trained and impartial inspector. Your King of the House inspection adheres to the standards of the practice of the state of Washington.

Steven L. Smith is the lead instructor for the state approved Fundamentals ofl Home Inspection Training Program taught by Bellingham Technical College, an accredited state college. Smith has, also, been appointed by the Governor to serve on the Washington State Home Inspector Licensing Board.

This report includes an inspection for wood destroying organisms (WDO'S). More detailed information on this topic, and a suggestion as to how to more effectively use Form 17, the Real Property Transfer Disclosure Statement, is provided under general information. By law the State of Washington mandates that I inspect for, and report on, WDO infestations or conditions that are conducive to attracting WDO's.

Every King of the House, Inc. report includes photos and descriptions detailing the locations of areas of concern as noted by the inspector. Despite the photos and specific information provided, if during this inspection wood destroying organisms or conditions conducive to wood destroying organisms were found, I want you to know: WAC 16-228-2045 REQUIRES THAT A DIAGRAM BE PREPARED FOR WDO INSPECTION REPORTS. A COPY IS AVAILABLE UPON REQUEST.

SUMMARY: NEAR THE TOP OF THE REPORT, LEFT CORNER, CLICK ON "VIEW SUMMARY". THIS SUMMARY WILL IDENTIFY THE MOST SIGNIFICANT ONSITE ISSUES.
---
How to Read this Report

This report is organized by the property's functional areas. Within each functional area, descriptive information is listed first and is shown in bold type. Items of concern follow descriptive information. Concerns are shown and sorted according to these types:
| | | |
| --- | --- | --- |
| | Cautionary | Safety concern |
| | Replace-Repair | Replace or repair |
| | Repair-Maintain | Repair and maintain over time |
| | Review-Evaluate | Professional to review, service, repair, replace or, as applicable, client(s) to evaluate information and determine personal level of concern |
| | Maintenance-Service (repair) | Maintain, service or repair |
| | Onsite notes | Onsite observations and suggestions |
| | Informational | Background-informational comment |
| | Infestation | Evidence of the presence of, or damage from, wood destroying insects |
| | Damage | Deterioration, damage or rot as a result of weather exposure or wood destroying organisms |
| | Conducive conditions | A condition that may attract wood destroying organisms (Wood-soil contact, water leaks, etc.) |
Click here for a glossary of building construction terms.Contact your inspector If there are terms that you do not understand, or visit the glossary of construction terms at https://www.reporthost.com/glossary.asp
General information
Inspection overview:
This is a visual inspection performed to meet with the Washington Standards of Practice and applicable state guidelines. Limitations and exclusions are described in the inspection contract and the written report. Issues, concerns or recommendations have been referenced in appropriate sections of the report.
---
*Clickable hyperlinks make it possible for clients to navigate to photos, videos and additional information.


*Clickable links are operational if a report is accessed from an "online" computer: Lesser operating systems in Smartphones may not support full functionality. If reports are saved and viewed in PDF format, access to hyperlinks will be restricted as a result of limitations in Adobe software.
---
Structures inspected: Home and carport
Time started: 10:00AM
Time finished: 1:30PM
Present during inspection: Owner
Occupied: Yes
Age of building: 50 years
Main entrance faces: West
Weather conditions: Cold, near freezing temperatures
Ground condition: Damp, partially frozen, minimal snow
1)

This is an older home, 50 years of age. Therefore, since it was built long before 1982 -- when a number of regulations went into effect -- it may contain paint with some lead, asbestos products or knob and tube wiring. For additional information on asbestos and lead, please follow this link:
http://goo.gl/ObX8A0
2)

Professional qualifications of workers: In most reports, I recommend that upgrades or repair work be performed by a "qualified person" or "qualified parties". I consider qualified parties, in the licensed trades and professions, to be those individuals who hold the necessary state or local licenses or permits to legally work in their field -- licensed electricians, licensed pest control applicators, licensed plumbers, licensed HVAC technicians, licensed engineers, licensed general contractors, licensed building architects, licensed landscape architects, etc. In instances where repair work may be legally done by an unlicensed party, it is my recommendation that the repair person be, based on past training, experience or expertise, "qualified" to complete the job at hand and to, at that time, also be capable of further evaluating the situation and making further recommendations and completing any related repairs or upgrades. Any work performed by licensed and/or qualified parties should include, as applicable, obtaining necessary permits from the state, the county or the city.
3)

Form 17/Limitations: Form 17 is a required disclosure statement at all real estate transactions conducted in the State of Washington. King of the House, Inc. encourages you to read Form 17, as it is frequently not provided to the home inspector. This crucial disclosure consists of about eighty questions pertaining to the home. By law, a seller is required to disclose on this form many details about the home and property, which may or may not be observable at the time of inspection. For example, the seller's disclosure could reveal hidden but known defects in materials or products used in construction of the home; well or water supply problems; known health or environmental concerns such as mold, underground fuel storage tanks, chemical pollutants, or a history of seasonal water, flooding, pest infestations or fire damage, etc.
4)

Wood Destroying Organisms: This report will conform to the standards of practice for home inspection. Evidence of wood destroying insects, or related activity, was seen on-site, therefore, the report will, also, conform to Washington State Department of Agriculture (WSDA) rules, which regulate structural pest inspections. This is a complete wood destroying organism (WDO) inspection -- a good faith effort on the part of the inspector to report visual signs of wood decay fungi and wood destroying insects. "Conducive conditions", deficiencies that the State of Washington has defined, can contribute to the likelihood of WDO infestations on the premises and will also be reported. When conducive conditions are noted, I recommend correcting any such problems. The WSDA inspection control number, assigned to this inspection, is at the top of the report.
5)

Furnished home/general limitations: This home is furnished; therefore, numerous counter, under sink, closet, window, wall, floor, and/or ceiling surfaces were obscured by personal effects, window coverings, rugs, carpets, collectibles, furniture and other items, limiting the inspection of some areas. Appliances and furniture are not moved. Belongings stored on window sills are not moved to operate windows. Significant storage or personal items, under sinks and cabinets, will not be moved to gain access. Insulation, when present in crawl space and attic areas, obstructs visibility. In general, areas that are blocked or not readily visible or accessible because of belongings, storage or objects are excluded from the inspection. A representative number of structural components are viewed, not every area. The high exterior locations at the home such as siding, trim or soffit areas below eaves, due to safety and typical access issues, may be viewed from the ground and not from a ladder. High electrical receptacles, under eaves, may not be evaluated.
Site and Exterior
Foundation material: Concrete block
Apparent wall structure: Wood frame
Wall covering: Wood shingles; T1-11 laminated wood panels
Exterior trim: Wood
Exterior door material: Solid core wood 2x; sliding glass, aluminum 1x
Windows: Single pane, wood
Front porch/landing, etc: Concrete
Secondary porch(s)/landing(s), etc: Concrete (north); Concrete patio (back)
Driveway material: Poured in place concrete
Sidewalk material: Poured in place concrete
Gutter/downspout material: Wood gutters; Galvanized steel downspouts
6)


The old wood gutters are decayed (rotted), leaking and loose. Metal downspouts are rusted and leaking as well. I recommend further review by gutter installation professional: Install new gutters and downspouts. As applicable, to divert runoff water away from the building, install extensions such as splashblocks or drain lines. To obtain additional information on downspout extensions and drainage, please follow this link:
http://goo.gl/shhp8o
7)


Some areas of structural material, under the soffit, siding and trim are decayed (rotted) and paint is failing. I recommend that a qualified general contractor further evaluate and locate all damaged wood. Then remove it and replace with sound material. Then prep (scrape, sand, prime and caulk) and repaint the home. A short video, produced by King of the House Inc. on the topic of rot, may be accessed at this link:
http://youtu.be/6p8q1Pa1H_U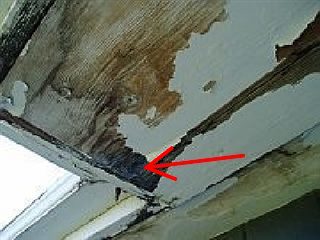 8)


Windows: The windows are single pane glass and some window panes are broken. Also, window glazing compound has deteriorated and there is rot at wood trim around the windows. I recommend that clients have these windows replaced with new, energy efficient double pane windows. At that time, also, remove any decayed wood and replace with sound materials. All work, and further evaluation, should be completed by a licensed contractor.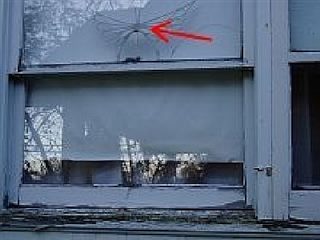 9)


The corrugated overhang/roof that covers the back patio has inadequate slope. Instead of runoff being routed toward the front edge, water is being diverted back against the house. This condition has caused staining and decay (rot) of the structural lumber and siding where the corrugated roof attaches to the house. I recommend further evaluation by a qualified contractor, remove all decayed material and replace it with sound wood. Additionally, have the improper slope of the roof altered, so runoff water is no longer diverted toward the house. When work is complete, paint the surface to protect against moisture.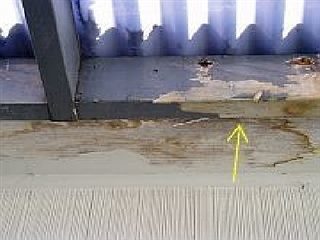 10)


Soil is against siding and/or trim at the front of the house. This has been defined by the State of Washington as a conducive condition since soil against wood or any structure, except for the concrete foundation, is likely to lead to wood rot. I recommend removing soil from contact with structure and grading earth at a slope ratio of 1" per foot, for at least 6 feet out from the building, so water is directed away from the structure. It is not always attainable but 6" of clearance from earth is recommended at wood siding/trim. When work commences, if decay is found to be present, repair-replace materials. Any work to be completed by qualified party.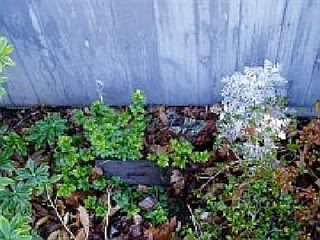 11)


Vegetation (plants, trees, shrubs, vines) is in contact with the building's exterior at the front and the back. This obscures the view of some areas and it has been defined by the State of Washington as a conducive condition. I recommend cutting back vegetation so there's at least a 2 " gap (more space is better still) between plants and the exterior. The suggested guidelines allow exterior building materials, or roofing, to dry quickly after rainfall and eliminate pathways that might be used by pests. All work to be completed by qualified party. A video, descriptive of other commonly seen "conducive conditions," is available here:
http://goo.gl/CPMASl
12)

The cracks and height variations in the flat surface concrete (driveway, sidewalk) are cosmetic in nature and not tripping hazards at this time.
Attached carport
13)


There is decay (rot) at structural lumber at the N/E corner of the sill where the wood attaches to the concrete footing. I recommend further review by general contractor: locate and remove all decayed lumber, replace with sound materials.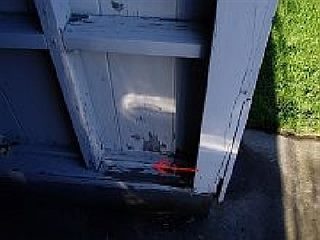 14)


The carport roof has failed and is in the same condition as the roof at the home. I recommend replacing this roof when the deteriorated house roof is replaced, work to be completed by roofing contractor.
15)

Gutters/downspouts: Wood gutters at the attached carport, as was the case at the primary residence, have rotted and leaks are apparent. I recommend replacing gutters and downspouts on the premises.
Roof
Roof inspection method: Viewed from eaves while standing on a ladder
Roof type: Sloped 4/12 to 5/12 approx
Roof covering: Wood shakes
Estimated age of roof: 30 years
Roof ventilation system(s): Skip-sheathing; Gable vents
16)


Fire safety: The chimney, center of the house at the ridge, is too low to the roof. A chimney crown should be at least 3 feet above the roof surface. This chimney is only 18" over this wood roof. Additionally, where the chimney passes through the roof, the metal chimney flashing is heavily rusted and prone to leakage. Spalling, a form of deterioration, is present at the bricks and the mortar has deteriorated. I recommend repairs/alterations, as might be required, with work to be done by a qualified chimney contractor.
17)


The shake roof is beyond its useful life. The shakes have decayed and the roof is leaking -- no longer keeping water out of the home. It was raining at the time of the inspection and obvious leaks, dripping water, from the roof up above were apparent in the attic. I recommend further evaluation by a roofing contractor, obtain an estimate for probable tear-off and replacement of roofing, appurtenances, etc.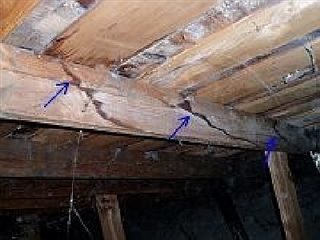 18)

Plumbing stack flashing leak: There is a hole in the roof where there used to be a plumbing stack, north end of the house. The stack is no longer protruding through the flashing, not filling the hole, so water is now entering the attic. This is, also, referenced in the "attic" section of the report.
19)

When it is possible to do so, safely and without damage to roofing materials or components, a home inspector will traverse the roof. The roof was wet, obviously slippery and wood decay was present. Therefore, this roof was not traversed because, in the inspector's opinion, trying to do so would be hazardous to the health and safety of the inspector. This is a necessary limitation to the inspection.
Attic
Inspection method: Traversed
Roof structure type: Rafters
Ceiling structure: Ceiling joists
Roof/attic ventilation: See the "roof" section of the report
Insulation material: Mineral wool loose fill
Insulation estimated R value: R-12
20)


Plumbing stack
: A sewer vent stack, north end, is cut too short and it terminates in the attic. This is an active vent, therefore, it will result in sewer gas being vented into the attic which is an unsafe condition. Such a stack MUST be vented to the outdoors. In a related matter, previously referenced in the "roof" section of the report, there is an open hole in the roof above this stack so rain is coming down into the attic. I recommend repair, work to be completed by qualified parties such as a plumber and a roofer.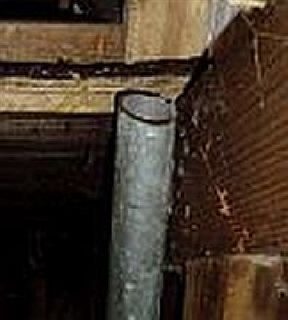 21)

Insulation in the attic is approximately R-12 which is minimal by current standards. Today an attic, typically, is insulated to R-38 to R-49. I recommend, after roof has been replaced, that client consider installing additional insulation for better energy efficiency.
22)

Skip-sheathing: At this roof, spaced plank or "skip-sheathing" is used. This is visible from the attic and it is a common way of venting shake roofs. With skip sheathing, 1" thick planks, with spaces between them, are the sheathing. The design allows the wood roof to dry from below. A schematic drawing of a common method of skip-sheathing is available at this link:
http://goo.gl/r06EGN
Electric service
Primary service type: Overhead
Primary service overload protection type: Circuit breakers
Make of panel: Federal Pacific
Location of main disconnect: None
Earth grounding electrode verified: Yes
Service conductor material: Copper
Service amperage (amps): 125 amp
Service voltage (volts): 120-240
Actual on-site service voltage read at 120V circuit (calculated at 240V circuit): 121-242
Location of main service panel: Carport south wall
Branch circuit wiring type: Non-metallic sheathed; Knob and tube
Signs of solid strand aluminum branch circuit wiring visible (Commonly used from 1965-1978): No
AFCI breakers (protection against fires in bedrooms) installed: No, recommended at bedroom receptacles and lights
GFCI protected receptacles (protection against shocks in damp areas) installed: No, recommended in certain locations, upgrade to meet present safety guidelines
23)


Knob and tube
wiring system: While much of it appears to have been replaced, energized knob and tube wiring was found in the attic. "Knob and tube" wiring was commonly installed until the 1950's. The circuits do not have an equipment ground and it is considered outdated by today's standards. The wire's insulation may become brittle and, as is the case here, often new circuits have been incorrectly tapped into the old wiring. It varies but some insurance companies may be unwilling to insure a home with knob and tube wiring. While energized circuits are present, it is not within the scope of the inspection to determine what percentage of wiring is knob and tube or to determine what percentage of the knob and tube wiring is energized vs abandoned. An electrician should evaluate knob and tube wiring and the electrical system and make repairs, or replace this wiring. To see a short video, produced by King of the House Inc., on the history and implications of knob and tube wiring, please follow this link:
http://youtu.be/Gn0NjKKAcVc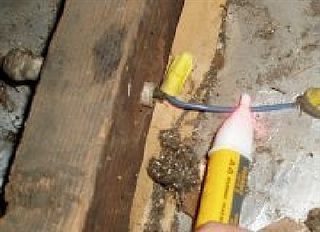 24)

The main panel was made by Federal Pacific Electric and it utilizes "Stab-Lok" circuit breakers. These circuit breakers are known to fail and they are considered to be unsafe and a potential fire hazard. Additionally, there is no main shut-off in this electrical panel. To turn off the circuits would require tripping more than six circuit breakers. This is a safety concern. The panel shows signs of corrosion and past water intrusion. I recommend replacement of this electric panel with work to be completed by a licensed electrician. For additional background information, including testing data and court cases, please follow this link to a short video that was produced by a Washington D.C. electrical contractor:
http://youtu.be/qSBpyM7oo8s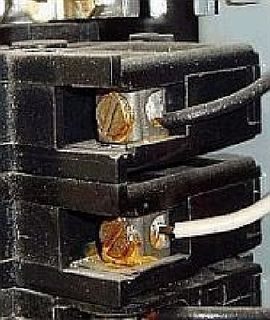 25)

Receptacles are not GFCI protected at the kitchen countertop. Other receptacles near water areas -- outside and baths -- are GFCI protected. GFCI protected receptacles reduce the likelihood of serious electrical shocks in wet environments. Licensed electrician to repair/replace as required onsite. GFCI protected receptacles should be, periodically, tested for function since they may fail unexpectedly. General guidelines for GFCI protection are included below:
* All outdoor receptacles located at grade level and at decks and porches
* Receptacles in garages and any other out buildings with a floor at or below grade level
* All receptacles, no exceptions, that are installed in bathrooms
* All receptacles installed to service kitchen countertop areas
* All receptacles within 6 ft of the outside edge of laundry, wet bar or utility sinks
* All receptacles located in crawl spaces, unfinished basements or mechanical rooms at grade level or below
* Receptacles supplying power to jetted tubs and pumps (ejector pumps and grinders, well pumps, outdoor pumps, etc.)
26)

An exposed/bare light bulb was mounted at the ceiling over the bathtub-shower. Any bulb located less than 8 ft over the threshold of a shower stall or the rim of a tub, if the light fixture is subject to spray, must have a UL "wet location" rating. Typically
wet location approved fixtures
are fully covered-enclosed. I recommend electrician repair, install proper light fixture over tub-shower.
27)

While they were not standard when the home was built, client should consider an upgrade to "Arc fault" or AFCI breakers for the bedroom circuits. These devices, which would be installed in the electrical panel, are not costly and reduce the risk of a fire by protecting against overheating or arcing of receptacles (outlets) or light fixtures in bedrooms. Electrical work be done by a qualified party such as a licensed electrician.
28)

I operated or tested a representative number of wall switches and receptacles. No defects noted. The inspector operates or checks a number of switches and receptacles but there is not a detailed analysis of the performance of three-way switches or switched receptacles.
Water heater
Type: Tank
Estimated age: 10 years
Energy source: Natural gas
Gas "on" to the water heater: Yes
Capacity (in gallons): 40
Make of water heater: AO Smith
Water shut-off valve: Yes
Flexible gas line connectors: No, flex connectors protect against damage to gas lines during a seismic event
Fuel/gas shut-off valve at heating appliance: Yes
Flame viewed at burner on gas/propane-fired water heater: No, not accessible or verified
Temperature pressure relief valve: Yes
Temperature pressure relief valve drain line: Yes
Temperature pressure relief valve drain line termination point visible: Yes
Seismic straps or struts: No, safety issue, consider installing proper straps
Water temperature degrees Fahrenheit (keep at/under 120 degrees to reduce the chances of scalding burns): 119 degrees F
29)

The water heater lacks
seismic bracing
, a condition that makes the tank vulnerable to tipping. I recommend installing approved seismic straps/bands: Work to be completed by qualified party such as plumber or HVAC technician. A diagram, that depicts the preferred means of installing seismic straps near the top and the bottom of a tank, may be accessed at this link:
http://goo.gl/IbE2pe
30)

The
temperature pressure relief valve drain line
is routed upward. This valve is an emergency device, but periodically small amounts of water could be discharged. If the drain is routed up, water can collect near the valve and that can lead to corrosion and impair the operation of the valve during an emergency. Therefore, drain line must be routed either down or horizontally. In light of the safety hazard, and specific prescriptive guidelines for TPRV drain line installation, qualified plumbing contractor to repair. A short video, produced by King of the House Inc., on the topic of TPR valves and drain lines may be accessed at this link:
http://youtu.be/iwCfEWvzYds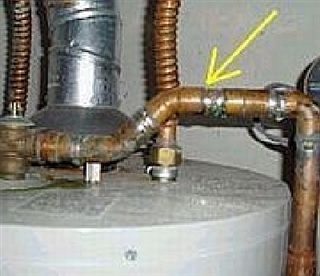 31)

The gas supply to the hot water heater is "hard" piped in. In the event of seismic activity, it is better to have an approved flex connector between the tank and the gas piping. That, typically uncomplicated, modification makes it less likely that the pipe will break loose from the tank if the tank is jostled during an earthquake. I recommend repair, work to be completed by an HVAC professional or a plumber.
32)

The estimated useful life for water heaters is 8 to 12 years. This water heater is ten years of age so it is nearing the end of its design life.
Heating and air conditioning
Heat system type: Electric -- Baseboard and fan-assisted (in-wall) heaters
Heater brands: Marley baseboards, Cadet in-wall heater
33)

The heater in the kitchen operated when it was tested, but it is a Cadet model FX in-wall unit. This heater has been recalled, due to safety concerns, by the Consumer Products Safety Commission. I recommend that a licensed electrician further evaluate and repair/replace heater.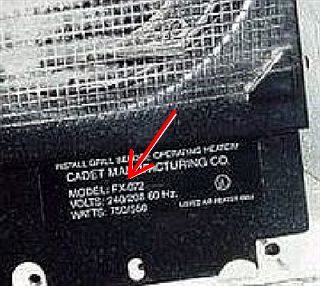 34)


Flammables, primarily drapes, are in close proximity to the electric heaters. Manufacturers' specifications vary, but electric heaters attain high temperatures. A thermal image of an electric heater, and nearby drapes heating up, gives insight into the fire-safety problem created when heaters are too close to drapes or other combustible materials including furniture. I recommend immediate repair: Maintain, as minimums, 6" of clearance above and at least 2"-3" of clearance in front of all heaters.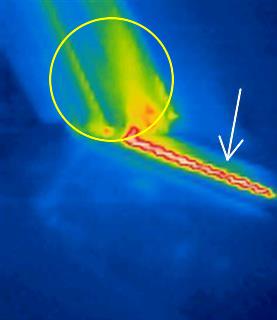 35)

Electric heaters: The heaters were turned on and they were functional. On a widespread basis, lint dust and debris was present inside heaters. In the case of all electric heaters, the devices are manufactured with long design lives, but they require periodic cleaning. Foreign matter can block airflow, negatively impact efficiency, and increase the risk of fire. High voltage is present inside electric heaters: If covers are removed, circuit breakers to heaters must be TURNED OFF and "locked-out" prior to opening heaters. An instructional video, descriptive of how to safely maintain and clean electric baseboard heaters, was prepared by an electrical contractor:
https://youtu.be/i-u0URPnUP0
Fireplaces and solid fuel burning appliances
Wood burning stove type: Metal
Chimney type: Masonry
36)

Wood burning stove hearth is less than 18" deep to the combustible floor. This creates a risk of fire, as a result of falling embers, when the door to the fire chamber is opened. I recommend purchasing a non-combustible hearth pad, the simple remedy, or extending the non-combustible hearth so it is at least 18" deep. Any work to be completed by qualified contractor.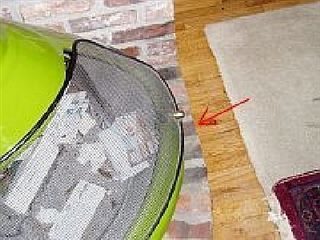 37)

By-products of burning (soot and creosote) are evident in the chimney up above and trash has been burned, obviously on a frequent basis, inside the wood burning stove. The National Fire Protection Association has stated that an in-depth Level 2 chimney inspection should be part of every sale or transfer of property with a wood burning device. The Level 2 inspection might reveal defects that were not apparent to the inspector who is a generalist. I recommend cleaning and further evaluation, Level 2 inspection, with work to be completed by a qualified chimney sweep. For detailed information on chimney inspections, please visit:
http://goo.gl/lavkcW
Plumbing and laundry
Gas meter location: Exterior north
Location of main water shut-off valve: N/W corner in crawlspace
Water service: Public
Service pipe material: Not visible, below soil
Supply pipe material: Copper
Plumbing vent stack(s) present: Yes
Vent pipe material: Plastic, Cast iron
Drain/waste pipe material: Plastic, Cast iron
Water pressure (normal is 40 to 80 psi): 60
Water pressure reducer in system: Not seen or verified by inspector
Water shutoff valves for sink(s): Yes
Proper P-traps present at sinks: Yes
Water shut-off valves for toilet(s): Yes
Location of readily visible plumbing cleanout(s): Crawl space
38)


The majority of the plumbing drain and vent pipes at the home are old galvanized steel or cast iron piping. Old metal pipe rusts and the material is, at this point, near the end of its design life. It is not within the scope of the inspection to determine what percentage of piping, much of which is concealed in walls or under insulation, is old metal pipe. I recommend further evaluation, estimate of replacement/repair costs, work to be completed by a qualified plumber. A video, produced by King of the House Inc., on the topic of old metal plumbing pipes may be accessed at this link:
http://youtu.be/oZj7x1aa_xk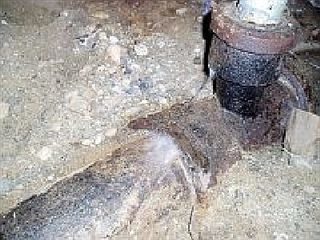 39)

Missing outside dryer hood. The duct from behind the dryer terminates inside the house at the kitchen -- where the dryer is located. This results in excess humidity and moisture being discharged into the home. I recommend installing a proper duct to the outside. Work to be completed, utilizing approved materials, by a qualified appliance installation professional.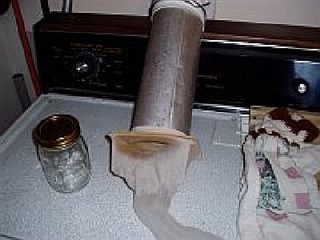 40)


The washing machine is installed in the kitchen and, so as to be able to drain the appliance, a hose has been routed through a wall to a drain inside a closet. Flexible hoses should not be routed through, inside, walls. I recommend repair, installation of proper piping and drain, work to be completed by a qualified plumber.
41)

Copper water supply pipes under the house are insulated, or wrapped, with old rolled-up newspapers. The paper has deteriorated. I recommend insulating supply pipes with modern
pipe-wrap
to protect them from freezing in cold weather. Work to be completed by qualified contractor.
42)


Sewer line scoping: This is an older property, may have original clay sewer line. Ascertaining proper function of a sewer line is beyond the purview of a visual inspection. Latent problems, including blockages or roots growing, might be present at a property of this age. I recommend further review, with work to be completed by a plumbing contractor who has the capability to inspect inside sewer lines-buried piping with a remote camera. A contractor produced video, descriptive of scoping a sewer line with a camera, may be accessed at this link:
http://youtu.be/wzLyg5QXiRk
43)

Laundry appliances, and accompanying faucets and connections behind the appliances, are not part of a standard home inspection and the devices are not routinely operated, nor are they moved, during the course of a home inspection. They are excluded from the inspection. Often laundry appliances are not part of a real estate sale and, regardless, running either a washer or a dryer through a single cycle does not reliably establish functionality. Function of the appliances is excluded, however, a brief description of the appliances and/or laundry facility is provided here. Both the washing machine and the dryer are Kenmore brand, the dryer is 240V electric. Appliances are located in the kitchen.
Crawl space
Inspection method: Traversed
Insulation material (type) underneath floor above: Fiberglass roll or batt (Typically R-11 to R-19)
Footing material: Poured concrete
Foundation/stem wall material: Concrete block
Support post and pier materials: Wood posts & concrete piers
Structural components: Joists and beams (wood)
Beam material: Solid wood
Floor structure above: Solid wood joists
Vapor barrier present: No
Bolts present at sill/foundation: No
Crawl space design/venting: Unconditioned (ventilated) space
Foundation vents at crawl space: Yes
Foundation vents in crawl space open: No, presently blocked by insulation on the inside
Location of crawl space hatch(s): Backyard
44)

There is no plastic vapor barrier ground cover over soil in the crawl space. This condition allows moisture in the soil to condense up into the crawl space or even into the home. That can lead to wood decay or other undesirable fungal issues. I recommend installing 6 mil black polyethylene with seams overlapped at least 24" so crawl space soil is covered. Hold plastic down with stones or bricks, not wood. Work to be completed by qualified party.
45)
At the north side, a concrete pier block is incorrectly installed. The block is designed to be installed with the opening in a vertical, not a horizontal, position. The built-in hollow channels should be vertically positioned. When channels are placed horizontally, a block has little strength and the block can be
crushed
. I recommend repair, replacing block and, as might be necessary, re-positioning blocks in the crawl space. Work to be performed by licensed general contractor.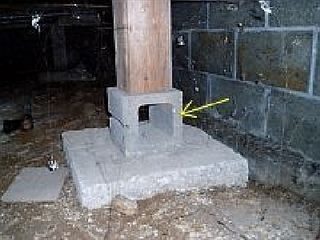 46)



The door over the crawlspace entry is decayed. I recommend door replacement. New door to be made of metal or a cement-based materials that will not decay, work to be completed by qualified contractor.
47)



Carpenter ants
: Live ants and distinctive wood frass were seen above the fiberglass batt insulation at the N/W corner of the crawl space. Qualified party to remove insulation and repair-replace any structurally compromised wood. Then have a licensed pest control operator/applicator further evaluate the home and, if necessary, perform a chemical treatment with a product that has been approved for the control of carpenter ants. See additional information, referencing carpenter ant activity inside the home, in the "interior" section of this report. A short video, produced by King of the House Inc., on the topic of carpenter ants may be accessed at this link:
http://youtu.be/mJ0WeumpF9U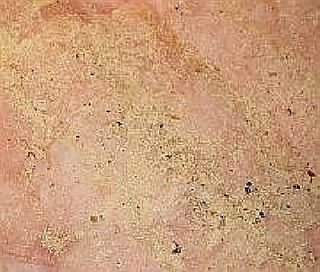 48)


Wood scraps have been discarded in the crawl space. To avoid attracting wood destroying organisms, I recommend removing and disposing of all non-structural cellulose materials including cardboard.
49)


Crawl space vent screen(s) are blocked by underfloor insulation. To establish cross-ventilation, I recommend pulling back the insulation so the vents are all open.
50)

The fiberglass batt insulation under the floor in the crawl space blocks the inspector's view of many areas. That is a limitation to the inspection.
Interior rooms
Floor surfaces: Carpet, Hardwood
Wall materials: Drywall, paneling
Ceiling materials: Drywall and plaster
Smoke detectors present: No -- install smoke detectors
Carbon monoxide alarms present: Insufficient number
51)

Smoke Alarms
: There are no smoke detectors on premises. I recommend installing smoke detectors so a functioning one exists (as applicable) on every floor and in each hallway leading to any bedrooms and in each bedroom. When gas appliances or wood or coal burning devices are present, there should also be a working carbon monoxide detector. Today's smoke detectors are inexpensive, effective and can be installed by almost anyone. Some also have carbon monoxide detectors built into them. Regardless, residents should test the functionality of detectors, upgrade from older units and replace batteries regularly. As is applicable, install a carbon monoxide detector.
52)

Carbon Monoxide Alarms
: A preliminary overview indicates that there are no carbon monoxide (CO) alarms installed on premises. An approved carbon monoxide (CO) alarm should be installed outside each separate sleeping area. These devices may be portable plug-in type, hardwired or built into smoke detectors. I recommend installing a suitable number of CO alarms.
53)

Tub/shower(s): There was one tub/shower inspected. There is a wide gap, a water entry point at the wall, next to the tub. The gap has been plugged with a paper towel. This deficiency can allow moisture entry into the wall. I recommend further evaluation, appropriate repairs, with work to be completed by a general contractor and/or a plumber.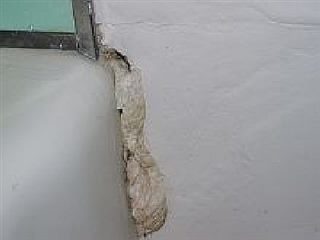 54)


Live carpenter ants
were inside the house on the guest bedroom carpet. When a number of ants are inside a house (live and dead ants on carpet) and multiple ants were seen in the crawl space, this would be defined by the state as an infestation: Seldom is it possible to locate all areas of carpenter ant activity or damage without invasive testing. A general contractor, familiar with the species, should carefully locate any structurally compromised wood, remove/replace with sound material. Eliminate conditions that are conducive to attracting wood destroying organisms and licensed pest management professional to evaluate present conditions and apply treatment in an appropriate manner. See additional comments, regarding carpenter ants, repairs and treatment, in the "crawl space" section of the report.
55)

Sink(s): The kitchen and bath sinks were inspected. The kitchen sink has been plumbed with an
S-trap vs. a standard P-trap
. An S-trap is a deficient design that can lead to siphoning, a dry trap and sewer gas odors entering interior space. The bath sink (pop-up) stopper is nonfunctional. I recommend that a plumber further assess and repair accordingly. To obtain additional information on correctly assembling plumbing traps, visit:
http://goo.gl/aB4xMf
56)


Bathroom is lacking an exhaust fan and the window is "fixed" -- does not open. I recommend installation of an exhaust fan, so steam and humidity from baths will be vented to the outdoors: Job to be completed by qualified contractor.
57)

The Broan exhaust fan in the kitchen was operable when tested. The unit/motor requires cleaning. I recommend cleaning, carrying out appropriate maintenance and repairs, with work to be completed by qualified party. All small household exhaust fans require periodic maintenance -- cleaning, oiling of motors or eventual replacement.
58)

There was wear, a tear in the carpet in the living room. I recommend repair or replacement, work to be completed by qualified party.
59)

The range is electric, Maytag brand. It was inspected. All burners operated, as did the broiler and oven (elements as applicable). It is small, an apartment sized unit.
60)

The refrigerator/freezer is Amana brand. It was operational at the time of inspection, no defects were noted.
61)

Toilet(s): There was one toilet inspected. No defects were noted. Moisture readings around toilet, read with a pinless meter, were normal range. This is an indication that there is not a leak at the wax ring and the flange.
62)

The microwave oven was portable, not built-in, and it was not inspected.
63)

Inspector has viewed walls, ceilings, doors, carpets, floors, cupboards, countertops, cabinets, closets, sinks, tubs, etc. Normally a home will show signs of past use so, unless specifically noted, the features appear to be typical. Some areas may be obscured by belongings, furniture, drapes, wall hangings or other storage. A home inspector is looking for significant issues and it is not the focus of the report to comment extensively on cosmetic matters (nail-pops, scuffs, blemishes, sliding drawers, etc), normal wear, minor mechanical wear or damage. Since the design and appearance of interior decor is important to a buyer and largely a matter of personal taste, I recommend that buyer ascertain prior to closing that the interior -- floor coverings, cabinets, cupboards, etc -- meet with personal expectations.
64)

A dishwasher was not present on the premises.
---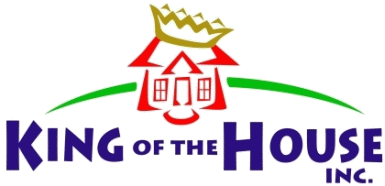 Home appliance estimated design life:
1. Gas furnace: 15-20 years
2. Gas boiler: 17-24 years
3. Oil furnace: 18-25 years
4. Electric furnace: 18-25 years
5. Heat pump: 15 years
6. Central air conditioning: 15 years
7. Water heater (tank): 8-12 years
8. Water heater (tankless): 20+ years
9. Range and oven: 18-20 years
10. Refrigerator/Freezer: 18-20 years
11. Dishwasher: 9-11 years
12. Microwave oven: 10 years
13. Range hood and fan: 14 years
14. Food disposal: 10-12 years
15. Garage door opener: 10 years
16. Laundry washing machine: 14 years
17. Laundry dryer: 14 years
18. Bathtub/Sink: 10-30 years
19. Smoke or CO detector: 8-10 years
20. Exhaust fans: 10 years
Home Maintenance Check List
Monthly:
1. Clean any removable dishwasher filters.
2. Purge food disposal by filling the kitchen sink with clean water, then turn on the device until the water drains through.
3. Wash refrigerator/freezer interior walls and door gaskets with a solution of one quart of warm water to two tablespoons of baking soda and wipe dry.
4. Vacuum and clean "return" air ducts/grills.
5. Inspect lighting fixtures and replace any burned-out bulbs.
6. Clean clothes dryer lint trap and/or duct for better energy efficiency and to decrease the risk of fire.
Quarterly:
1. Inspect and service doors by cleaning and lubricating latches, hinges or replacing weatherstrippings as might be required.
2. Inspect and repair, if necessary, exterior caulking and finish around windows, doors, and siding.
3. Replace/clean, at least quarterly, furnace, heating and cooling system filters.
4. Re-tighten knobs and pulls on cabinets. Clean and lubricate drawer tracks and guides.
Semi-annually:
1. Inspect and test smoke and carbon monoxide alarms. Replace backup batteries as might be required.
2. Test (GFCI) ground fault circuit interrupters and (AFCI) arc fault breakers.
3. Inspect and maintain/clean gutters and downspouts. Runoff water must be directed away from the home.
4. Inspect attics and substructure areas for rodent droppings or other signs of pests or leaks/standing water, etc.
5. Prior to the beginning of the rainy season, test sump pumps for adequacy and function.
6. Look for moisture or decay, outside and inside the house, where flat surface decks and landings attach to the home. This is especially important if the landings do not have proper flashings.
7. Clean range hood fan grills and housings.
8. Use a vacuum cleaner to remove dust on coils behind the refrigerator/freezer.
Annually:
1. Licensed contractor to inspect and service heating and air conditioning systems.
2. Professional contractor to inspect and service wood burning appliances and chimneys.
3. Seal any foundation cracks.
4. Inspect, clean and lubricate garage vehicle door tracks and test auto-reverse functions.
5. Clean and lubricate sliding glass door and window tracks.
6. Inspect exterior paint for cracking and wear. Repaint, caulk and seal as needed.
7. Reseal, as required, wood decks and landings.
8. Inspect, for water damage, pests or rot, any substructure and attic areas.
9. Inspect roof flashings, chimney caps, shingles.
10. Inspect outside electrical service lines for damage, exposed wires or proximity to tree limbs.
11. Inspect all supply hoses at sinks, toilets and washing machines.
12. Clean and repair caulking or grout in bathrooms or kitchens.
13. Clean bathroom exhaust fan blades and grills.
14. Inspect all electric cords and replace as needed.
15. Change water filters and have fresh water systems professionally serviced.
Tips for keeping drains clear:
1. Pour a pot of hot water down the drain once a week to help clear away fat or grease that may have built-up in the drain line or the P-trap.
2. If a drain is clogged, try pouring 1/2 cup of baking soda and 1/2 cup of white vinegar down the drain. Cover the drain and let the mixture sit for a few minutes. Then pour a pot of water down the drain.
General safety tips:
Ensure that you know where the following items are located:
1. Emergency contact telephone numbers.
2. Fire extinguishers and water hose pipes.
3. Heating gas/fuel main shutoff valve.
4. Main electrical disconnect circuit breaker(breaker box/service panel).
5. Main drain line clean-out.
6. Main water shut-off valve.
7. All window and door exits.
King of the House, Inc
Steven L. Smith, President
(360) 676-6908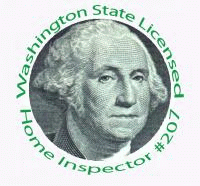 www.kingofthehouse.com
Email: kingofthehouse@comcast.net