Home Inspections of USA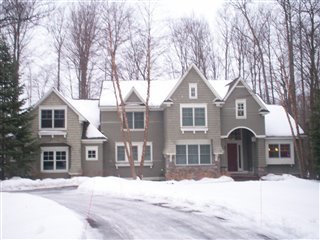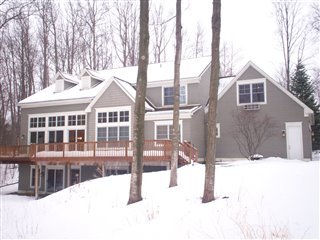 Home Inspection Report
Client(s):
John and Jane Doe
Property address:
123 Easy St.
Great Town, MI. 49770
Inspection date:
Friday, January 20, 2017
This report published on Friday, June 29, 2018 7:24:04 PM EDT
Thank you for choosing Home Inspections of USA to perform your Home Inspection. We trust the experience will be both useful and enjoyable.
This inspection report reflects the visual conditions of the property at the time of the inspection only. Hidden or concealed defects cannot be included in the report. An earnest effort was made on your behalf to discover all visible defects, however, in the event of an oversite, maximum liability must be limited to the fee paid.
Please note: your report will be available for 120 days after production. Please either save or print a copy for usage after that period.
Please feel free to contact us with any questions about the report or the home itself any time. Our consulting service via telephone is available at no cost to you for as long as you own the home.
For anyone looking for Companies/Contractors for services, please feel free to visit our Web site http//
www.homeinspectionsusa.us
and view our "Service Providers" page at the bottom left corner of our home page.
Thanks again for allowing us to work with you!
Team Sherlock - John & Laurie, Brandon & Jen, Mac
INVOICE
:
Home Inspection - $ 699.00
Septic Inspection (Winter rate) - $ 279.00
Radon Inspection - $ 199.00
Total Inspection Cost - $ 1177.00
Prior Client Discount - ($ 70.00)
Multi Inspection Discount ($ 49.00)
Total Inspection Fee Due - $ 1,058.00
We accept:


and checks.
Home Inspections of USA
1752 N.E. Torch Lake Dr.
Central Lake, MI. 49622
1-800-730-6610
What Really Matters ?
Buying a new home can be very stressful. This inspection is supposed to give you peace of mind, but often has the opposite effect. You are being asked to absorb a lot of information in a very short time. This includes this report and what I may say in regards to this report. Also the sellers disclosure and what you notice yourself may make the whole experience overwhelming. What should you do?
Relax. Most of your inspection will be maintenance recommendations, life expectancies and minor imperfections. These are nice to know about. However, the issues that really matter will fall into four categories:
1) Major defects. An example of this would be a structural failure.
2)Thing that lead to major defects. A small roof-flashing leak for example.
3)Things that may hinder your ability to finance, legally occupy, or insure
the home.
4)Safety hazards, such as an exposed, live buss bar at the electric panel.
Anything in these categories should be addressed. Often a serious problem can be corrected inexpensively to protect both life and property. (especially in categories 2 and 4)
Most sellers are honest and are often surprised to learn of defects uncovered during an inspection. Realize that sellers are under no obligation to repair everything mentioned in the report. No home is perfect. Keep things in perspective.
Don't kill your deal over things that don't matter. It is inappropriate to demand that a seller address deferred maintenance, conditions already listed on the seller's disclosure, or nit-picky items.
Thank you for using our services!
---
How to Read this Report
This report is organized by the property's functional areas. Within each functional area, descriptive information is listed first and is shown in bold type. Items of concern follow descriptive information. Concerns are shown and sorted according to these types:
| | | |
| --- | --- | --- |
| | Safety | Poses a risk of injury or death |
| | Repair/Replace | Recommend repairing or replacing |
| | Repair/Maintain | Recommend repair and/or maintenance |
| | Minor Defect | Correction likely involves only a minor expense |
| | Maintain | Recommend ongoing maintenance |
| | Evaluate | Recommend evaluation by a specialist |
| | Comment | For your information |
Click here for a glossary of building construction terms.Contact your inspector If there are terms that you do not understand, or visit the glossary of construction terms at https://www.reporthost.com/glossary.asp
---
General information
Report number: 011719
Structures inspected: House and attached garage.
Type of building: Single family
Age of building: 12+-
Inspection Fee: $ 1,058.00
Payment method: Invoiced
Present during inspection: Client(s), Tenant(s), Realtor(s), Contractor(s) (busy place! :)
Occupied: Yes
Weather conditions: Cloudy
Temperature: Mild
Ground condition: Snow covered
Foundation type: Unfinished basement
The following items are excluded from this inspection: Irrigation system
---
1)

Professionally constructed, mid 2,000's custom 2 story home that appears overall dry, structurally sound and well maintained (inside).
The exterior of the home appears to have been somewhat neglected for some time and is due for normal maintenance as well as some repairs (there is moisture infiltration issue's at master bath bump-out).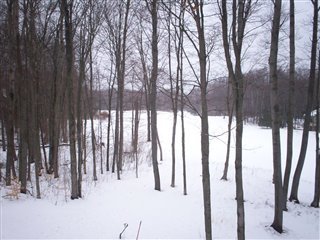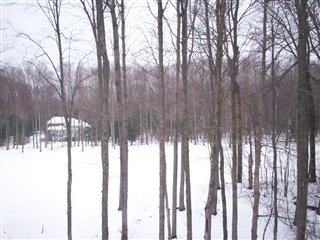 ---
Exterior
Footing material: Not visible
Foundation material: Concrete block
Apparent wall structure: Wood frame
Wall covering: Wood clapboard
Driveway material: Asphalt
Sidewalk material: Poured in place concrete, Brick
Exterior door material: Solid core wood, Solid core steel
---
2)



The grading appeared inadequate in some areas to properly drain moisture away from the foundation, and there is some signs of ground water moisture staining inside the basement. Installing and maintaining gutters is highly recommended to control roof water run off.
The wood decks were mostly snow covered. The exposed areas appear in good overall condition and will require normal maintenance.
Some areas where the roof water splashes against the house are due for repairs/replacement, especially at master bath cantilevered area, which shows signs of rot/deterioration from inside basement. Further evaluation and necessary repairs are recommended.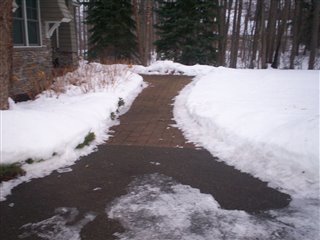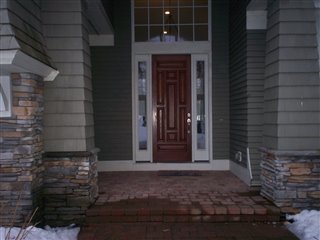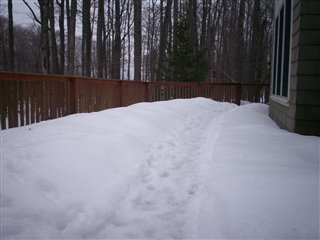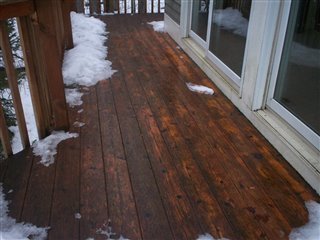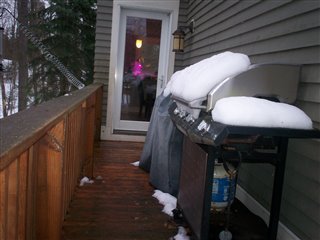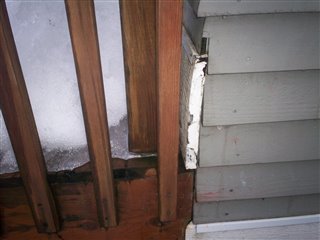 Photo 2-6
Weather and roof water run off showing effects on exterior trim work.
Photo 2-7
Even this small area needs a gutter......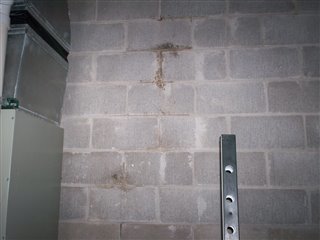 Photo 2-8
as minor staining is noted in basement where it dumps down.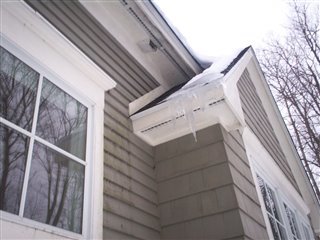 Photo 2-9
Gutter here also....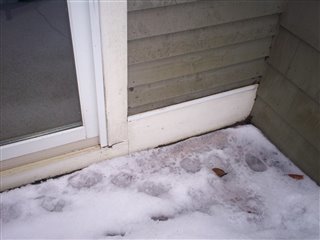 Photo 2-10
as lots of water splashes off deck onto house.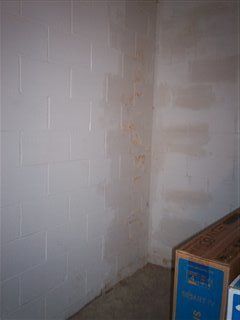 Photo 2-11
This is near main entryway roof run off.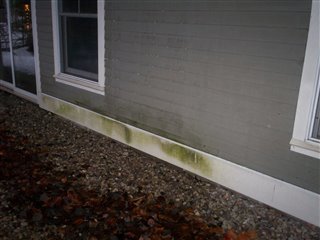 Photo 2-12
Water runs through decking and splashes also.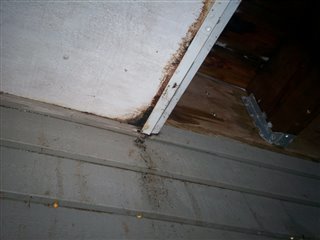 Photo 2-13
Its apparent water is seeping into master bump-out area.....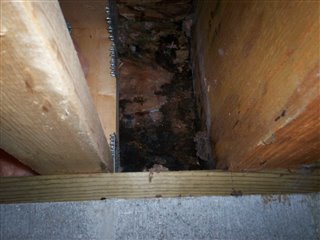 Photo 2-14
... and some rot/deterioration is visible from inside basement.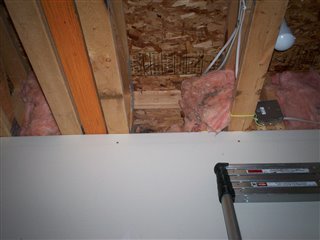 Photo 2-15
Opposite end has just a bit.....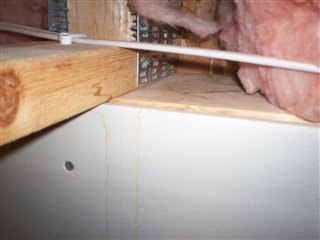 Photo 2-16
Minor stain here, but dry.
---
3)


The irrigation system was neither tested nor evaluated. Recommend proper seasonal maintenance be performed on system annually.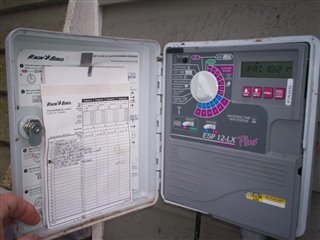 Photo 3-1
Irrigation control box.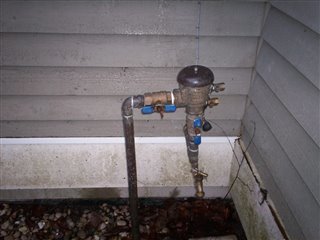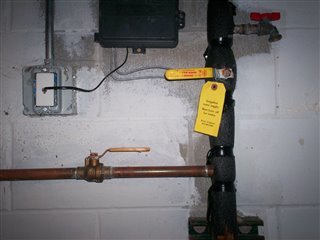 Photo 3-3
Irrigation shut off/drain.
---
Roof
Roof inspection method: Traversed
Roof type: Cross gable
Roof covering: Asphalt or fiberglass composition shingles
Estimated age of roof: 13+-
Gutter & downspout material: None
Roof ventilation: Adequate
---
4)

The roof was partially snow covered and too steep to traverse. A full evaluation could not be performed. The cleared areas of the shingles appeared to be in good overall condition.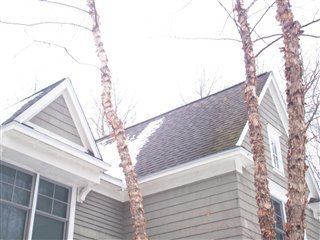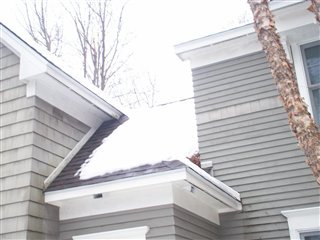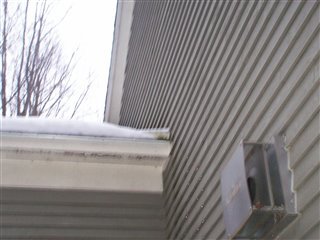 Photo 4-3
Moss/lichen growth noted.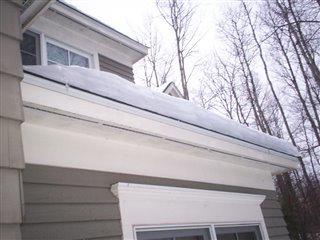 Photo 4-4
Quite a bit of ice build up.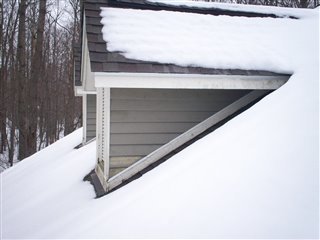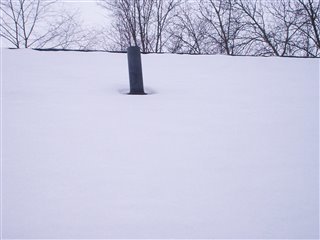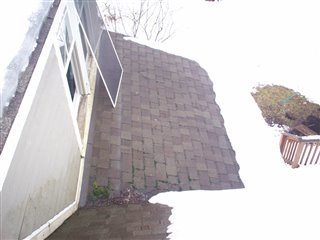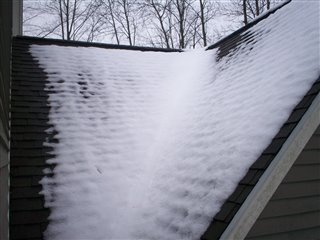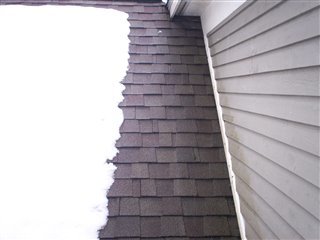 ---
Garage
---
5)

Three car attached garage with one double and one single wide overhead door. The auto openers with down pressure safety reverse tested in good operating condition.
The receptacles tested were properly grounded but lack recommended GFCI protection.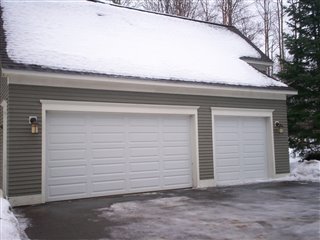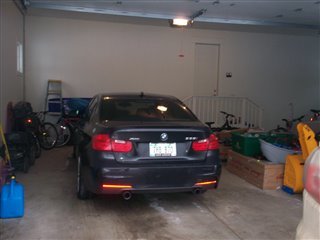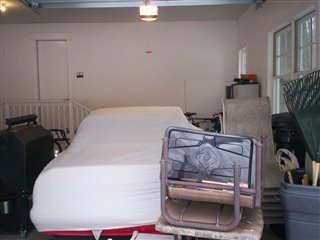 ---
Electric service
Primary service type: Underground
Primary service overload protection type: Circuit breakers
Service voltage (volts): 120/240
Location of main disconnect: Breaker at top of main service panel
Service entrance conductor material: Aluminum
System ground: Ground rod(s) in soil
Main disconnect rating (amps): 200
Branch circuit wiring type: Non-metallic sheathed
Solid strand aluminum branch circuit wiring present: No
Smoke detectors present: Yes
---
6)



The main service panel appeared to be professionally installed and maintained. There are 37 of 40 available spaces are in use. Most all breakers appeared to be properly labeled on the panel cover (except for garage wall unit).
All receptacles tested were properly grounded. All GFCI protected receptacles tripped properly when tested. Noted lack of GFCI protection in the garage which is recommended.
The smoke detectors were tested and are interconnected. Recommend periodic testing (many batteries have been removed).
Noted quite a few recessed can lights, which are known for air/heat loss. May want to consider the following replacement type LED units:
https://www.amazon.com/UL-classified-Dimmable-Retrofit-Recessed-Lighting/dp/B00JUNY2D4/ref=sr_1_4?s=hi&ie=UTF8&qid=1439317745&sr=1-4&keywords=led+recessed+lighting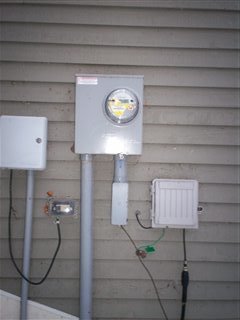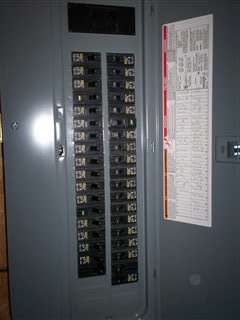 Photo 6-2
Circuits nicely labeled (except bottom left which is bonus room HVAC).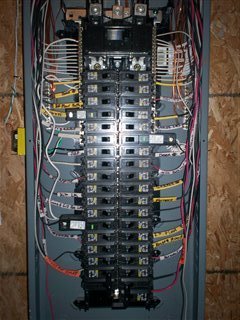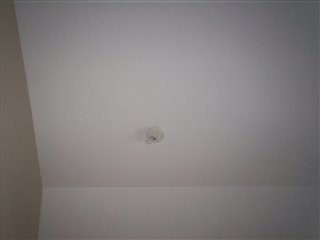 Photo 6-4
Many batteries removed.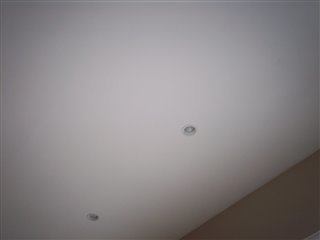 Photo 6-5
Recommend considering upgrading all can lights to LED type.
---
Water heater
Estimated age: 1
Type: Tank
Energy source: Natural gas
Capacity (in gallons): 50
Manufacturer: American
---
7)



Water heater appeared to be professionally installed and in good operating condition. There is a circulation pump which appeared operational.
The hot water temperature is greater than 120 degrees Fahrenheit. This is a safety hazard due to the risk of scalding. The thermostat should be adjusted so the water temperature doesn't exceed 120 degrees.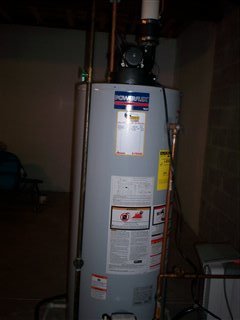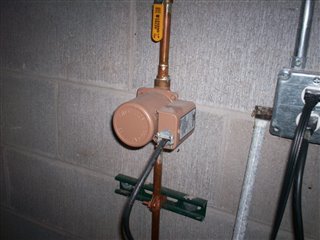 Photo 7-2
Circulation pump for water heater.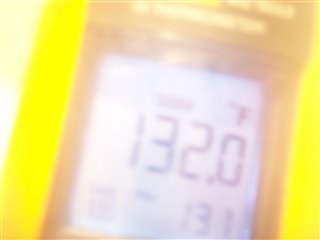 Photo 7-3
Hot water temp (little too hot).
---
Heating and cooling
Estimated age: 12 (original).
Primary heating system energy source: Natural gas
Primary heat system type: Forced air, Up draft, High efficiency
Primary A/C energy source: N/A (there is an A coil)
Distribution system: Sheet metal ducts, Flexible ducts
Manufacturer: Trane
Filter location: At the base of the furnace
---
8)



The forced air heating system was tested and appeared to be in good operating condition.
Noted minor staining from condensate seepage, which is fairly typical for this age unit. No current seepage's were noted.
Suggest following manufactures recommendations for regular maintenance.
There is an A-coil installed on top of the furnace for future A/C.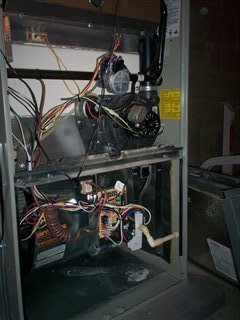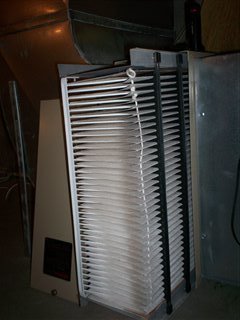 Photo 8-2
Filter a bit dirty.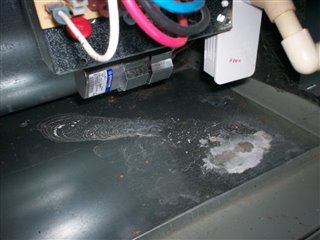 Photo 8-3
Very minor condensate staining.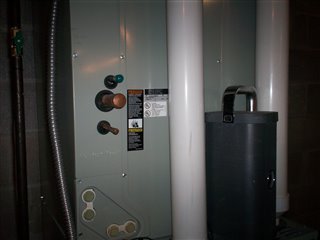 Photo 8-4
A coil for future air.
---
Plumbing and laundry
Water service: Public
Service pipe material: Copper
Supply pipe material: Copper
Vent pipe material: Plastic
Drain pipe material: Plastic
Waste pipe material: Plastic
---
9)



The visible water lines consist of copper, while the drain and sewer are PVC. No leaks or seepages were noted at time of inspection aside from the plumbing vent line in attic area which should be repaired.
Also, the upper on suite tub drain was not installed at time of inspection.
There is a sewage ejector pump in basement which is rough plumbed for full bath. May want to consider installing a high level alarm if basement is finished off at all.
https://www.amazon.com/Outdoor-Alarm-Septic-Sump-Applications/dp/B00GM9FD0A/ref=sr_1_1?ie=UTF8&qid=1484940588&sr=8-1&keywords=high+level+septic+alarm
Noted lack of any type water treatment system which would most likely be beneficial. Our favorite company is:
http://www.purewaterworks.biz/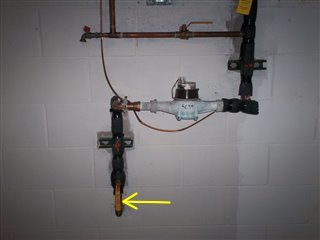 Photo 9-1
Main water shut off.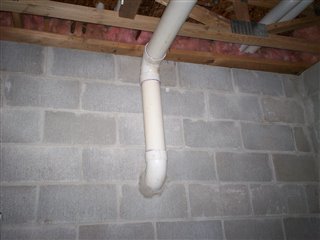 Photo 9-2
Sewer line exiting basement (typically see a clean out here?)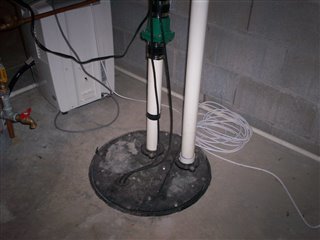 Photo 9-3
Sewer lift pump (no high level alarm).
Photo 9-4
This re-vent line is definitely seeping at joint.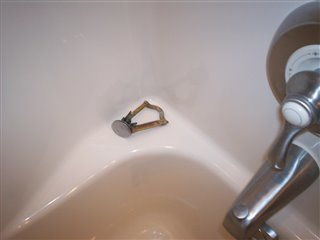 Photo 9-5
Drain plug removed on upper on suite.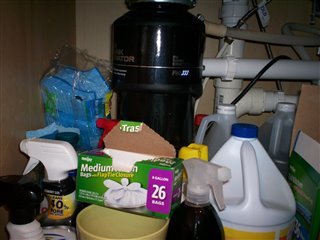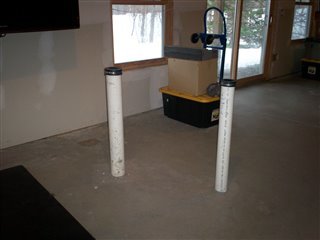 Photo 9-7
Rough drains for future bath (rather "odd" placement?).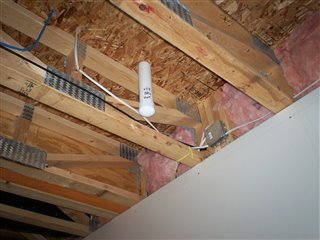 Photo 9-8
Future bath vent line.
---
10)


The washer and dryer were operated through 'short cycle' and appeared to be in good working condition.
The dryer vent has a screen that is fully plugged off. Recommend replacing with a proper type dryer vent that can easily be cleaned.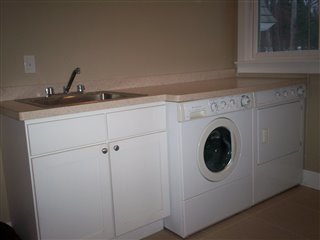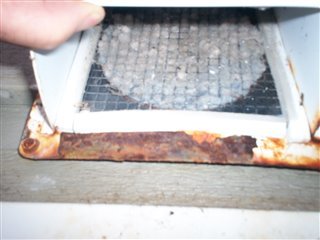 Photo 10-2
Dryer vent completely plugged off !
---
Fireplaces, woodstoves and chimneys
---
11)

Direct vent gas log fireplace was tested and apeared to be in good operating condition.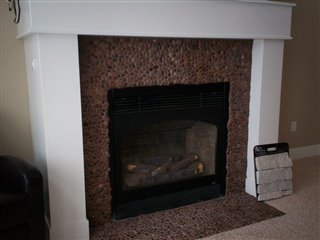 ---
Attic
Inspection method: Traversed
Roof structure type: Trusses
Ceiling structure: Trusses
Insulation material: Cellulose roll or batt
Insulation depth: 8-10"
---
12)



The attic access is located in the ceiling of one of the upper bedroom closets.
Noted average depth of 8-10" of blown cellulose type insulation, which is below current standards. Having additional blown installed should prove cost effective.
Proper venting was noted in the soffits as well as the ridge.
Noted the bath fan is properly vented to exterior, but travels a great distance. It appears one area is allowing condensate to drip from low spot/joint most likely.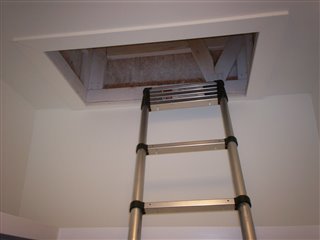 Photo 12-1
Attic hatch in upper walk in closet.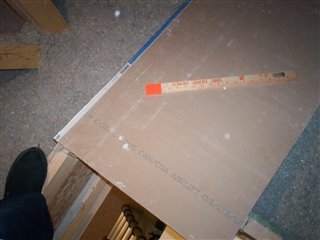 Photo 12-2
No type of insulation over hatch.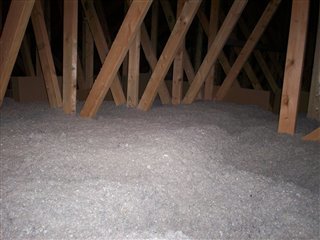 Photo 12-3
Blown cellulose throughout.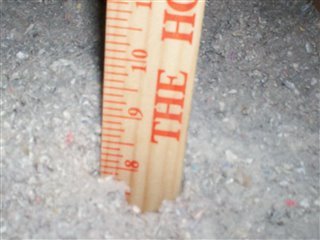 Photo 12-4
Pretty much 8"......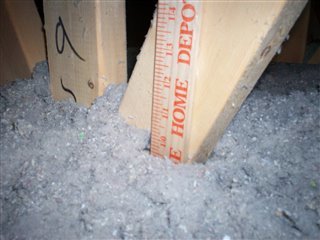 Photo 12-5
to 10" average.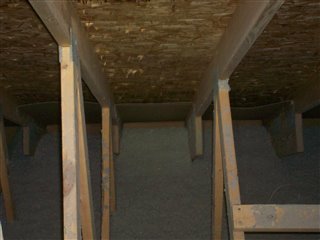 Photo 12-6
Nice baffle detail (room for more insulation too :)
Photo 12-7
Zoomed in looking "down" to a damp spot beneath bath fan vent line.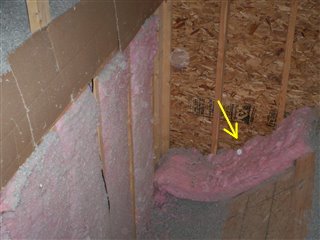 Photo 12-8
One piece of wall insulation has fallen down.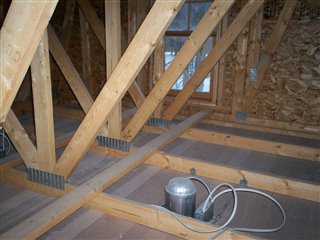 Photo 12-9
Area over front entry.
---
Basement
Pier or support post material: Steel
Beam material: Steel
Floor structure above: Wood trusses
---
13)


The unfinished basement appeared quite dry at time of inspection. There is some minor signs of moisture staining which appears to be due in part to lack of gutters and poor grading (which has caused some efflorescent staining).
http://encyclopedia.thefreedictionary.com/efflorescent
It appears gutters would most likely alleviate this problem.
We still recommend operating a dehumidifier during summer months (especially without A/C).
Rooms include an open walk out family type area and a utility area.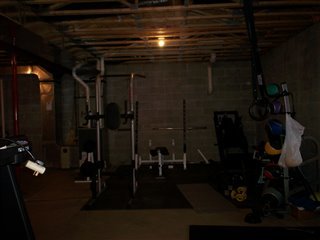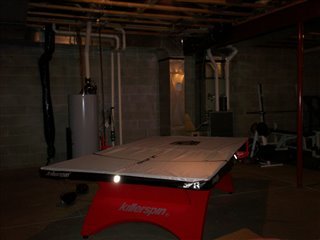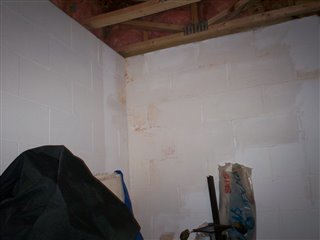 Photo 13-4
More efflorescence.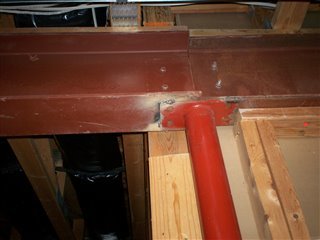 Photo 13-5
Nice beams/support detail :)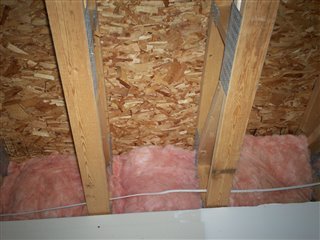 Photo 13-6
Fiberglass batts in rim joists (foam much better:)
---
Septic system
---
14)


The septic tank and drain field are located in the "back" yard.
The septic tank was located and the lid was removed for evaluation. Noted very high fluid levels indicating tank was not draining properly. K&K Septic was contacted to pump tank, which revealed an effluent filter in place which most likely had never been properly maintained. Filter was cleaned and re-installed and will require periodic maintenance (Annually is recommended - perhaps every Fathers Day:)
We highly recommend installing a riser/lid for ease of accessing and maintaining filter:
http://www.gag-simtech.com/index_files/Page588.htm
http://www.gag-simtech.com/index_files/Page623.htm
A bore hole was dug into the field which revealed fairly "clean and dry" stone/soils with some typical roots.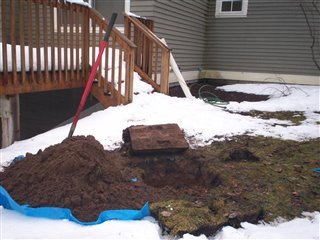 Photo 14-1
Tank lid compared to deck.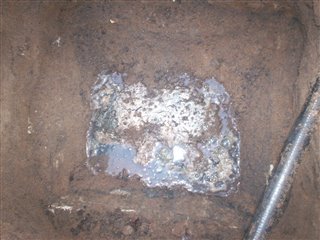 Photo 14-2
Fluid levels over full !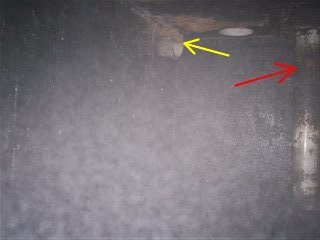 Photo 14-3
Inlet from house (yellow arrow) and baffle fitting (red arrow).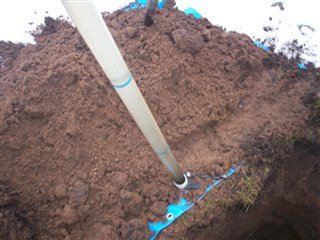 Photo 14-4
Minimal sludge noted.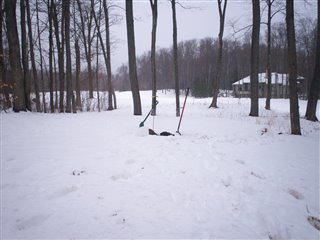 Photo 14-5
Drain field location.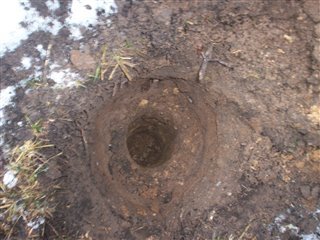 Photo 14-6
Test hole into drain field (nice and dry!).
---
Kitchen
---
15)

Kitchen sink fixtures and appliances including dishwasher, disposal, range/oven and microwave were operated and appeared in good working condition.
The receptacles tested were properly grounded and GFCI protected.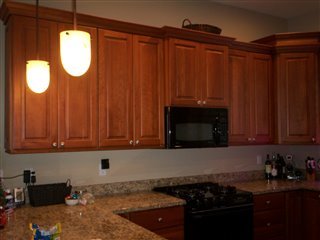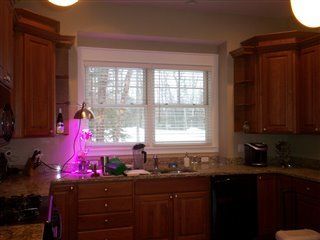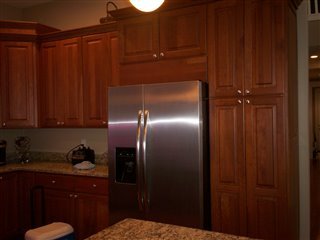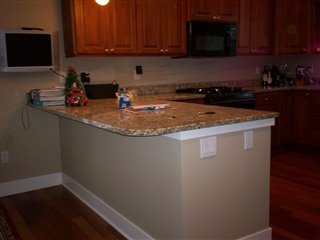 ---
Bathrooms
---
16)

Bathrooms consist of a master full, 1/2 off laundry/mud room, upper on suite and shared Jack-n-Jill full between bedrooms. All fixtures were tested and appeared in good working condition with no leaks noted.
The receptacles tested were properly grounded and GFCI protected.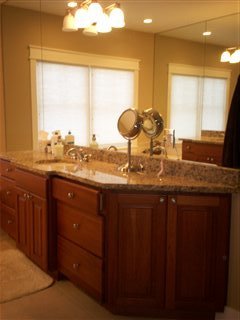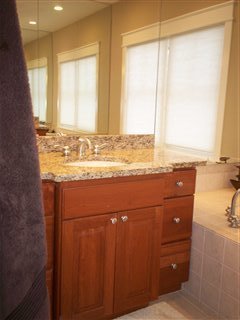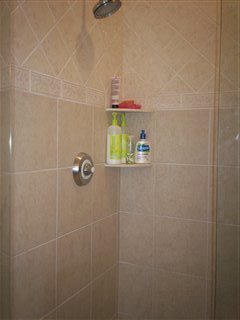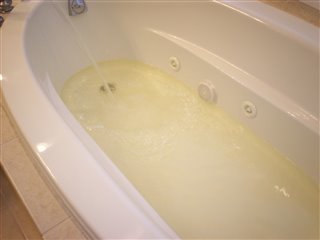 Photo 16-4
Water was a bit "murky" (not used much most likely).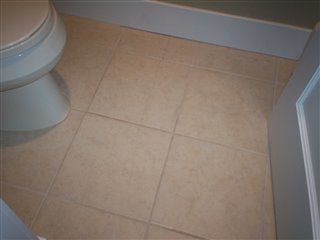 Photo 16-5
Crack in tile floor of master.
Photo 16-6
1/2 off mud/laundry.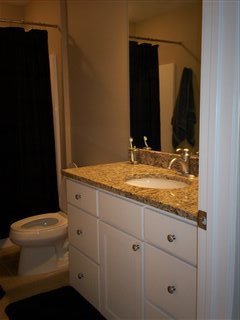 Photo 16-7
Upper on suite.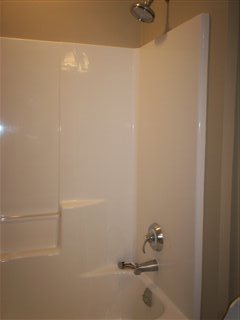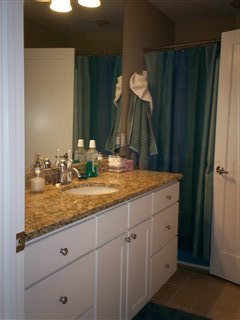 ---
Interior rooms
---
17)

Interior rooms consist of a kitchen, dining, family, den/office, 4 bedrooms, 3 1/2 baths and main entry, along with a bonus room over garage with its own wall heating/cooling unit.
Overall condition of the walls, floors and ceilings (except for living room ceiling) appeared very well maintained.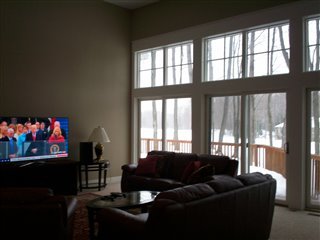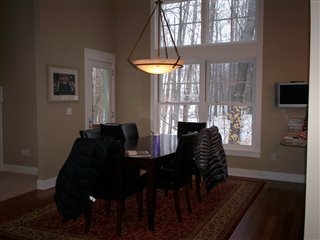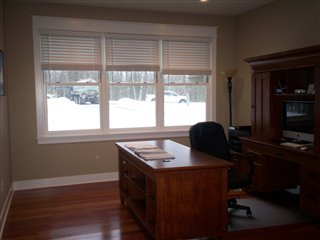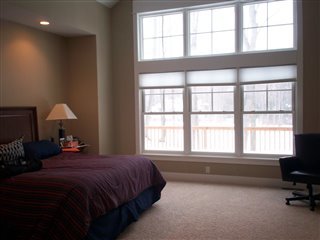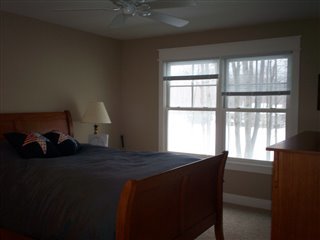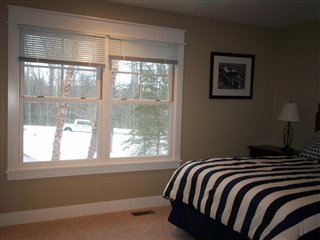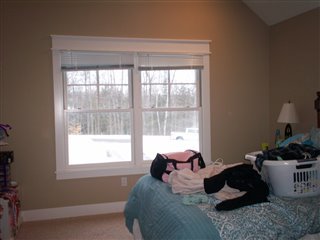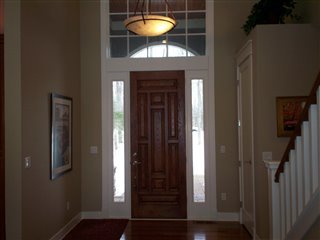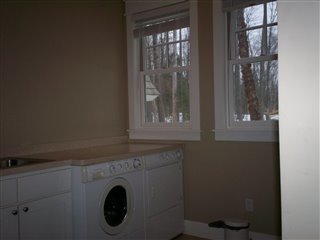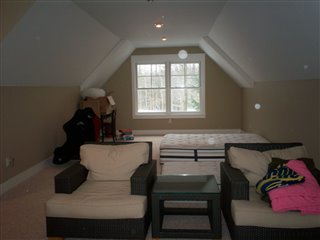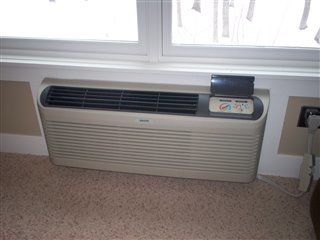 Photo 17-11
Definitely works on heat!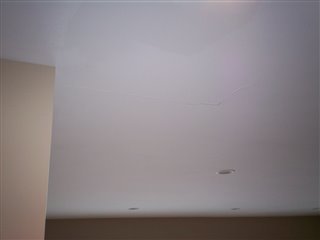 Photo 17-12
Noted crack and bubble at stairway landing area.
---
Windows
---
18)



The windows consist of insulated double hung units with tilt in feature. Most of the windows tested appeared in good working condition. Noted one upper bedroom unit doesn't fully close on upper sash.
The exterior doors appeared in goof working condition.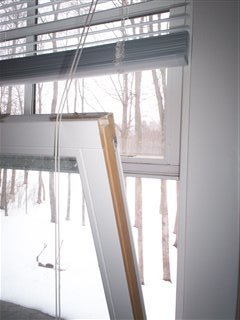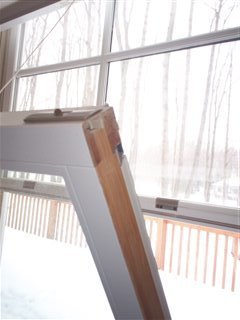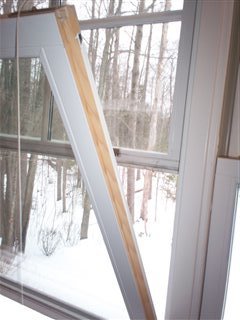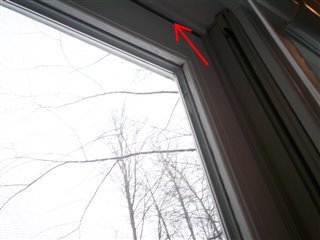 Photo 18-4
Upper roadside bedroom window doesn't close completely at top.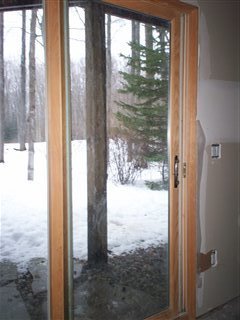 ---
Radon Test
---
19)

A 48 hr. continuous Radon test was performed using a Sun Nuclear Model 1027 Monitor.
Final test results showed an average reading of 6.1 pCi/l and current (end of test) reading of 5.1 pCi/l.
Both readings are above the EPA recommended mitigation level of 4.0 pCi/l.
Some type of remediation is recommended at this time to lower the overall levels.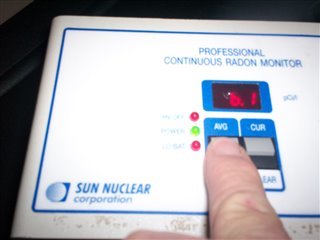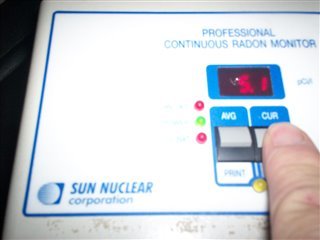 ---