This report is the exclusive property of this Gainey Home Inspections and the client(s) listed in the report title. Use of this report by any unauthorized persons is prohibited.

---
How to Read this Report

This report is organized by the property's functional areas. Within each functional area, descriptive information is listed first and is shown in bold type. Items of concern follow descriptive information. Concerns are shown and sorted according to these types:
| | | |
| --- | --- | --- |
| | Safety Concern | Immediate Safety Concern. If conditions were right a risk of serious injury could occur. Most Electrical defects fall into this category. |
| | Major Defect | Correction or replacement likely involves a significant expense probably by a specialist. Estimate of repair or replacement estimated to be greater than $500. This may be the first major investment needed before or after you move into your new home. |
| | Livability Concern | Repair or replacement is needed. This concern will usually affect livability unless corrected soon. |
| | Minor Repair or Service | Maintenance is needed. This is considered normal aging and can be added to the "Honey Do List". This type of repair typically does not have a high estimate for repair or a need for a specialist. |
| | Moisture Control | Water is a destructive force that should be controlled. Improvement is needed to accomplish this. |
| | Maintain and Monitor | Recommend ongoing maintenance. Preventative maintenance can reduce costly repairs in the future. Periodic checks are recommended to maintain this system. |
| | Evaluate | A closer look is needed to determine extent of hidden damage or status of condition. This can be done by the homeowner or may need to be evaluated by a contractor qualified with specialized training. Always get 2-3 estimates. |
| | Ask the Seller | A question I recommend asking of the seller to better understand the operation or service needed for this system |
| | Grandfathered Safety | When the home was built, the condition was common. New Standards apply today to make this system safer and is recommended by the inspector to be upgraded for a safer living environment. |
| | Comment | Information or personal opinion that I think may be useful. |
Click here for a glossary of building construction terms.Contact your inspector If there are terms that you do not understand, or visit the glossary of construction terms at https://www.reporthost.com/glossary.asp
Property & Site
1)

Today's inspection is being done using the Standards of Practice of the
Great Lake Chapter of the American Society of Home Inspectors as a
Guideline. The inspection contracts and the limitations and standards
specified therein are an integral part of this report. I am also Licensed
by the State of Indiana and my license # is HI0500083.
2)

Environmental issues are out of the scope of today's inspection and should
be addressed separately. This inspection will
not result in the information of presence of any environmental hazard that
may be present, although if noticed in the course
of my inspection may be reported as a possible concern. There may be
environmental concerns that although may be present were not seen by the
inspection today since I am not here for that type of inspection.
3)

Water is a very destructive force and should be controlled on the outside
to reduce problems that may go undetected for some time on the inside/under the house. Drainage patterns should be monitored and improved as needed to carry water away from foundation. Extend leaders to discharge at least 6' away from building to reduce moisture penetration and foundation damage.
4)

Moisture problems may exist in the basement/crawl space as noted in the report and
should be evaluated/corrected as possible serious issues. Moisture is a
very destructive force that over time may result in structural issues along
with health related issues. Environmental issues are out of the scope of
today's inspection however and should be evaluated separately if warranted.
General information
Report number: 1001
Structures inspected: 2301 Anywhere Ct, East Central Indiana
Type of building: Single family
Time started: 01:00PM
Time finished: 0300PM
Inspection Fee: $385.00
Payment method: Invoiced
Occupied: No
Weather conditions: Clear
Temperature: Hot
Front of structure faces: South
Foundation type: Crawlspace
The following items are excluded from this inspection: Irrigation system, Hot tub, Water filtration system, Water softener system
Exterior
Footing material: Block, Not visible
Foundation material: Concrete block
Apparent wall structure: Wood frame
Wall covering: Brick veneer
Driveway material: Poured in place concrete
Sidewalk material: Poured in place concrete
5)



Trip hazards were found in the driveway due to cracks, settlement and/or heaving. Recommend having a qualified contractor evaluate and repair or replace driveway sections as necessary to eliminate trip hazards.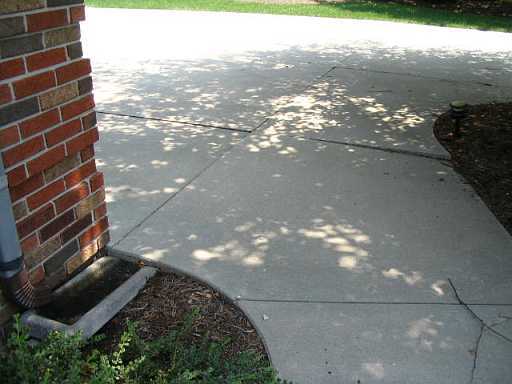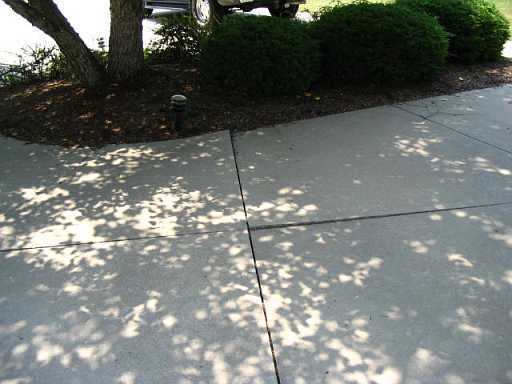 6)



Exterior disconnect switches have exposed wiring or components when the cover is opened or removed. This is a safety hazard due to the risk of shock, especially for children. A qualified electrician should evaluate and repair as necessary so the risk of shock is eliminated. Note that a lock should not be installed on the cover(s) because the disconnect device(s) will be made inaccessible in the event of an emergency.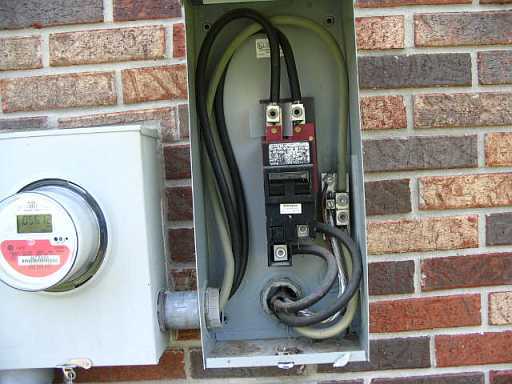 7)


Outside faucets are missing
backflow prevention devices
. These devices reduce the likelihood of polluted or contaminated water entering the potable water supply. This condition can occur when an outside faucet is left in the "on" position with a hose connected and the sprayer head turned off. When pressure in the system fluctuates, water can be drawn back into the water supply pipes from the house. If a chemical sprayer is being used with the hose, those chemicals can enter the water supply pipes.
Recommend installing backflow prevention devices on all exterior hose bibs where missing. They are available at most home improvement stores and are easily installed. For more information, visit:
http://edis.ifas.ufl.edu/BODY_AE079
8)


Minor cracks were found in sections of brick veneer. A qualified contractor should evaluate and make repairs as necessary, such as repointing mortar to prevent water intrusion and further deterioration in the future.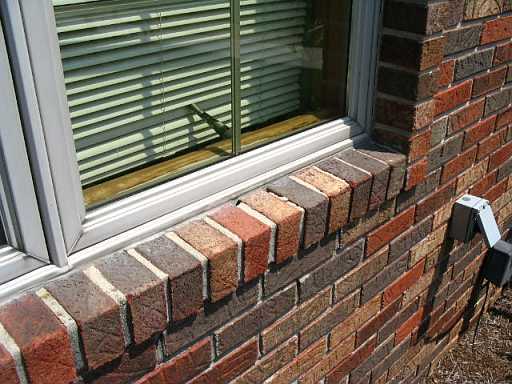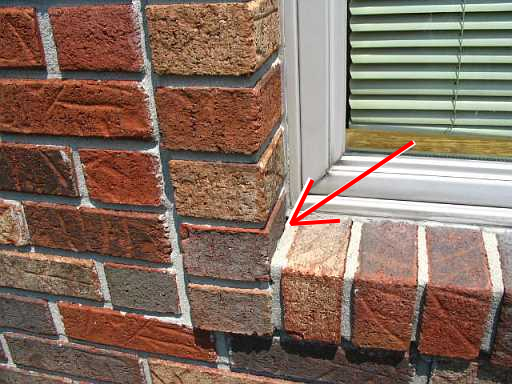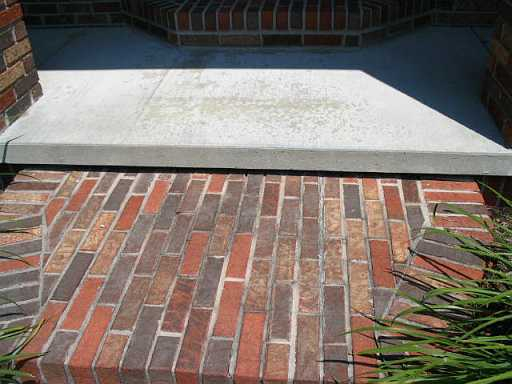 9)



Some of the downspouts have no extensions, or have extensions that are ineffective. This can result in water accumulating around the structure's foundation, or in basements and crawl spaces if they exist. Accumulated water is a conducive condition to wood destroying insects and organisms, and may also cause the foundation to settle and possibly fail over time. Repairs should be made as necessary, such as installing or repositioning splash blocks or adding extensions so rain water is carried at least several feet away from the structure to soil that slopes down and away from the structure.
I recommend once you get possession of your new home, go outside during a rain storm with an umbrella to watch where your water is draining. Improve as needed.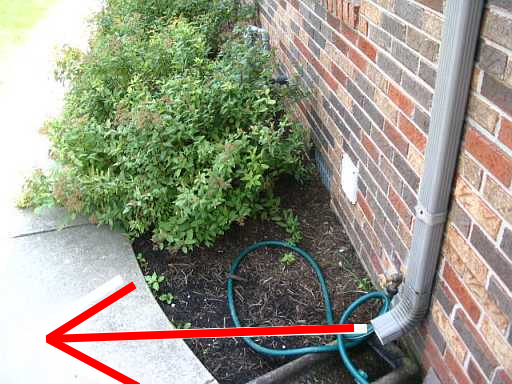 10)


The brick veneer siding has no weep holes. Brick is porous, and weep holes are openings in the brick mortar low on the wall that provide drainage for rainwater that has intruded through the brick into the space between brick and wall sheathing. When installed, these are combined with flashing between the sheathing and bricks which lead the collected moisture out the weep holes. There is no way to get into this space behind the brick and make a determination about moisture issues there is beyond the scope of the visual inspection. Care should be given to assure that all cracks and joints area properly sealed to reduce moisture intrusion behind facing around windows. No concerns were noticed today except minor cracks at window sills that should be recaulked to reduce moisture intrusion at these penetrations.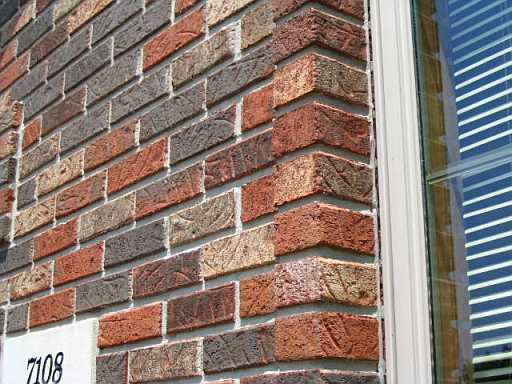 11)

GFCI outlets should be tested regularly with test button. I tested it today
and it cut the power as required.
12)
Recommend cleaning deck(s) and railing(s) and treating with a preservative claiming to waterproof, block ultraviolet light, and stop mildew.
Consumer Reports
recommends these products:
Cabot Decking Stain and PTW Stain
Olympic Water Repellent Deck Stain
Thompson's House and Deck Stain
Wolman PTW Deck Stain
Akzo Sikkens Cetol DEK
Benjamin Moore Moorwood Clear Wood Finish
DAP Woodlife Premium
Olympic Natural Look Protector Plus
Roof
Roof inspection method: Traversed, Viewed from eaves on ladder, Viewed from ground with binoculars
Roof type: Hipped, Cross-hipped
Roof covering: Asphalt or fiberglass composition shingles
Estimated age of roof: 12yrs
Gutter & downspout material: Aluminum
Roof ventilation: Adequate
13)


One or more composition shingles have raised, most likely due to nails that have loosened. Leaks may occur as a result. A qualified roofing contractor should evaluate and make repairs as necessary, such as reseating nails.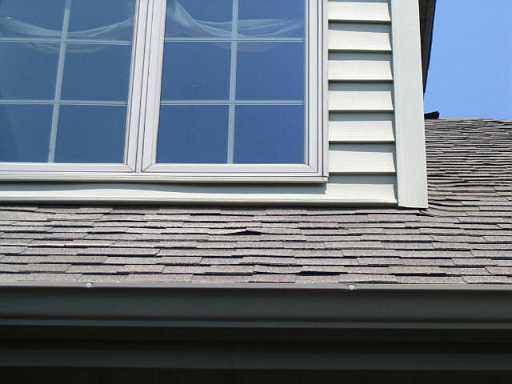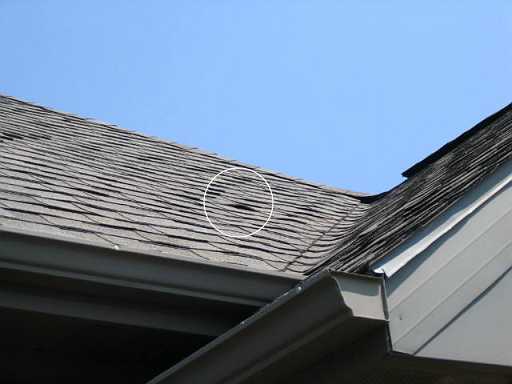 14)

Monitor seasonally for raised shingles and deterioration as the shingles age. No concerns were noticed today except the nail pops and raised shingles mentioned earlier. The roof is in the last third of typical life expectancy although steep pitch roofs tend to last longer because they shed water quicker and withstand wind better than lower pitch roofs.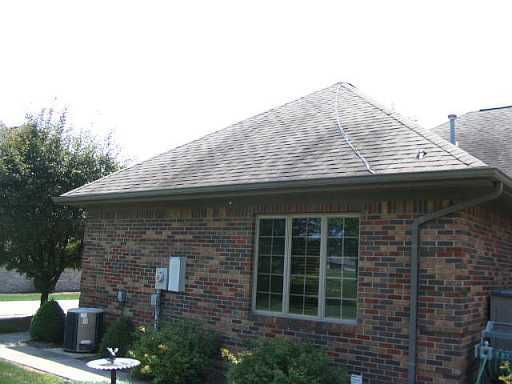 Garage
15)


No infared "photo eye" devices are installed for the vehicle door's electric door opener. They've been required on all vehicle door openers since 1993 and improve safety by triggering the vehicle door's auto-reverse feature without need for the door to come in contact with the object, person or animal that's preventing it from closing. Recommend considering having a qualified contractor install these devices for improved safety. For more information on garage door safety issues, visit:
http://www.cpsc.gov/cpscpub/pubs/523.html
or
http://www.ohdstl.com/safety.html
16)


The vehicle door has an electric opener installed, and the manual lock mechanism on the door hasn't been disabled. Damage or injury may occur if the vehicle door opener is operated with the manual lock engaged. A qualified contractor should disable or remove the lock mechanism.
This can also be done by drilling a hole at inside edge of slide bar and installing a small bolt/nut to prevent closure of the slide bolt. (Some lock assemblies have this hole pre-drilled.)
If in the future you choose to use this lock while leaving for an extended time, simply remove the bolt and slide the bolt closed.
(Reminder) Make sure you unplug the overhead door before you leave so you don't forget and push the button when returning.
For more information on garage door safety issues, visit:
http://www.dasma.com/dasma-pages/DASMA-maintenance-guide.asp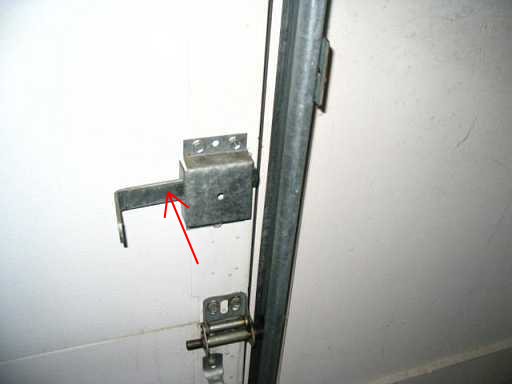 17)

Manufacturer's instructions call for nails or screws to be installed in all
open holes of attic stair brackets for additional support. This was not
seen installed properly and should be improved. I also recommend installing several lag screws along the framing to give additional support on both sides of framing.
18)

The interior perimeter of the garage is excluded from this inspection due to lack of access from stored items.
19)

Garage doors were tested today for operation of the reversing mechanism by laying a 2x4 down flat in middle area of door and allowing door to close. The door should reverse as it hits this board. The doors tested normal today and recommend seasonal check of safety feature.
Attic
Inspection method: Traversed
Roof structure type: Rafters
Ceiling structure: Ceiling beams
Insulation material: Cellulose loose fill
Insulation depth: 14in
Insulation estimated R value: ___R38_________________
20)


Furnace flue is required to have 2 inch clearance from combustibles
including insulation. This is a vent pipe mfg requirement to allow heat loss at all areas of the b vent pipe and reduce the damage to the pipe of smothered in insulation. Remove the insulation away from pipe as required.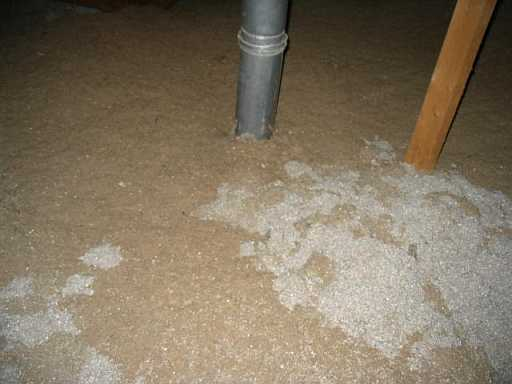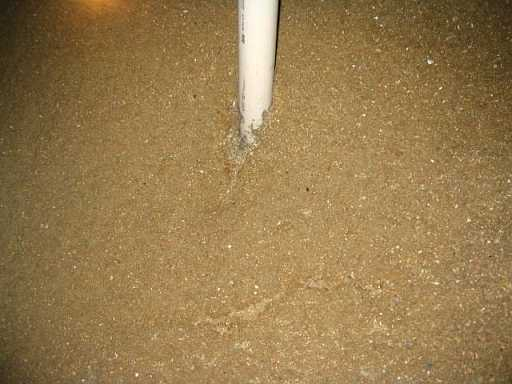 21)


Most of the wiring and connections are concealed with insulation today and could not be visually inspected. Storage boxes/items which restrict a visual inspection may also have damaged wire sheathing. Once objects have been moved, a careful look at wiring condition is recommended in this area used for storage. Improve as needed for safety.
22)

Additional knee wall bracing has been added to support the roof system better than original design.
Electric service
Primary service type: Underground
Primary service overload protection type: Circuit breakers
Service amperage (amps): 200
Location of main disconnect: Breaker at top of main service panel
Service entrance conductor material: Aluminum
System ground: Ground rod(s) in soil, Copper
Main disconnect rating (amps): 200
Branch circuit wiring type: Non-metallic sheathed, Copper
Smoke detectors present: Yes
23)



One or more loose conductors in the main service panel have bare ends and are not connected to an overcurrent protection device (circuit breakers or fuses). This is a safety hazard due to the risk of fire if the bare conductors come into contact with other components in the panel. A qualified electrician should evaluate and repair as necessary. For example, removing wires that aren't terminated or installing wire nuts.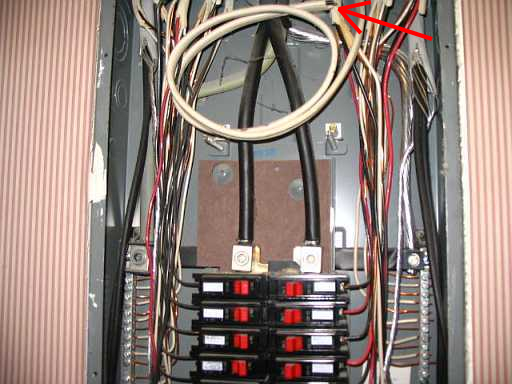 24)



Ground fault circuit interrupter (GFCI) breakers in the main service panel would not trip when tested. It sounds as if it is tripping internally but the lever does not move. This is a safety hazard due to the risk of shock. A qualified electrician should evaluate and make repairs and/or replace circuit breakers as necessary.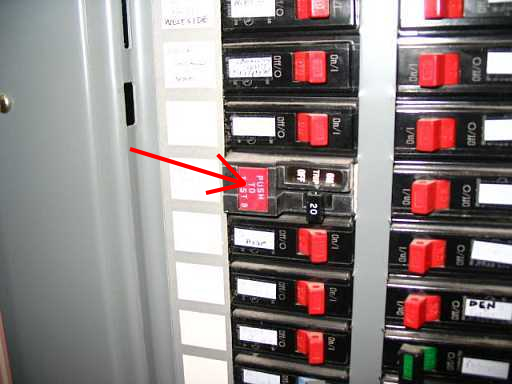 25)



Since the main disconnect is located under the meter outside, this distribution panel is considered a sub panel. Neutral and equipment ground conductors are combined at the sub-panel. This should only occur at the main disconnect, and is a safety hazard due to the risk of shock. Neutral conductors should be attached to a "floating" neutral bar not bonded to the panel, while grounding conductors should be attached to a separate grounding bar bonded to the sub panel. A qualified electrician should evaluate and repair as necessary.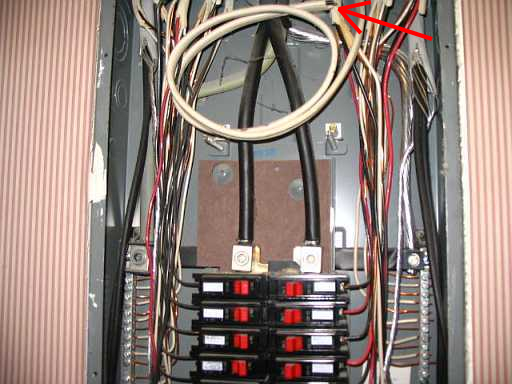 26)



The main disconnect for the homes electric power is located outside next to the meter. This panel enclosure is not secured and there is no inside safety cover as required to reduce contact with high voltage lines. Recommend correction by a licensed electrician.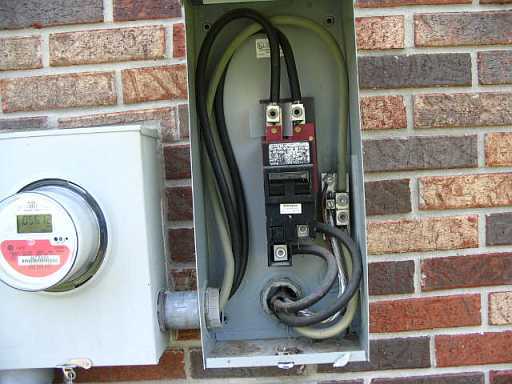 27)



The existing smoke detectors were not tested today, but they are only noted as to presence. The test button will test the audible alarm but would not test whether the alarm would detect smoke or heat. It is important for you to test them on a monthly basis. The National Fire Prevention Association recommends monthly testing and replacement every 10 years. They also recommend for people moving into homes that don't know the age of the detectors should replace them.
28)



Ground rod seen here for cable system should also be bonded to the main electric ground rod next to it to protect against nearby lightning strikes.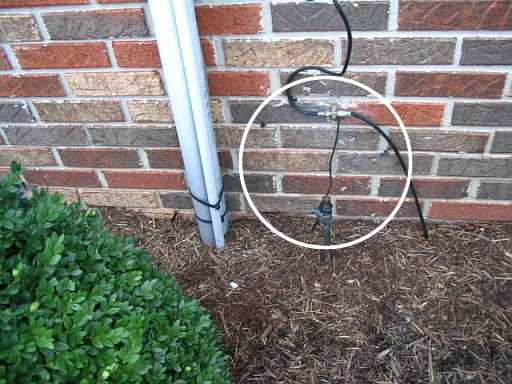 Plumbing
Water pressure (psi): Good
Location of main water shut-off valve: Garage Furnace Closet
Location of main water meter: street
Location of main fuel shut-off: Gas meter
Water service: Public
Service pipe material: Not visible
Supply pipe material: Copper, Polybutylene
Vent pipe material: Plastic
Drain pipe material: Plastic
Waste pipe material: Plastic
29)



The clothes dryer exhaust duct is too long, or has too many bends. This may reduce the air flow through the duct, resulting in overheating, reduced efficiency and/or difficulty in cleaning the duct. Standard building practices limit clothes dryer exhaust ducts to 25 feet, and less when bends are present (2.5 feet for each 45-degree bend and 5 feet for each 90-degree bend). A qualified contractor should evaluate and modify the exhaust duct as per standard building practices.
30)


The gas line is missing the required isolation valve to allow other appliances to be operable while service is being done to the dryer. Repair by a licensed plumber or HVAC tachnician is required.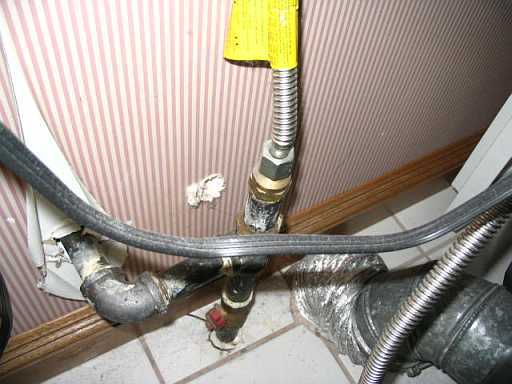 31)

The washing machine is installed over a finished living space and has no catch pan or drain installed. These are not commonly installed, but they are recommended to prevent water damage to finished interior spaces below if or when the washing machine leaks, overflows or is drained. Recommend having a qualified contractor install both a catch pan and drain.
32)

Section of polybutylene piping in northeast area is not supported properly and should be corrected to reduce stress on the piping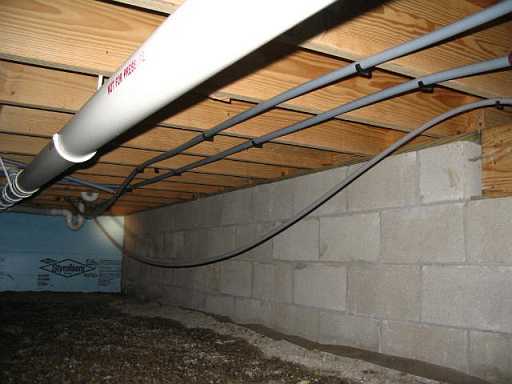 33)

Shutoff valves other than the fixtures themselves are not operated. These valves can break or leak when operated after years of inactivity. Consideration should be given to having these valves checked by a licensed plumber to verify satisfactory operation before the closing, or at least turn these valves before moving in to assure they still work and are not frozen.
34)


The polybutylene pipe material has been widely used in the 80's and early 90's, and has been primarily used in the modular and mobile home industry, but has had some history of leakage failure. Polybutylene lines are susceptible to leakage along with sudden splitting and have been involved in litigation and class action lawsuits. These materials deteriorate from the inside out. Polybutylene systems with metal(usually aluminum or copper) fittings do not fail as often as systems with plastic fittings. No signs of problems were seen in the visible areas today. I recommend shutting off the water at the main service if you are going to be gone for an extended period of time for peace of mind while you are away. More info can be found at
www.pbpipe.com
35)

Washer/Dryer were tested for basic operation today but the complete cycles were not tested. Recommend asking seller the history of these appliances and if they know if they work properly.
36) I performed a functional flow test of the plumbing system today. This is
a performance based test consisting of flushing dye down the system and running the water for 30-40 minutes.
Water heater
Estimated age: 1991
Type: Tank
Energy source: Gas
Capacity (in gallons): 50
Manufacturer: State
Model: PRV50 NBRT6
Water temperature (degrees Fahrenheit): 122
37)



Substandard wiring was found next to the water heater. This wire was not live but should be treated as if it were and eliminated for safety reasons.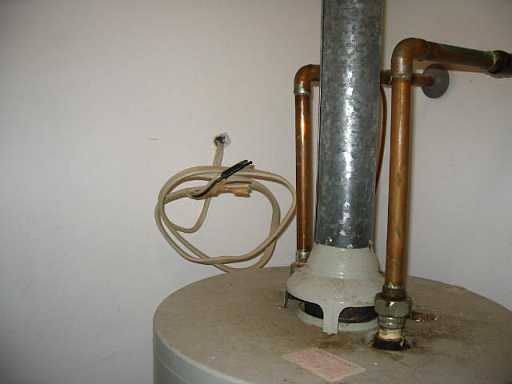 38)

Timers have been installed and should be configured so water circulates only at desired times for better energy efficiency. The client(s) should familiarize themselves with the timer's operation and configure it as needed.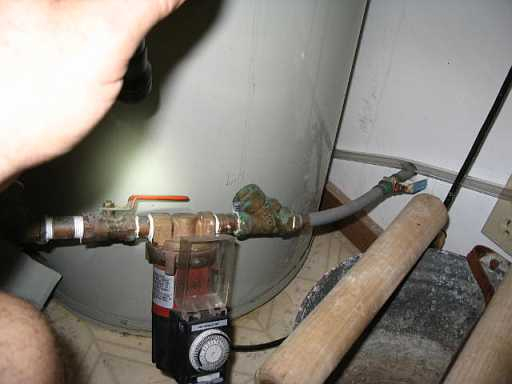 Heating and Cooling
Estimated age: 1991
Primary heating system energy source: Natural gas
Primary heat system type: Forced air, Down draft
Primary A/C energy source: Electric
Primary Air conditioning type: Split system
Distribution system: Sheet metal ducts
Manufacturer: Amana
Model: GCVA090 BX50
Filter location: At the top of the furnace
39)


The estimated useful life for air conditioning compressors is 8 to 15 years. This unit appears to have exceeded this age and may need replacing at any time. Recommend budgeting for a replacement and provide seasonal servicing to prolong useful life.
40)


The electronic air filter did not respond when its controls were operated. This system was not fully evaluated. The client(s) should consult with the property owner(s) as to how it operates and have a qualified heating and cooling contractor evaluate and make repairs if necessary.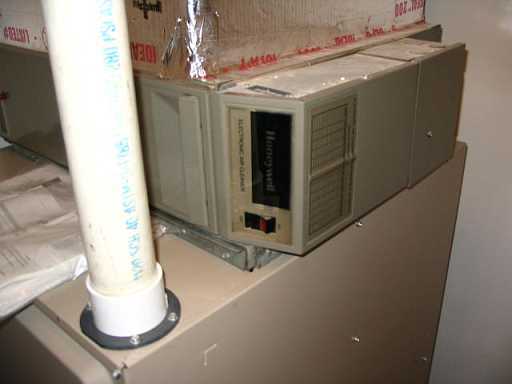 41)


Insulation is missing on one or more heating/cooling ducts in unconditioned spaces. Also the efficiency of the HVAC system would be improved by having a qualified HVAC company or contractor seal all connections and insulate the ducts in the crawl space. Some deterioration seen to the plenum in the crawl space today that should also be evaluated and corrected. A qualified contractor should evaluate and install insulation as necessary and as per standard building practices.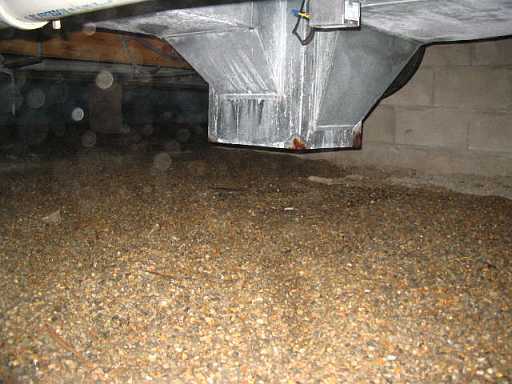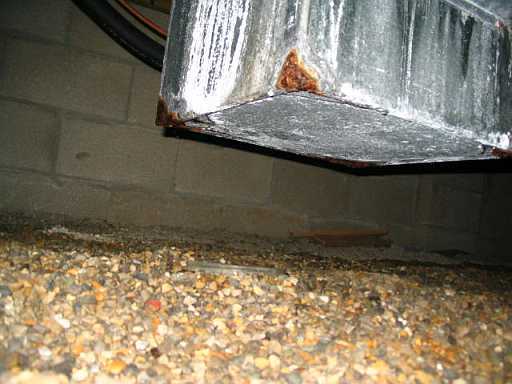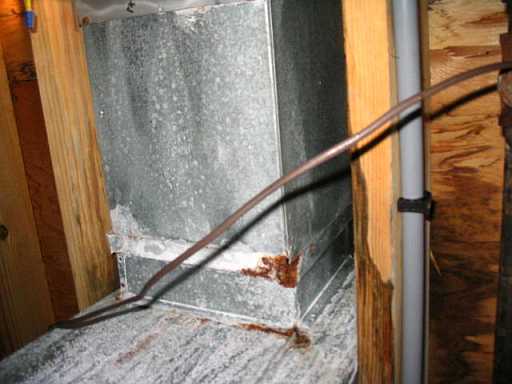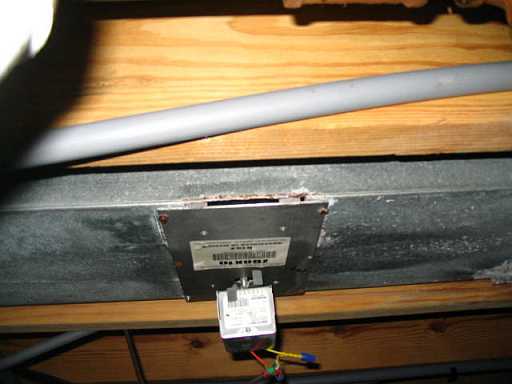 42)

System operated within the normal temperature range today. Recommend seasonal servicing. Advise Annual Preventive maintenance agreement from a local contractor.
43)

Limited inspection/operation of the furnace today due to high seasonal
temperatures. Recommend servicing be performed before the heating season and ask the seller the history of how it worked last winter.
44)
Humidifier is in good condition but must be monitored regularly to avoid internal mold growth and negative effects to the indoor air quality.
Fireplaces, woodstoves and chimneys
Fireplace type: Masonry with metal liner
Chimney type: Masonry
45)


Fireplaces equipped with a gas burner has a damper that can be closed. This is a safety hazard due to the possibility of burner or pilot light exhaust gases entering living spaces. A qualified chimney service contractor should make repairs as necessary so the damper is made permanently where it is prevented from full closure. Typically a bracket or bolt is installed for this purpose.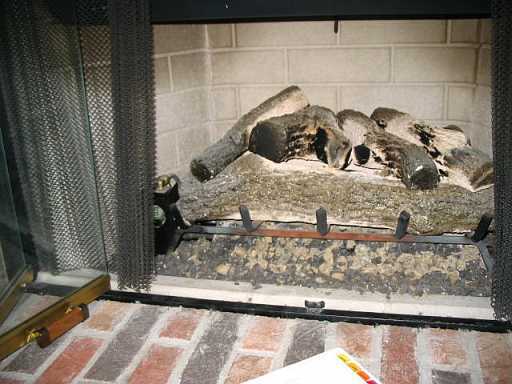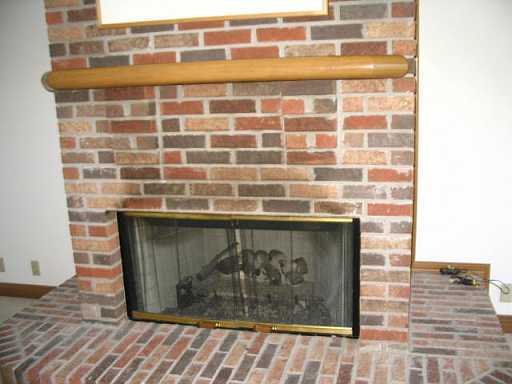 Crawl space
Inspection method: Traversed
Pier or support post material: Bearing wall, Concrete
Beam material: Solid wood
Floor structure above: Solid wood joists
Vapor barrier present: Yes
46)



Sections of wiring that weren't terminated were found. This is a potential safety hazard due to the risk of shock. Some of this abandoned wiring may still be live while others are disconnected or switch controlled. A qualified electrician should evaluate and repair as necessary. For example, cutting the wire to length and terminating the wire with wire nuts in a securely anchored, covered, properly sized junction box. (See Photo)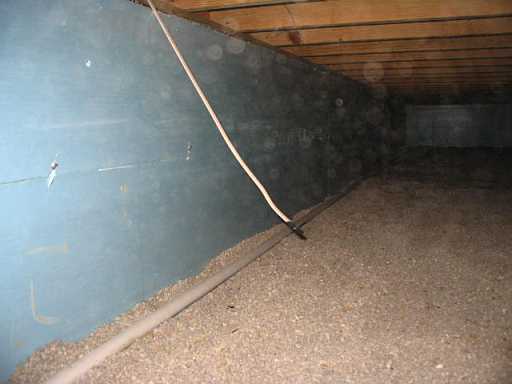 47)

Ventilation of crawl space would be improved by opening vents in the winter and closing vents in the summer. Moisture/condensation travels from hot to cold. Keep vents closed during the winter only where plumbing is close to lines. Current studies have determined that foundation vents are not needed as much if the moisture is controlled at the downspouts and with a moisture barrier to control water vapor travel. These vents could be closed all year long without any problems occurring as long as improvement to the downspout extensions are extended, moisture barrier is properly installed, and there are no issues with ground table water entry into the crawl. The signs seen today indicate the high moisture levels could be from high humidity and not water entry.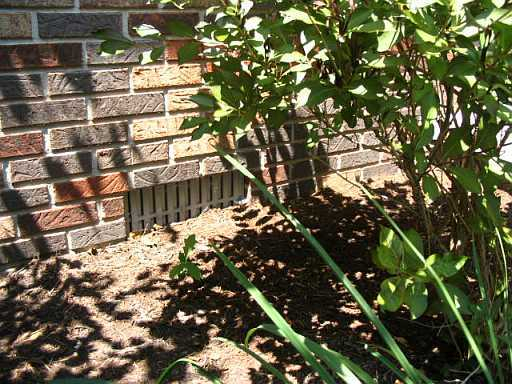 48)


The installation of a moisture barrier is the most important step in
reducing moisture problems throughout the home and in the crawl. When the moisture barrier is covered with 4 inches of gravel as was done here, the benefit of sealing the ground is lost and now the plastic traps the moisture in the crawl space, not allowing to let the moisture travel back into the ground. Recommend cutting small strips in the moisture barrier in each quarter of the crawl about 12 inches wide which will allow the trapped moisture to escape the crawl space.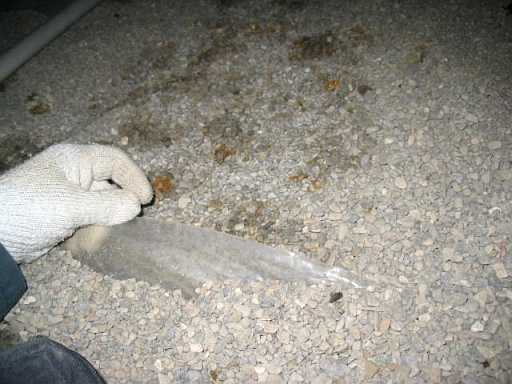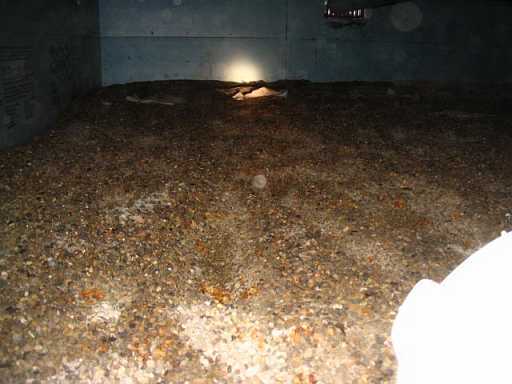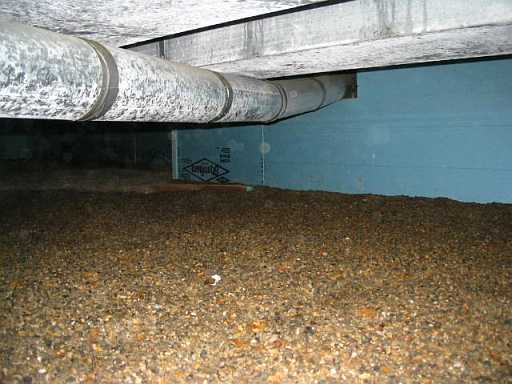 49)

Cellulose-based debris such as wood scraps, form wood, cardboard and/or paper were found in crawl space. All cellulose-based debris should be removed to avoid attracting wood destroying insects.
50)

Moisture issues in the crawl space can be something that is unseen and cause damage before it is located or discovered. Recommend periodic checks to assure there are no issues with leaks from plumbing system or standing water during/after high rain periods. Moisture will continue to deteriorate the wood components seen today unless properly controlled using recommendations seen in the report or verbally given.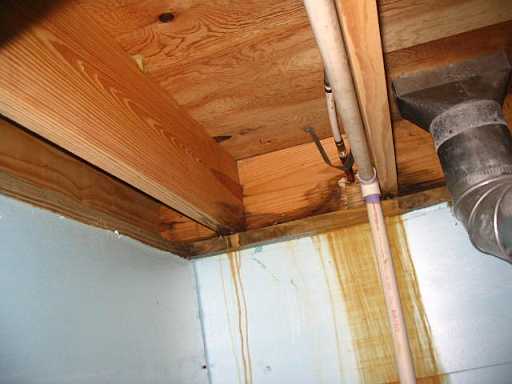 51)

The crawl space is being used as a storage area. All stored items, especially cellulose-based items such as wood, cardboard or paper, should be removed to allow maximum ventilation and to avoid attracting wood destroying insects.
Kitchen
52)


Live wires and open splices seen today. This should be eliminated for safety reasons or at least encapsulated inside a junction box to reduce shock hazard.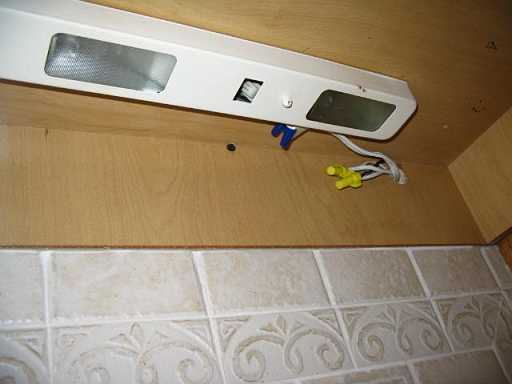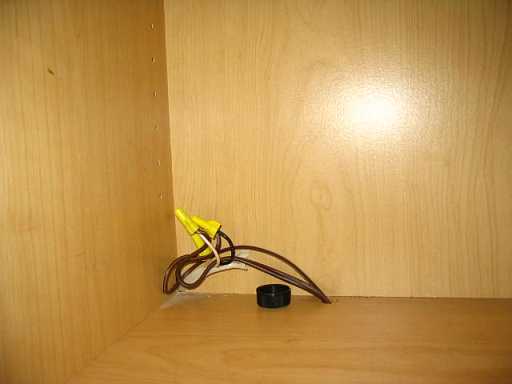 53)


Current standards require a dedicated outlet for any counter surface over 12 inches wide and outlets to be located no farther than 4 ft apart to service any counter surface without using extension cords. Recommend installing an outlet on the left and right side of cooktop for added convenience and increased safety.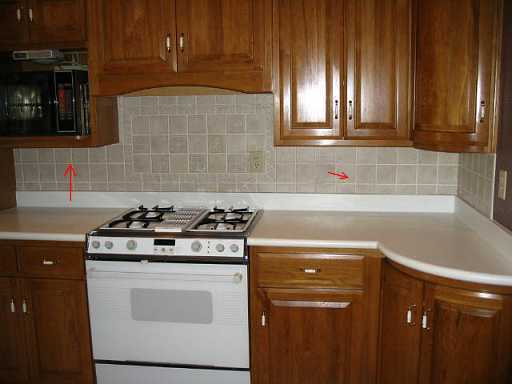 54)



Receptacles that serve countertop surfaces have no ground fault circuit interrupter (GFCI) protection. This is a safety hazard due to the risk of shock. This is required by current standards and may not have been required at the time this home was built and is a recommended upgrade. Any previous upgrades or remodels should have introduced this feature when it was done. Recommend adding these for increased safety..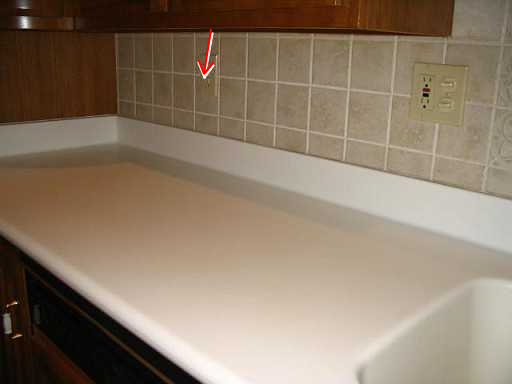 55)


The dishwasher drain line is not configured with a "high loop" or "air gap". A high loop is created by routing the drain line up to the bottom surface of the counter top above, and securely fastening it to that surface. It is meant to prevent water from siphoning out of the dishwasher, and to prevent water from the sink drain or food disposal from entering the dishwasher. Some dishwashers have a built-in high loop where one is not required to be configured in the drain line. The clients should try to determine if a high loop is required for this brand and model of dishwasher (review installation instructions, etc.). If one is required, or it cannot be determined if one is not required, then a qualified contractor should install a high loop as per standard building practices.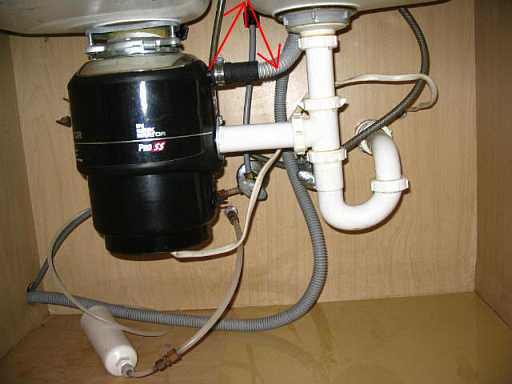 56)


The stove top's downdraft exhaust fan is inoperable. A qualified appliance technician should evaluate and repair as necessary. Also the duct tape is falling off the connection under cabinet and should be replaced with a heat approved duct tape.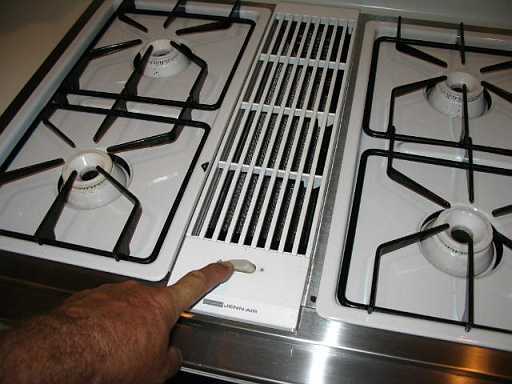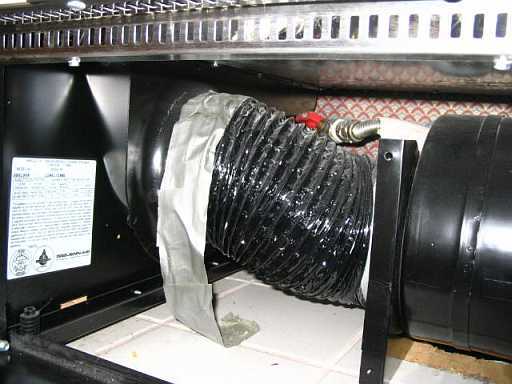 57)


Sink drains has an active leak. For example, at pipe fittings and/or junctions between pipe and sink. A qualified plumber should evaluate and repair as necessary.
58)

Lower than normal pressure noticed at sink faucet today while the functional flow was being done. Recommend checking the screen filter in faucet or have a licensed plumber evaluate and correct.
59)

Appliances are not fully checked through all cycles during my inspection
today. Recommend asking seller the history of whether they work before
closing. Any signs of problems will be included in my report if evident
today. This does not provide a guarantee for any of them on how long they will continue to operate normally.
60)

Center room fan fixture appear to be inoperable. Recommend further evaluation consulting with the property owner(s). Repairs or replacement of the fan fixture(s) by a qualified electrician may be necessary.
61)

Water stains and/or minor water damage was found in the shelving or cabinet components below the sink. The client(s) should evaluate and consider having repairs made.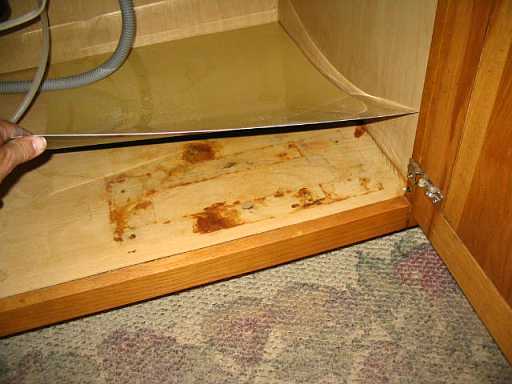 Bathroom Hall Master Bath
Walls: Drywall/Plaster
62)


Toilets is loose, and evidence of damage or possible damage to the floor structure below was found. For example, elevated levels of moisture and dark staining at carpeted flooring around the base of the toilet and next to west wall. A qualified contractor should remove toilet where necessary for further evaluation and repairs. The floor structure and flooring material did not appear to need repair or replacement. The source of moisture could also be from a plumbing vent stack in the adjacent wall and should be evaluated also. Adequate time should be allowed for enclosed, wet floor structures to dry out after repairs are made and before floor cavities are closed off to prevent mold growth.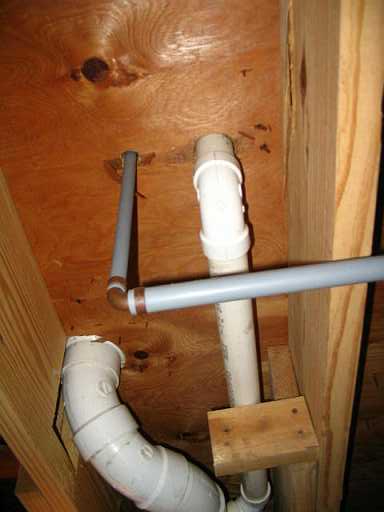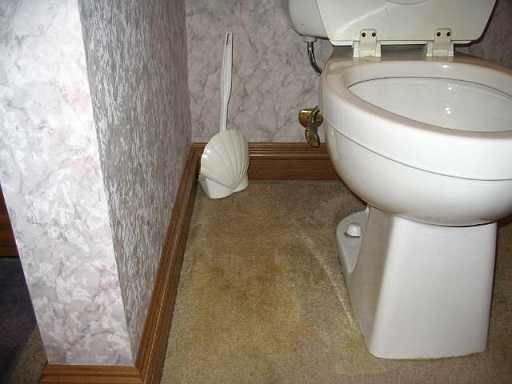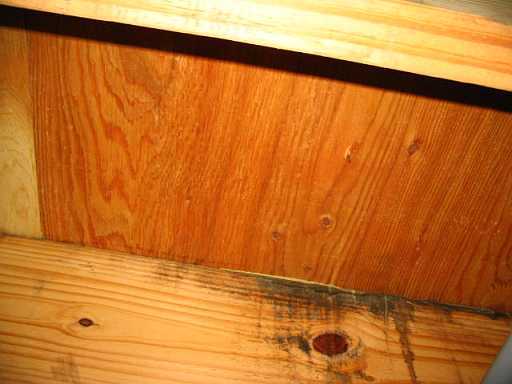 63)


MInor regrouting or recaulking is needed to protect from water entry behind tiles in the shower of the master bathroom. I took mmoisture readings and were not elevated althouth the shower has not been used lately since it is vacant. Ideally the connections between planes at walls in cornser and between floor and wall connections should be caulked since these will move and grouting will not hold. Recommend improvement.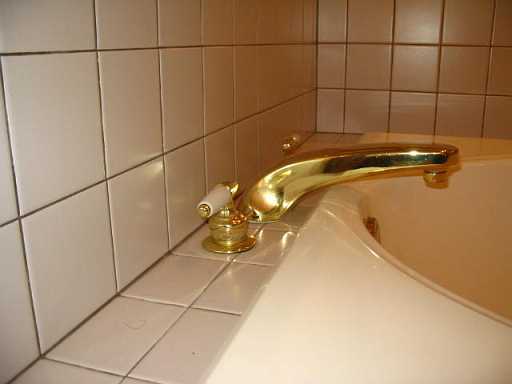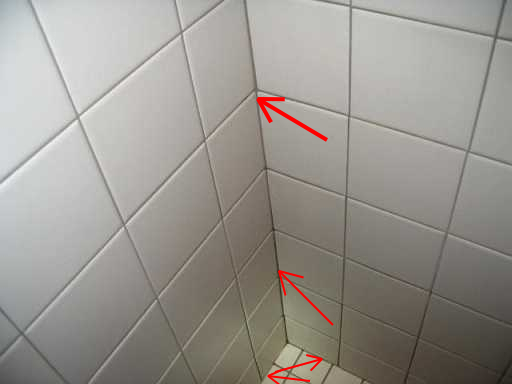 64)


Current national standards would require a motor access panel to reduce the intrusive repair necessary in case service is needed. Local jurisdiction having authority may not have adopted this part of the standard. Recommend providing an access panel in front for this purpose.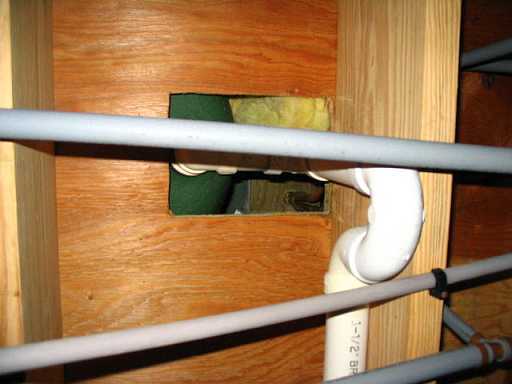 65)

Caulk is missing or deteriorated around the base of bathtub spouts. It should be replaced where deteriorated and/or applied where missing to prevent water intrusion and damage to wall structures.
66)

Ground fault circuit interrupter (GFCI) electric receptacles were tested today and worked normally where required.
67)

Whirlpool operation not tested. Checked connections an GFCI connection as required. All appeared in working order and not leaking GFCI Connection is protected at main panel and should be tested regularly..
Bathroom Hall bath
Walls: Drywall/Plaster
68)

Caulk is missing or deteriorated above bathtub, where the tub surround meets the tub. It should be replaced where deteriorated and/or applied where missing to prevent water intrusion and damage to the wall structure.
69)

The door to the stool and shower area is operational but the lock is inoperable and should be repaired if warranted.
70)

Ground fault circuit interrupter (GFCI) electric receptacles were tested today and operated normally where required. Recommend regular testing.
Interior rooms
Window Type: Casement, Wood Thermal
71)


Current standards call for floor plugs to be covered for safety and a
waterproof design in interior rooms. Recommend upgrading to this safer style plug in the living room wher I noticed them.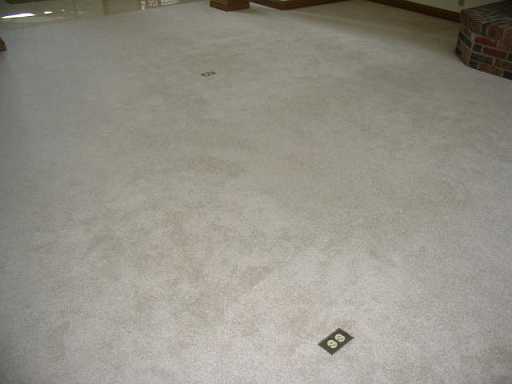 72)

Minor cracks were found in walls in one or more areas. They do not appear to be a structural concern, but the client(s) may wish to repair these for aesthetic reasons.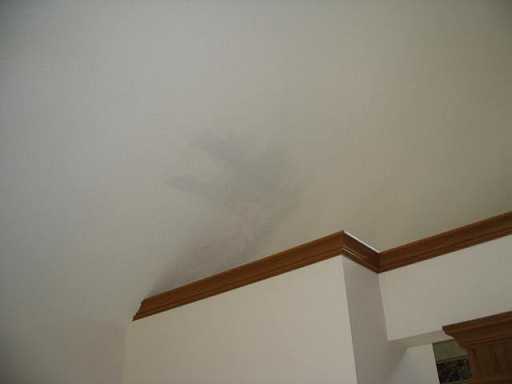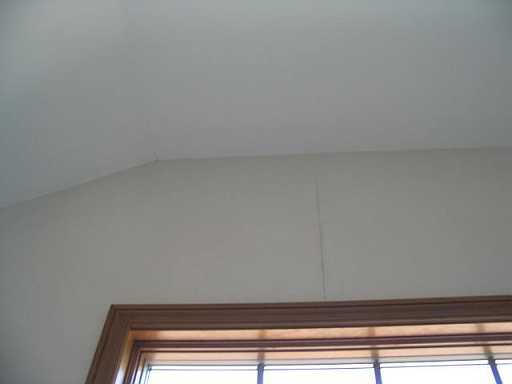 ---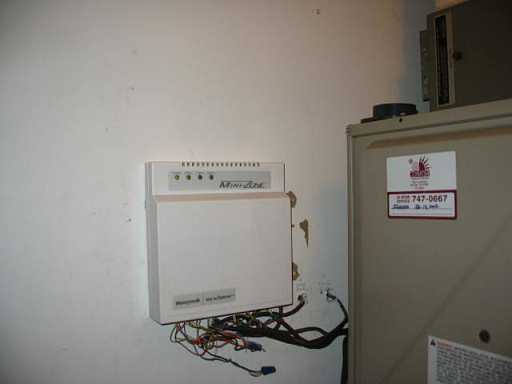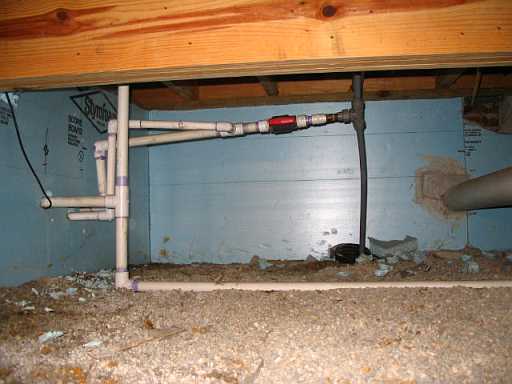 ---
Gainey Home Inspection Services Inc Indiana License #HI00500083 inspector132@comcast.net 765-759-2266