This report is the exclusive property of this inspection company and the client(s) listed in the report title. Use of this report by any unauthorized persons is prohibited.
---
How to Read this Report

This report is organized by the property's functional areas. Within each functional area, descriptive information is listed first and is shown in bold type. Items of concern follow descriptive information. Concerns are shown and sorted according to these types:
| | | |
| --- | --- | --- |
| | Safety | Poses a risk of injury or death |
| | Repair/Replace | Recommend repairing or replacing |
| | Repair/Maintain | Recommend repair and/or maintenance |
| | Minor defect | Correction only involves a minor expense |
| | Evaluate | Recommend evaluation by a specialist |
| | Serviceable | Item or component is in serviceable condition |
| | Comment | For your information |
Click here for a glossary of building construction terms.Contact your inspector If there are terms that you do not understand, or visit the glossary of construction terms at https://www.reporthost.com/glossary.asp
General information
Report number: Buddingh062819
Structures inspected: Frame
Type of building: Condo
Year built or Age of building: Originally built in 1820 and renovated in 2007 (Inf. from agent)
Property owner's name: N/A
Time started: 2:30 pm
Present during inspection: Real Estate Agent: Sandra Santos-Lacey
Time finished: 3:50 pm
Occupied: Yes
Weather conditions: Clear
Temperature: Hot, About 93 F
Ground condition: Dry
Front of structure faces:
Main entrance faces:
Foundation type: 3rd Floor
1)


Information of the property
*Down stair: Master Br. w/ M.Bath, Walk in closet, Br. w/ F.Bath, Walk in Closet w/ Air handler
*Main floor: Living/Family room, powder Rm, Eat-in-Kitchen, Door to the Deck,
*Loft: Size 7'-5"x 11'-10"
*Floor size: 1,332 sq/ft
2)

Some wall and floor surfaces were obscured by furniture and/or stored items. Some areas couldn't be fully evaluated.
3)

Following items are all evaluated and acceptable condition.
*Switches, Outlets and GFCI safety protected receptacles, light fixtures
*Cabinets, faucets and drain systems
*Windows and doors
*Ceilings, walls and Floors
Exterior
4)

Deck: Nice condition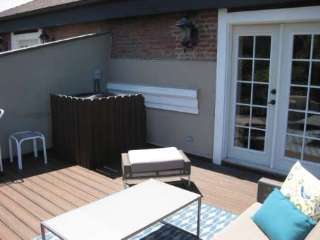 Electric service
Primary service type: Underground
Primary service overload protection type: Circuit breakers
Service amperage (amps): 100
Service voltage (volts): 120/240
Location of main service switch: Main utility room
Location of service panel: Living room
Location of main disconnect: No single main disconnect, use all breakers in main service panel
Service entrance conductor material: Copper
System ground: Ground rod(s) in soil, Cold water supply pipes
Main disconnect rating (amps): Not applicable, no single main disconnect
Branch circuit wiring type: Non-metallic sheathed
Solid strand aluminum branch circuit wiring present: No
Smoke detectors present: Yes
Heating and Cooling System
Estimated age: 2 years old
Primary heating system energy source: Gas
Primary heat system type: Forced air
Primary A/C energy source: Electric
Primary Air conditioning type: Split system
Distribution system: Sheet metal ducts
Manufacturer of condensing unit: Guardian
Model: Model No.; GAW14L48C22SA, Serial No.; W1N7346458
Filter location: In return air duct below furnace
Last service date: N/A
5)

Air filter should be checked every month and replaced when necessary.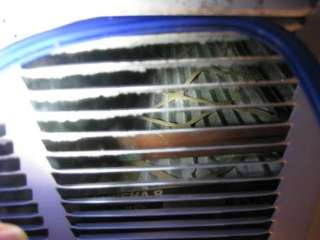 6)

The condensing unit and air handler were working fine when cooling system was evaluated.
The air handler unit could not be evaluated fully due to wall covered with panel and screws down.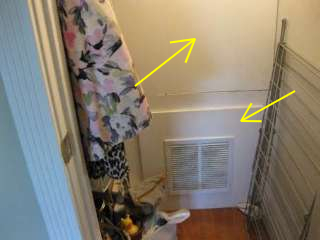 Plumbing and laundry
Water pressure (psi): 65 psi (Normal)
Location of main water shut-off valve: Main utility room
Location of main water meter: **
Location of main fuel shut-off: **
Water service: Public
Service pipe material: Copper
Supply pipe material: Copper
Vent pipe material: Not visible
Drain pipe material: Not visible
Waste pipe material: Plastic
7)


Neither the clothes washer nor dryer were operated or evaluated. They are excluded from this inspection. The machine was out of order.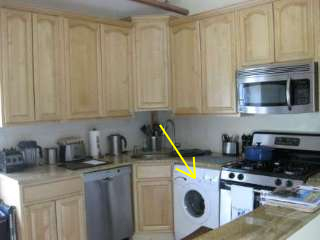 Kitchen
8)


The dishwasher drain line is not configured with a "high loop". A high loop is created by routing the drain line up to the bottom surface of the counter top above, and securely fastening it to that surface. It is meant to prevent water from siphoning out of the dishwasher, and to prevent water from the sink drain or food disposal from entering the dishwasher. Some dishwashers have a built-in high loop where one is not required to be configured in the drain line. The clients should try to determine if a high loop is required for this brand and model of dishwasher (review installation instructions, etc.). If one is required, or it cannot be determined if one is not required, then a qualified contractor should install a high loop as per standard building practices.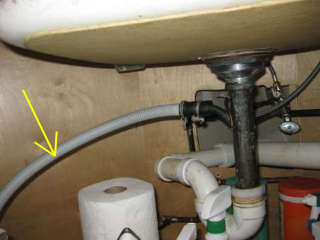 Bathrooms
9)

Bathtub stopper mechanism needs to be repaired or adjusted so open and close easily.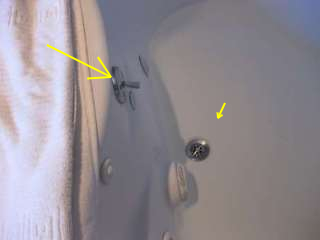 10)

The bathtub drain is clogged or drain slowly. Drain should be cleared as necessary, and by a qualified plumber if necessary.
Interior rooms
11)


Handrails is missing in front stairway. One or more flights of stairs with more than two risers have no handrail installed. This is a safety hazard. A licensed contractor should install graspable handrails that your hand can completely encircle at stairs where missing, and as per standard building practices.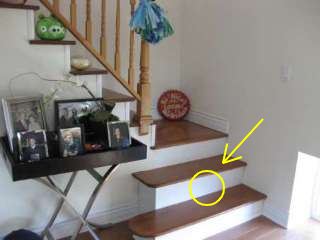 12)

Living room light switch cover plate is broken. Cover plates should be replaced where necessary.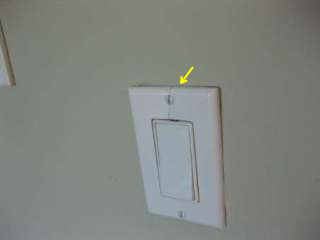 13)

It is recommended to have air circulating for the loft area. (Ex. Install a ceiling fan)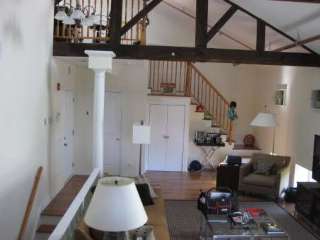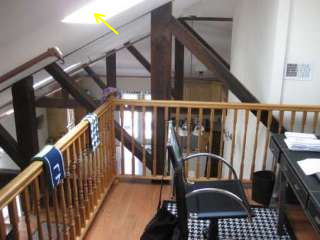 ---
Your default report footer here...