Stains were found in one or more ceiling areas. However, no elevated levels of moisture were found. The stain(s) may be due to past roof and/or plumbing leaks.Consult with the property owner and monitor the stained area(s) in the future, especially after heavy or prolonged rain. If elevated moisture is found in the future, then recommend that a qualified contractor evaluate and repair as necessary.
---
Wood Destroying Organism Findings
Limitations: This report only includes findings from accessible and visible areas on the day of the inspection. In addition to the inaccessible areas documented in this report, examples of other inaccessible areas include: sub areas less than 18 inches in height; attic areas less than 5 feet in height, areas blocked by ducts, pipes or insulation; areas where locks or permanently attached covers prevent access; areas where insulation would be damaged if traversed; areas obscured by vegetation. All inaccessible areas are subject to infestation or damage from wood-destroying organisms. The inspector does not move furnishings, stored items, debris, floor or wall coverings, insulation, or other materials as part of the inspection, nor perform destructive testing. Wood-destroying organisms may infest, re-infest or become active at any time. No warranty is provided as part of this inspection.
Visible evidence of active wood-destroying insects: No
Visible evidence of active wood decay fungi: No
Visible evidence of past wood-destroying insects: No
Visible evidence of past wood decay fungi: No
Visible evidence of damage by wood-destroying insects: No
Visible evidence of damage by wood decay fungi: No
Visible evidence of conditions conducive to wood-destroying organisms: YesOvergrown vegitation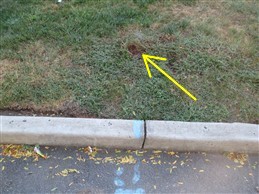 Photo X-1
Exterior Main water shut-off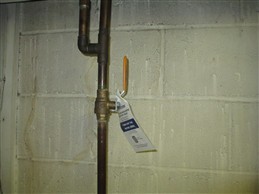 Photo X-2
Interior Main water shut-off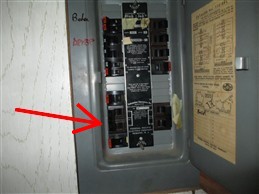 Photo X-3
Main electric shut-off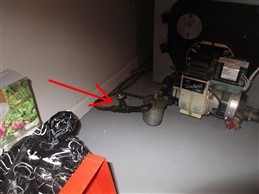 Photo X-4
Main fuel shut-off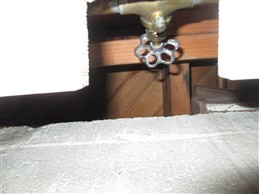 Photo X-5
Front hose bib shut-off in wall above water meter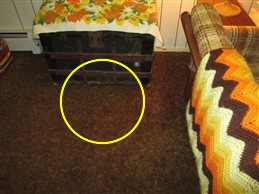 Photo X-6
Main Sewer clean-out in floor under carpet.
---
DE Home Inspections
908-239-4081
INSPECTION AGREEMENT
THIS IS A LEGALLY BINDING CONTRACT
Customer____________________________________________________ Phone______________________________
Inspection Address________________________________________________________________________________
Customer Address_________________________________________________________________________________
Inspection Date________________ Time_________________
THIS INSPECTION AGREEMENT contains limitations on the scope of the Inspection, remedies and liability. Please read it carefully. By signing below, the Customer represents and warrants that they have secured all approvals necessary for DE Home Inspections to conduct the Inspection of the Property. The Customer also warrants that: (a) they have read this Agreement carefully (b) they bound by all the terms of this Agreement (c) they will read the entire Inspection Report when received and within 5 days of receipt inquire if any questions arise, and (d) their Attorney will check for all Permits & Certifications. Customer understands that the Inspection and Inspection Report are performed and prepared for Customer's sole and exclusive use and is not intended to be transferred to, utilized or relied upon by any other person or entity without prior written permission of DE HOME INSPECTIONS.
The inspection will include a report on the following unless otherwise directed by the customer or circumstances prevent.
Structural Components Exterior Components Roofing System Components
Plumbing System Components Electrical System Components Heating System Components
Cooling System components Interior Components Insulation Components & Ventilation System
Fireplaces & solid fuel burning appliances
I wish to exclude the Systems and/or Components listed above from the Home Inspection:
___________________________________________________________________________________________________________________________
This inspection is performed in accordance with the Standards of Practice of the N.J.A.C. 13:40-15. Home Inspectors are governed by and shall comply with these rules. Failure to do so may subject licensee to discipline. We report visible defects of readily accessible areas of the structure (based upon non-invasive visual observation only) apparent on the day of the inspection. If further action is recommended, including (but not limited to) consulting a specialized expert, you must do so at your expense or assume all risks associated with failure to do so. Soil conditions, geological stability, or engineering analysis are beyond the scope and purpose of this inspection. Cosmetic items are not included in this report.
The Inspector is not required to move furniture, personal goods or equipment which may impede access or limit visibility. The Inspector is not required to evaluate the condition or presence of storm windows, storm doors, shutters, awnings and other such accessories, or to determine their functional efficiency. Intercoms, security systems, fences, timers, and water conditioning equipment are not inspected or evaluated. No destructive or disruptive testing procedures are performed by the Inspector. Design problems and adequacies are not within the scope of the inspection. The Inspector will not determine the operational capacity, quality or suitability for a particular use of the items inspected. The inspection does not determine compliance or noncompliance with manufacturer's specifications; past or present.
If the Inspector must return for a subsequent inspection of components which were not able to be inspected, a base fee of $100.00 per hour will apply.
The inspection is furnished on an opinion only basis and is made solely for the information of the Customer. THE INSPECTION AND REPORT ARE NOT INTENDED TO BE USED AS A GUARANTEE OR WARRANTY, EXPRESSED OR IMPLIED. THIS REPORT IS NEITHER AN INSURANCE POLICY THAT ITEMS FOUND ACCEPTABLE WILL REMAIN SO FOR ANY PERIOD OF TIME, NOR THAT EVERY DEFECT WILL BE DISCOVERED. It is further understood and agreed that DE Home Inspections is not an insurer and does not insure against defects found in the property. The inspection is not a compliance inspection or certificate for past or present governmental or local codes or regulations. It does not include air or water quality or the presence or absence of asbestos or the type of insulation. Determining the presence or absence of safety glass, lead paint or any toxic or hazardous materials or substances, environmental hazards including but not limited to radon gas, carbon monoxide, rodents, insects or pests is beyond the scope and purpose of this inspection, Detached buildings are not inspected unless specifically included. The inspection and report shall not include wood destroying organisms unless the wood destroying organism inspection has been requested, and a report thereon submitted in which case the wood destroying organism inspection and report are subject to the terms hereof. Estimates for repair costs are to be used as a guide only, and are based on current rates of professional licensed contractors.
ACTUAL REPAIR COSTS MUST BE DETERMINED BY THE CUSTOMER PRIOR TO CLOSING. DO NOT RELY ON COST ESTIMATES IN THE REPORT.
The Customer agrees and understands that if DE HOME INSPECTIONS is found liable for any loss or damage due to negligence or the failure to perform obligations in this Contract, including the improper or negligent performance of the inspection or the improper or negligent reporting of conditions of the property, DE HOME INSPECTIONS'S maximum liability shall be limited to the fee paid to DE HOME INSPECTIONS for the inspection, and this liability shall be exclusive. This limitation of liability specifically covers liability for: damaged property, loss of use of the property, lost profits, consequential damages, special damages, incidental damages and governmental fines and charges.
The Customer must bring claims in a timely manner, (within six months after the date of this Contract). The Customer must provide DE HOME INSPECTIONS the right to examine the subject matter and area of any claim within ten (10) days after discovery and prior to any remedial measures or repairs. If all the above provisions are not met, the Customer waives the right to sue DE HOME INSPECTIONS and DE HOME INSPECTIONS has no liability.
Any controversy or claim arising out of, or relating to this Contract, the inspection or the inspection report shall be settled by binding arbitration administered by the American Arbitration Association. Judgment of the award rendered by the arbitration panel may be entered in any court having jurisdiction hereof. All costs for the arbitration will be the full and sole responsibility of the person or entity bringing the claim. All arbitrators shall have knowledge of the home inspection industry and at least two members of the arbitration panel shall be members of the New Jersey Bar. In ascertaining the degree of care that would be used by a prudent home inspector, all arbitrators shall rely solely upon N.J.A.C, 13:40-15.
Initials ( ) The customer authorizes DE Home Inspections to distribute copies of the report and/or discuss the contents with the real estate agent(s), attorney(s) and lender(s) involved in this transaction. Notwithstanding the foregoing this report is intended for the use of the above named customer and no other person or entity may rely on the report for any reason. Customer agrees to hold harmless and indemnify DE Home Inspections for losses, fees and costs incurred as a result of any third party action which may include DE Home Inspections relative to this report. Furthermore, any third party reviewing this report for any reason shall be bound by the terms and conditions of the Inspection Agreement which is an integral part of the report.
I have received a copy and accept all provisions of this Contract IN ITS ENTIRETY. I understand that I have the right to have my attorney review this Contract prior to my signing it.
$_________________Home Inspection $__________________WDI Inspection $______________Radon Testing
Date_______________ Customer__________________________________________________
Date_______________ Inspector__________________________________________________ License # GI00100900