One or more windows that were designed to open and close were stuck shut. Recommend that a qualified person repair windows as necessary so they open and close easily.
---
42)

A strut supporting the kitchen pantry shelves was resting on the crawl space access hatch. A qualified person should repair as necessary so the access hatch can be removed and replaced easily.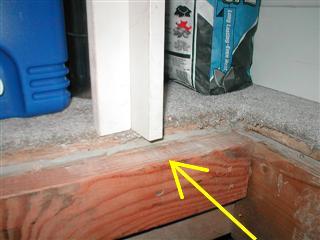 Photo 42-1
Support post for pantry shelving resting on crawl space access hatch.
---
43)

The master bedroom door stuck shut after it was closed and latched. Some minor repairs are needed to prevent this from happening in the future.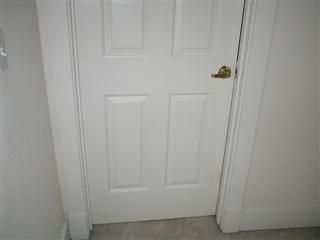 Photo 43-1
Master bedroom door.
---
44)

Screens were missing from some windows. These windows may not provide ventilation during months when insects are active.
---
Wood Destroying Organism Findings
Limitations: This report only includes findings from accessible and visible areas on the day of the inspection. In addition to the inaccessible areas documented in this report, examples of other inaccessible areas include: sub areas less than 18 inches in height; attic areas less than five feet in height, areas blocked by ducts, pipes or insulation; areas where locks or permanently attached covers prevent access; areas where insulation would be damaged if traversed; areas obscured by vegetation. All inaccessible areas are subject to infestation or damage from wood destroying organisms. The inspector does not move furnishings, stored items, debris, floor or wall coverings, insulation, or other materials as part of the inspection, nor perform destructive testing. Wood destroying organisms may infest, reinfest or become active at anytime. No warranty is provided as part of this inspection.
Visible evidence of active wood destroying insects: No
Visible evidence of active wood decay fungi: Yes
Visible evidence of past wood destroying insects: No
Visible evidence of past wood decay fungi: Yes
Visible evidence of damage by wood destroying insects: No
Visible evidence of damage by wood decay fungi: Yes
Visible evidence of conditions conducive to wood destroying organisms: Yes
---
FOLLOW-UP INSPECTION POLICY
Generally we discourage follow-up inspections for these reasons
1. Quality of repairs
If repairs are made to a property based on the results of an inspection, the work should be performed by qualified contractors, not the seller. By qualified, we mean licensed, bonded, state-certified where applicable and with a reasonable amount of experience. Contractors providing repairs should provide legible documentation in the form of work orders and/or receipts. If repairs are made in this way, then there's generally no need for a follow-up inspection. Additionally, it may be better to negotiate a lower price on your home and have repairs made by contractors you choose rather than the seller making repairs as cheaply as possible.
2. Pest inspections required for some follow-up inspections
On occasion, some follow-up inspections may require a complete, new structural pest inspection. Examples include:
Evaluating a crawl space after carpenter ant infestation was found
Evaluating numerous items throughout a structure after a significant amount of time has passed (original inspection in winter, follow-up in summer)
Our fees for follow-up inspections are as follows:
Follow-up inspection: $150
Follow-up inspections with a structural pest (WDO/WDI) inspection: $250
Additional charges usually apply for travel outside of Kitsap County
---
SCOPE AND LIMITATIONS OF THIS INSPECTION
This inspection is limited to a visual observation of the exposed and readily accessible areas of the home. The concealed and inaccessible areas are not included. The following locations are considered inaccessible due to limited height and excluded from this inspection unless otherwise stated:
Crawl space areas less than 18 inches in height
Attic spaces less than 5 feet in height
Spaces under outdoor decks less than 5 feet high
Observation includes operation of the systems or components by means of the normal user controls. Dismantling of equipment, and destructive testing is not included. Some specific items are also excluded, and these are listed in the following section. If you feel there is a need for evaluation of any of these items, then you will need to arrange for specific inspections.
Items not Included
Recreational, leisure, playground or decorative equipment or appliances including but not limited to pools, hot tubs, saunas, steam baths, landscape lighting, fountains, shrubs, trees, and tennis courts;
Cosmetic conditions (wallpapering, painting, carpeting, scratches, scrapes, dents, cracks, stains, soiled or faded surfaces on the structure or equipment, soiled, faded, torn, or dirty floor, wall or window coverings etc.);
Noise pollution or air quality in the area;
Earthquake hazard, liquefaction, flood plain, soil, slide potential or any other geological conditions or evaluations;
Engineering level evaluations on any topic;
Existence or non-existence of solder or lead in water pipes, asbestos, hazardous waste, radon, urea formaldehyde urethane, lead paint or any other environmental, flammable or toxic contaminants or the existence of water or airborne diseases or illnesses and all other similar or potentially harmful substances (although the inspector may note the possible existence of asbestos in ceiling texture and furnace duct tape);
Zoning or municipal code (e.g. building, fire, housing (existing buildings), mechanical, electrical, plumbing, etc. code) restrictions or other legal requirements of any kind;
Any repairs which relate to some standard of interior decorating;
Cracked heat exchangers or similar devices in furnaces;
Any evaluation which requires the calculation of the capacity of any system or item that is expected to be part of the inspection. Examples include but are not limited to the calculation of appropriate wattage or wiring of kitchen appliances, appropriate sizing of flues or chimneys, appropriate ventilation to combustion-based items (e.g. furnaces, water heaters, fireplaces etc.), appropriate sizing, spacing and spanning of joists, beams, columns, girders, trusses, rafters, studs etc., appropriate sizing of plumbing and fuel lines, etc.;
Washers and dryers;
Circuit breaker operation;
Specialty evaluations such as private sewage, wells, solar heating systems, alarms, intercom systems, central vacuum systems, wood and coal stoves, pre-fab and zero clearance fireplaces, space heaters, sprinkler systems, gas logs, gas lights, elevators and common areas unless these have been specifically added to the inspection description above but only to the degree that the inspector is capable of evaluating these items;
Items that are not visible and exposed including but not limited to concealed wiring, plumbing, water leaks, under bathtubs and shower stalls due to faulty pans or otherwise, vent lines, duct work, exterior foundation walls (below grade or covered by shrubs or wall/paneling, stored goods etc.) and footings, underground utilities, and systems and chimney flues;
Evaluations involving destructive testing;
Evaluation which requires moving personal goods, debris, furniture, equipment, floor covering, insulation or like materials;
Design problems and adequacy or operational capacity, quality or suitability;
Fireplace drafting;
To prevent damages to units, air conditioning when outside temperature below 60 degrees F or if the unit has not been warmed up or on for at least 24 hours prior to inspection;
Any evaluation which would involve scraping paint or other wall coverings;
Heating system accessories (e.g. humidifiers, electronic air cleaners etc.);
Legal description of property such as boundaries, egress/ingress, etc.;
Quality of materials;
Conformance with plan specifications or manufacturers specifications;
Flood conditions or plains;
Any other characteristics or items which are generally not included in a building inspection report on a regular basis.
As a part of our service, we sometimes provide approximate, cost of repair estimates for particular items. These estimates should be considered as background information only. It is beyond the scope of this inspection and report to supply you with accurate repair costs. Such estimates should be supplied by contractors who specialize in this type of work. Our estimates should be used only as guidelines. If you intend to negotiate the price of this property based on defects found during this inspection, we strongly suggest you obtain one or more written bids from a licensed contractor(s). It is a conflict of interest for All Point Home Inspections to recommend any specific contractor.
Evaluations are made as to the present age, and remaining economic life of an item, i.e. water heaters, roofs, plumbing, furnaces, etc. These evaluations are based on visual observation, industry averages and prior experience. THEY ARE NOT OFFERED AS A WARRANTY OR CERTIFICATION OF REMAINING LIFE.
Disclaimer
In some cases we may recommend your consulting a specialist such as a structural engineer or licensed electrician. Hiring a specialist can be a prudent means of providing some protection of your financial investment in this property. WE DO NOT MAKE ANY TYPE OF WARRANTY OR GUARANTEE AS TO THE CONDITION OF THE PROPERTY. SOME THINGS MAY REMAIN HIDDEN OR BECOME DEFECTIVE AFTER THE INSPECTION. IT IS NOT POSSIBLE TO DETECT EVERY DEFECT WITHIN A BUILDING DURING THE COURSE OF A GENERAL INSPECTION. THIS REPORT SHOULD BE USED IN CONJUNCTION WITH, AND NOT A REPLACEMENT FOR , A PRE-CLOSING WALK-THROUGH BY THE CLIENT.
THIS INSPECTION IS NOT AN INSURANCE POLICY AGAINST HIDDEN DEFECTS, OR CONDITIONS THAT ARE NOT VISIBLE AND READILY APPARENT AT THE TIME OF INSPECTION.
THE COST OF THIS INSPECTION DOES NOT ENTITLE YOU TO ANY TYPE OF PROTECTION FROM HIDDEN FLAWS AND DEFECTS. THIS INSPECTION DOES NOT TRANSFER YOUR ULTIMATE RESPONSIBILITY TO ALL POINT HOME INSPECTIONS.