This report is the exclusive property of this inspection company and the client(s) listed in the report title. Use of this report by any unauthorized persons is prohibited.
---
How to Read this Report

This report is organized by the property's functional areas. Within each functional area, descriptive information is listed first and is shown in bold type. Items of concern follow descriptive information. Concerns are shown and sorted according to these types:
| | | |
| --- | --- | --- |
| | Safety | Poses a risk of injury or death |
| | Repair/Replace | Correction and further evaluation recomended |
| | Repair/Maintain | Recommend repair and/or maintenance |
| | Maintain | Recommend ongoing maintenance |
| | Evaluate | Recommend evaluation by a specialist |
| | Comment | For your information |
Click here for a glossary of building construction terms.Contact your inspector If there are terms that you do not understand, or visit the glossary of construction terms at https://www.reporthost.com/glossary.asp
General information
Report number: 20091031-1
Structures inspected: 12632 Crystal Peak. Paradise Divide, CO 81226
Type of building: Single family backcountry ski chalet
Time started: 10 a.m
Inspection Fee: $700.00
Property owner's name: Fannie Mae
Occupied: No
Weather conditions: Snow
Temperature: Cold
Ground condition: Wet
Front of structure faces: West
Main entrance faces: West
Foundation type: Crawlspace
The following items are excluded from this inspection: Security system
1)

This property has one or more fuel burning appliances, and the required amount of carbon monoxide alarms are not visible.
This is a potential safety hazard.
As of 2009 State law requires that a carbon monoxide alarm be installed within 15 feet of each sleeping room in a dwelling. Attached garages and mechanical rooms should be equipped with a CO detector as well.(or in a location as specified in any building code adopted by the state or any local government entity).
Recommend further evaluation and compliance with these safety
components, regulations and requirements
For more information, visit
http://www.caahq.org/category/2009-legislative-session/carbon-monoxide/
2)
Hot tub was drained during the inspection and was not evaluated.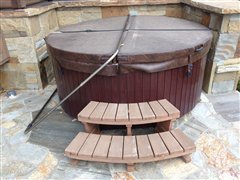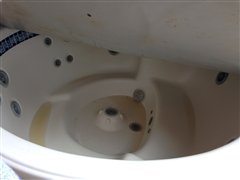 Exterior
Footing material: Poured in place concrete
Foundation material: Poured in place concrete
Apparent wall structure: Wood frame
Wall covering: Wood clapboard, Stone veneer
Driveway material: Dirt
Sidewalk material: N/A
Exterior door material: Solid core wood
3)




East side stairs and steps are considered unsafe due to a non-standard configuration, such as too-high riser heights and/or too-narrow tread depths. Standard building practices call for riser heights not to exceed eight inches and tread depths to be at least nine inches but preferably 11 inches. Riser heights should not vary more than 3/8 inch on a flight of stairs. A qualified contractor should repair or replace stairs so they conform to standard building practices.
4)


Loose stones were found in one or more sections of stone veneer. A qualified contractor should evaluate and make repairs as necessary.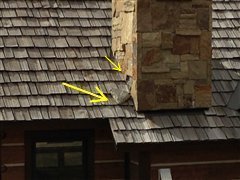 5)

One East side outside faucet is missing its handle. Recommend installing handles where missing.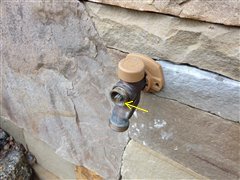 6)
Exterior aspects.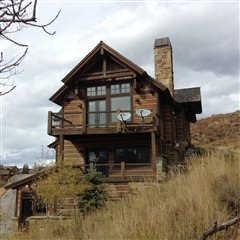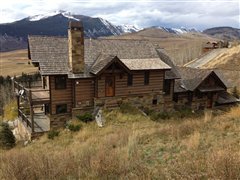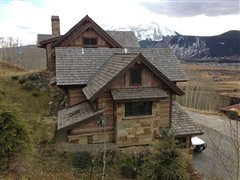 Roof
Roof inspection method: Viewed from eaves on ladder, Viewed from ground with binoculars
Roof type: Cross gable
Roof covering: Wood shakes
Estimated age of roof: 6 years
Gutter & downspout material: None
Roof ventilation: Adequate
7)



Some wood shakes are slightly damaged and/or deteriorated. Over time, wood shakes typically curl, split, rot at the ends, "burn through", and/or become loose. Such failures typically result in exposed felt and/or possibly leaks. A qualified roofing contractor could evaluate and replace shakes as necessary and should clean the wood shake roof as necessary, and apply a preservative soon and every three to five years in the future.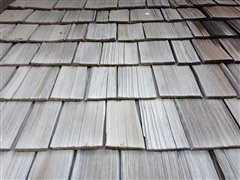 8)
Roofing aspects.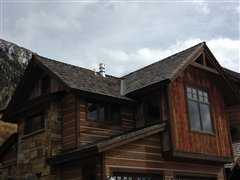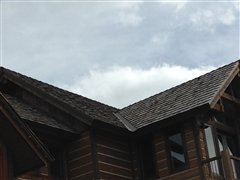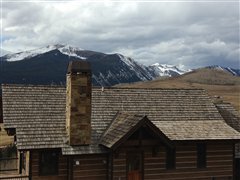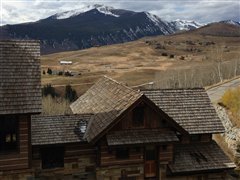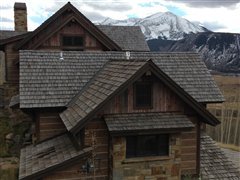 Garage
9)

Minor ceiling damage was found in one garage ceiling area. However, no elevated levels of moisture were found. The damage may be due to past roof leak. Recommend asking the property owner(s) about this, and monitoring the stained area(s) in the future, especially after heavy or prolonged rain. If elevated moisture is found in the future, a qualified contractor should evaluate and repair as necessary.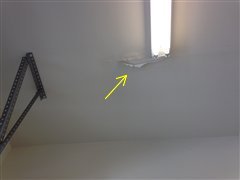 10)
Garage interior aspects.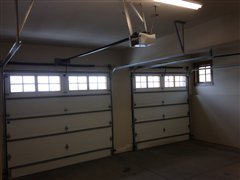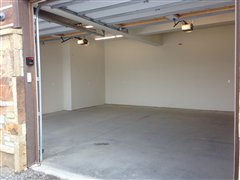 Electric service
Primary service type: Underground
Primary service overload protection type: Circuit breakers
Service amperage (amps): 200
Service voltage (volts): 120/240
Location of main service switch: At the meter and main service located at the South West corner of the home
Location of sub panels: Two main service panels are located in the laundry room second level
Location of main disconnect: No single main disconnect, use all breakers in main service panel
Service entrance conductor material: Aluminum
System ground: Cold water supply pipes
Main disconnect rating (amps): 200
Branch circuit wiring type: Copper
Solid strand aluminum branch circuit wiring present: No
Smoke detectors present: Yes
11)
Main electrical components and their locations.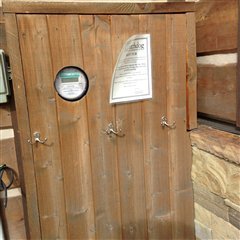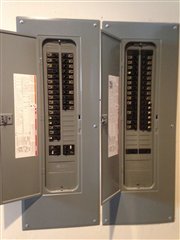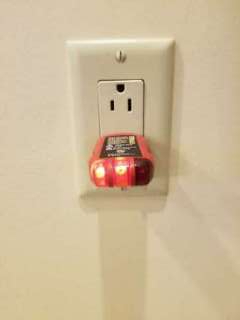 Water heater
Estimated age: < 6 years
Type: Tank Indirect fired storage tank
Energy source: Natural gas
Capacity (in gallons): 110
Manufacturer: Smart
Model: Triangle Tube
Water temperature (degrees Fahrenheit): Approximately 130 degrees
12)
Hot water tank and approximate water temperature.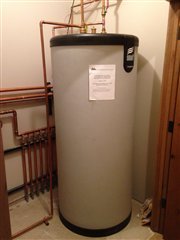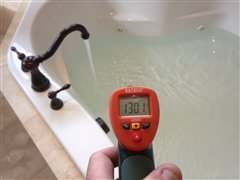 Heating and cooling
Estimated age: < 6 years
Primary heating system energy source: Natural gas
Primary heat system type: Hydronic radiant floors
Primary A/C energy source: N/A
Primary Air conditioning type: N/A
Distribution system: N/A
Manufacturer: Triangle Tube Wall Boiler
Model: Prestige Solo 175
13)

The last service date of this system appears to be more than one year ago, or the inspector was unable to determine the last service date. The client(s) should ask the property owner(s) when it was last serviced. If unable to determine the last service date, or if this system was serviced more than one year ago, a qualified hydronic heating specialist should service this system and make repairs if necessary. This servicing should be performed annually in the future.
14)
Heating components.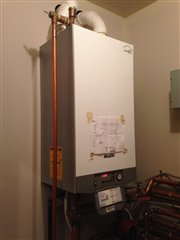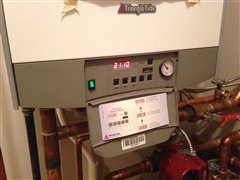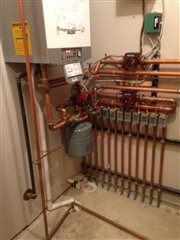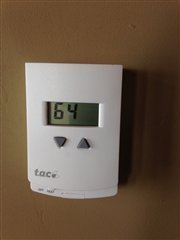 Plumbing and laundry
Water pressure (psi): < 80 psi
Location of main water shut-off valve: In the crawlspace at the water meter
Location of main water meter: In the crawlspace
Location of main fuel shut-off: At the North East corner of the home at the meter
Visible fuel storage systems: N/A
Water service: Public
Service pipe material: Copper
Supply pipe material: Copper
Vent pipe material: Plastic
Drain pipe material: Plastic
Waste pipe material: Plastic
15)

The clothes dryer exhaust duct appears to may need cleaning. Significant amounts of lint build up was found. This is a safety hazard due to the risk of fire from decreased air flow. This duct should be cleaned now and annually, or more often if necessary in the future. Some chimney sweeps or heating/cooling duct cleaners perform this service. For more information, visit:
http://www.cpsc.gov/CPSCPUB/PUBS/5022.html
http://chimneykeepers.com/dryerclean.html
16)
Main water shut off, water meter, gas meter and main disconnect and their locations.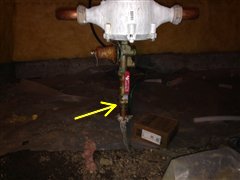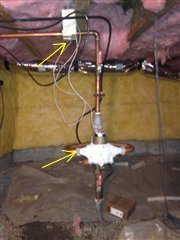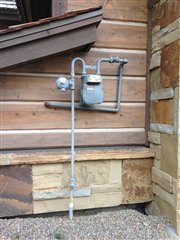 Fireplaces, woodstoves and chimneys
Fireplace type: Masonry with metal liner, Metal prefabricated
Chimney type: Metal
17)


The North master suite gas fireplace did not respond when the controls were operated. This may be due to the pilot light being turned off, the gas supply being turned off, or any number of other reasons. As a result, these appliances were not fully evaluated. As per the Standards of Practice for both the
National Association of Certified Home Inspectors (NACHI)
and the
American Society of Home Inspectors (ASHI)
the inspector does not operate gas shut off valves or light pilot lights during inspections. Recommend consulting with the property owner(s) as to how the fireplace(s) and/or stove(s) operate, and/or having a gas appliance contractor evaluate and repair if necessary.
18)
The home has a wood burning fireplace in the living area and gas burning fireplaces in the two master suites.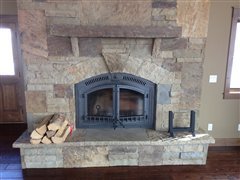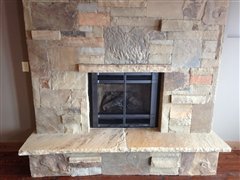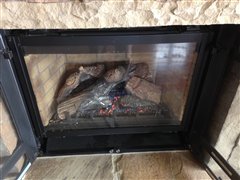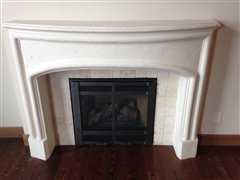 Crawl space
Inspection method: Traversed
Insulation material underneath floor above: Fiberglass roll or batt
Pier or support post material: Wood
Beam material: Solid wood
Floor structure above: Engineered wood joists
Vapor barrier present: Yes
19)
Crawlspace aspects.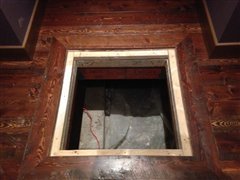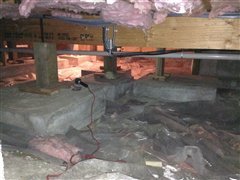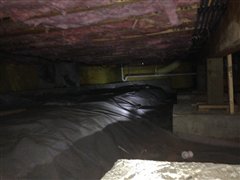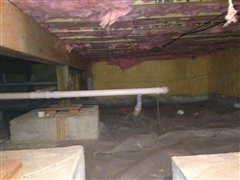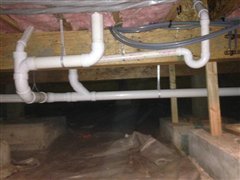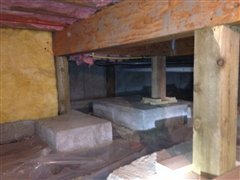 Kitchen
20)



The top left stove top burner appears inoperable. A qualified appliance technician should evaluate and repair as necessary.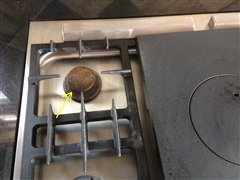 21)


One or more light fixtures are slightly damaged and/or deteriorated in some way. A qualified electrician could evaluate and repair or replace light fixtures or components as necessary.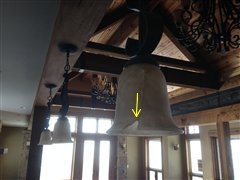 22)
Kitchen aspects and appliances.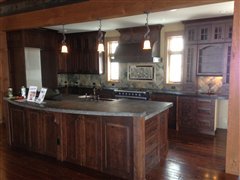 Bathrooms
23)



The jet tub in the North master suite bathroom did not respond to normal operation of the controls. The inspector observed the GFCI circuits and tub components below the tub and could not determine the reason for the malfunction A qualified contractor could evaluate and repair as necessary.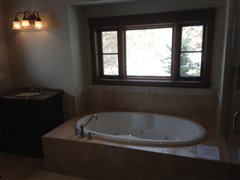 24)
Bathroom aspects.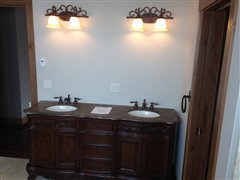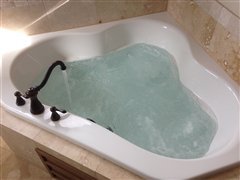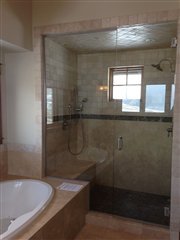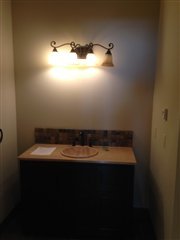 Interior rooms
25)



The ground fault circuit interrupter (GFCI) electric receptacle located at the South master suite wet bar is tripped and will not reset. A qualified electrician should evaluate and replace or make repairs as necessary.
26)



One or more windows that were built to open, will not open, or open only minimally due to their being painted shut, damaged and/or deteriorated in some way. Repairs should be made as necessary, and by a qualified contractor if necessary so windows open fully, and open and close easily.
27)


Batteries in all the smoke alarms should be replaced after taking occupancy, and annually in the future. "Chirping" noises emitted from smoke alarms typically indicate that batteries need replacing. For more information, visit:
http://www.cpsc.gov/cpscpub/pubs/5077.html
28)

The home is equipped with a residential grade elevator that services all three levels of the home. Recommend having the elevator serviced regularly as suggested by the manufacture and or a qualified elevator service contractor.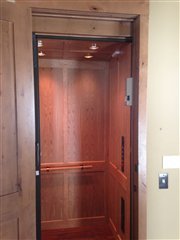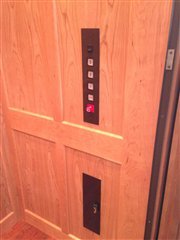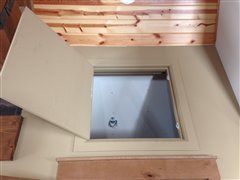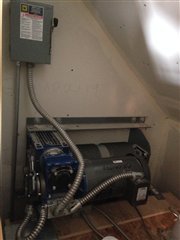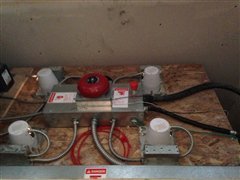 29)
Interior aspects.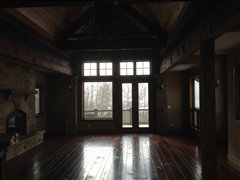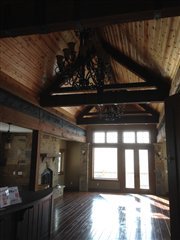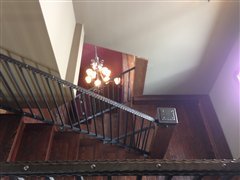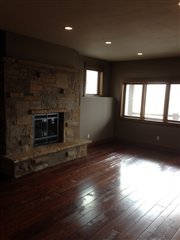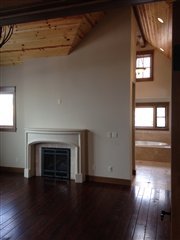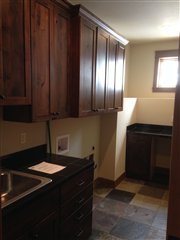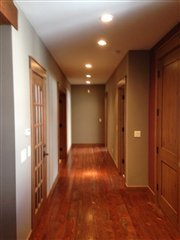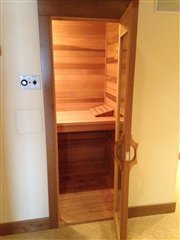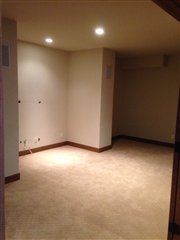 ---
Thank you for choosing Absolute Home Inspection.
I welcome any feedback or questions you may have throughout this process and wish you all the best in your new home.