- An electric receptacle in the master bedroom west wall has burn or scorch marks on it. Receptacle(s) and/or wiring to them may be damaged. A qualified electrician should evaluate and make repairs as necessary, such as replacing damaged receptacles and/or wiring.
---
50)
Repair/Replace
- Carpeting in the southeast bedroom has spots in it that appear to have had the color bleached out. Recommend if desired by the client replacing carpeting where necessary.
---
51) Repair/Replace - Trim is missing in the basement areas. Recommend having a qualified contractor install trim where missing.
---
52)
Maintain
- Carpeting in one or more rooms is soiled and/or stained. Recommend having carpeting professionally cleaned as necessary.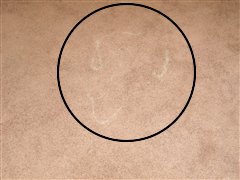 Photo 52-1
Stain in living room carpet.
---
53)
Comment
- Cracks were found in wall and ceilings joints in one or more areas. They do not appear to be a structural concern and are likely due to poor craftsmanship, but the client may wish to repair these for aesthetic reasons.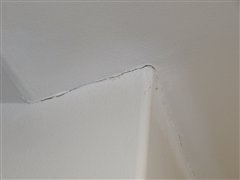 Photo 53-2
Master bedroom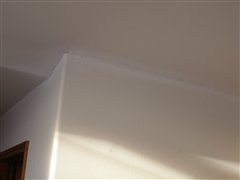 Photo 53-3
Master bedroom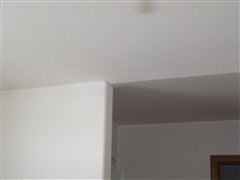 ---
54) Comment - Inspectors closing comments:
This should be a great starter home for the client with a few concerns that are listed in this report that should be taken care of now.
Most of the other concerns in this report are deferred maintenance issues and can be repaired as time and budget allows.
Also recommend asking the seller for any operator owner's manuals they may have for any of the homes appliances such as the wood stove, hot water tank, furnace, whirlpool tub, and garage door opener to name a few.
---
55) - Most walls are in need of a fresh paint job if desired by the client.
---
Structural pest inspection
Granite Peak Inspection, Inc.: Granite Peak Inspection, Inc.
Pest Inspector: Bradley Gotham: Pest Inspector: Bradley Gotham
WSDA# 78889: Idaho inspection no WSDA #
2668 C Hwy 20 E: 2668 C Hwy 20 E
Colville, WA 99114: Colville, WA 99114
Phone 509.684.5827: Phone 509.684.5827
Email granitepeakinspection.com: Email granitepeakinspection.com
Inspection Date:: 12-21-2010
File No.:: 2010068
Time:: 1:00PM
Visit #:: One
Structure Inspected:
City: Spokane
State: WA.
Zip: 83854
Visible Evidence of Active Wood Destroying Insects: No
Visible Evidence of Active Wood Decay Fungi: Yes
Visible Evidence of Damage by Wood Destroying Organisms: Yes
Visible Evidence of Conditions Conducive to Wood Destroying Organisms: Yes
Disclaimer: Neither the inspector nor the inspection firm shall be liable for any corrective actions required by future inspections as a consequence of this evidence. See FINDINGS and DIAGRAM page(s) of this report bearing the same ICN, for details.
Limitation of Liability: In accordance with the provisions of the Revised Code of Washington (RCW) 15.58.450, this report relates to a single sale, transfer, exchange, or refinance and is not transferable to and may not be relied upon by parties involved in any subsequent sale, transfer, exchange, or refinance of the same property. The findings listed within this report are determined by the inspector based on a visual inspection conducted in accordance with Washington Administrative Code (WAC) 16-228-2005 through 2045 and are subject to the limitations within this report, the standards listed below, and as modified by any and all associated reports attached. The above inspecting firm and inspector endeavor to perform their services in a professional manner consistent with the care and skill ordinarily exercised by structural pest inspection professionals. The inspecting firm will re-perform any services not meeting this standard without additional compensation. In any case, the inspecting firm's total liability is hereby limited to amounts paid to the inspecting firm for the inspections made of the inspected structure. The inspecting firm will not be liable for any special, incidental, punitive or consequential damages, whether foreseen or unforeseen, regardless whether liability is based on breach of contract, breach of express or implied warranty, negligence, strict liability, tort or otherwise.
---
Full Home & Wood Destroying Organism Inspections
WWW.GRANITEPEAKINSPECTION.COM
Office 509-684-5827 Cell 509-675-4620
Home Maintenance Check List
Monthly:
1. Clean dishwasher filter(if provided), usually at lower spray arm.
2. Purge garbage disposal by first filling kitchen sink with clean water, then turn on food disposer until water is drained through.
3. Change/clean air conditioning return filters monthly. This will help keep your air cleaner and system running more efficiently. Clogged air filters will make your system operate longer than required, thereby increasing your monthly bills.
4. Wash refrigerator/freezer interior walls and door liner with solution of 1 quart warm water: 2 tablespoons of baking soda, and wipe dry.
5. Vacuum and clean all return air ducts/grills.
6. Inspect lighting fixtures and replace blown light bulbs.
7. Clean clothes drier lint traps and or ducts to reduce fire risk.
8. Clean toaster oven crumb tray.
Quarterly:
1.Inspect exterior doors to ensure they are weather tight. Adjust or replace weather stripping as needed.
2. Service doors(incl. garage doors) and drawers, clean and lubricate latches, hinges and guides.
3. Inspect and repair exterior caulking around windows, doors, and siding.
4. Replace/clean central heating system(furnace) filters.
5. Re-tighten knobs on kitchen cabinets, don't over tighten.
Semi-Annually:
1. Have heating and air conditioning systems inspected and serviced by licensed contractor.
2. Inspect and test smoke alarms and carbon monoxide detectors and replace back up batteries.
3. Check (GFCI)ground fault interrupted circuits. Test if grounded and correct polarity.
4. Inspect and maintain proper drainage around home. Clean gutters and down-pipes and ensure water is flowing away from your home.
5. Inspect home for rodent droppings or other pests. Have home treated as needed.
6. Test sump pump for reliable operation, especially before any rainy season.
7. Wash fan housing and metal filter connected to range hood exhaust fans. These can be safely washed by placing them inside the dishwasher.
8. Vacuum coils behind refrigerator/freezer to remove dust, this will improve efficiency of unit.
9. Tap off a bucket of water from the hot water heater until it runs clean.
Annually:
1. Inspect and repair settling cracks (if necessary).
2. Inspect and lubricate garage door tracks.
3. Inspect exterior paint for cracking and wear. Repaint or seal as needed.
4. Turn off power to then drain and refill water heater.
5. Trip main breaker on electric panel.
6. Inspect all electric cords and replace if necessary.
7. Inspect attic for water damage, birds, and rodents.
8. Inspect all electrical cords and replace if necessary.
9. Inspect basement for moisture/mold and wood rot.
10. Inspect attic for signs of roof leaks or water damage, bird nests, rodent or squirrel nests, and clean if necessary.
11. Change water filters and have water softeners serviced.
12. Inspect roof flashings, chimney caps, shingles(for mold and damage) and caulking for possible damage.
13. Pressure wash deck, walkways and driveway.
14. Reseal wood decks with preservative and inspect and secure nails that may be protruding out. Nails have a tendency to pop out after very cold weather conditions.
15. Clean or replace oil filter(oil fired burner only).
16. Inspect outside electrical service feeder for exposed bare wires and tree interference.
17. Inspect basement/crawl space area for signs of termites and/or other wood-boring insects.
18. Use hose to wash off dirt from coil and fan in heat pump/condenser locate outside of house.
19. Inspect all hoses(and replace if necessary) connected to laundry washer unit.
20. Clean and seal ceramic tile grout lines in bathrooms/toilets/kitchen.
21. Check caulking at tub and shower, and replace if necessary.
22. Wash and blow clean bathroom exhaust fan grill and fan blades.
23. Wash windows(exterior and interior), screens, seals and ledges. Repair if necessary.
24. Clean and lubricate sliding glass door tracks and window tracks.
25. Check stucco joints around doors and windows.
26. Inspect the dishwasher's motor motor spin seal, and replace if necessary.
27. Inspect laundry washer water fill hoses for cracks, blisters, corroded fittings and leaks.
28. Place beeswax or paraffin on built-in kitchen cabinets that have wooden guides.
29. Inspect for creosote deposits in the fireplace flue liner, these are black or brown residue of combustion that collects on the inner surfaces. If the build up is more than 1/8 inch, remove it.
30. Vacuum around the gas hot water heater(especially near furnace) to remove dirt and grime.
Tips for clogged drains:
Keeping the Drains Clear:
1. By pouring a pot of hot water down the drain once a week will melt away any fat or grease that may have built up in the drain line or P-trap.
2. If you have a clogged drain, just pour a 1/2 cup of baking soda and 1/2 cup of white vinegar down the drain. Cover the drain and let the mixture sit for a few minutes, then pour a pot of hot water down the drain. This will break down fats and also keep the drains smelling fresh.
3. Every six months, keep your drains clean by using a copper sulfide or sodium hydroxide-based drain cleaner, or other recommended drain cleaner available from your local store.
Other safety tips:
Ensure that you know where the following items are located:
1. Emergency contact telephone numbers.
2. Fire extinguishers and water hose.
3. Heating gas/fuel main shutoff valve.
4. Main electrical disconnect circuit breaker(breaker box/service panel).
5. Main drain line clean-out.
6. Main water shut off valve.
7. All window and door exits.
In addition to the above, carry out the following monthly safety checks:
Some of these items may have already be included in the home maintenance list, but these monthly safety checks are advisable for safety reasons:
1. Test ground fault circuit interrupter receptacles(GFCI's).
2. Test smoke and carbon monoxide alarms, replace batteries if necessary.
3. Inspect and lubricate (if necessary) all emergency exits, including windows and doors.
4. Inspection of heating unit and water heater for visual integrity.
Home appliance estimated life spans:
1.Dishwasher water valves: 3-7 years
2.Range and oven: 18-20 years
3.Garbage disposal: 10 years
4.Microwave: 10 years
5.Refrigerator: 18-20 years
6.Laundry washer: 14 years
7.Laundry drier: 14 years
8.Refrigerator/Freezer: 18-20 years
9.Central air conditioner system: 15 years
10.Window mounted air conditioning system: 8 years
11.Bathtub/Sink: 50 years
12.Garage door opener: 10 years
13.Laundry water fill hoses: 3-5 years
14.Trash compactor: 10 years
Energy saving web-sites:
Perhaps you never thought of your home as a likely place to save you a lot of money, but it is. Most homes are far from being energy-efficient. That means if you are using more energy than you have to, you are also paying higher monthly bills than necessary. By checking out the following energy saving web-sites, you will be able to gain some wise energy saving ideas that you will be able to put to use right away. You can do many of them yourself, others may require the services of a licensed contractor:
http://www.dom.com/customer/efficiency/res/home/indoor
http://www.eere.energy.gov/buildings/building_america
http://www.aceee.org/consumerguide
http://www.efficientwindows.org
Thanks for using:
Granite Peak Inspection, Inc.
Bradley E Gotham, President
Licensed home inspector
License No. 554
WSDA Structural Pest Inspector
License No. 78889
(509)684-5827