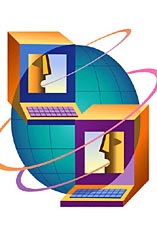 Receive 10 free reports!
From clients:
"What an awesome report! I have NEVER seen such a clear, understandable, helpful report."
"This is the most incredible, informative, thorough inspection report I've ever received!"
"Your reports reflect your professionalism. Thank you for doing such a great job."
"The report is great - the information presented and the pictures are terrific. It appears to be a report that will be hard to dispute or argue about."
"Wow, this is awesome, complete with digital photos & icons. This is interesting and informative. Thank you so much for the report and your time and professional analysis."
"BTW, this report looks GREAT!"
About ReportHost for tablets
ReportHost for tablets is free software that lets you record your inspection findings with iPad and Android tablets (or any portable device with a modern web browser). No internet connection is needed during inspections. After your inspection, you upload your report to our website, add your photos, spell check and publish. It's fast, flexible and easy to use.

Watch a 1-minute video
---
Love love love the tablet version. I am using an Acer Iconia Android. I had bought AHIT's inspectit back in August but the sluggish response and speed of use has made me stop using it and go back to ReportHost. This is by far the best in-the field reporting software going right now. I've tried the Android versions of AllInspections, 3D, Quikreports, and obviously AHIT's Inspectit. Just can't top the usability and speed. Speed speed speed is the #1 issue that I am after. Your use of HTML5 and making the in field product the same as what is displayed back at the office computer is awesome. This product flat out works wonders for me speed wise. I just did a 2200 sq ft inspection in 2 hours and now all I have to do is throw in the pics and I'm done. Can't say enough good things about the product. You've won me back with the technology. Thanks for making something so unique and functional. -Glenn Fricke
DG Construction & Inspections
---
A screen shot of ReportHost for tablets (slightly reduced in size):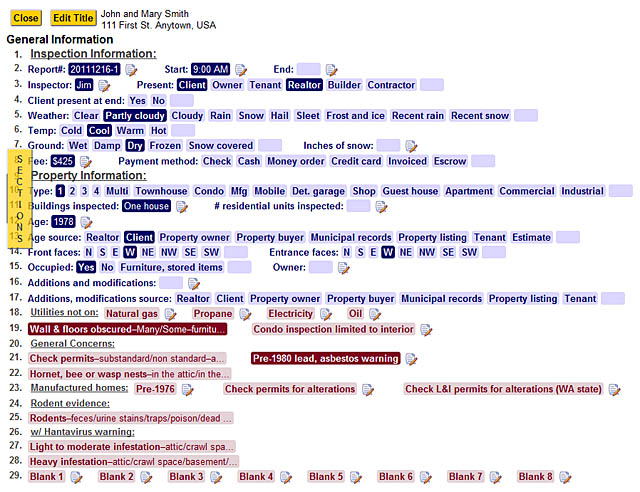 ---
It's fast because you can quickly navigate back and forth between report sections with a pop-up menu. Report sections render very quickly, regardless of how complex your report template is.

It's flexible because you can modify your template at any time by cloning, deleting and renaming report sections. Found a second water heater? Clone the Water Heater section. No garage? Delete the Garage section.

ReportHost for Tablet's pop-up menu: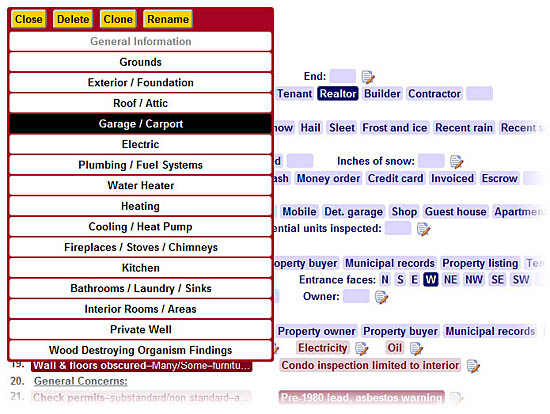 ---
We know everyone doesn't have slender fingers to touch tiny controls or sharp eyesight to read tiny text, so ReportHost for tablets gives you four text size choices.

Text size selector:


---
We added our inspection reference sheets to ReportHost for tablets so you can quickly and easily look up information for:
Insulation ratings, bedroom window egress requirements, B/L-vent clearances, allowable spans for lumber
Water Heater Manufacture Dates by Serial Number
Furnace Manufacture Dates by Serial Number
AC Mfg. Dates and Capacity
Electric meter/base ratings, service conductor ratings, branch circuit ratings, GFCI requirements by year
Kitchen Appliance Recalls
Water Heater Recalls
Furnace Recalls
Inspection reference sheet and drop down selector (Electric sheet shown):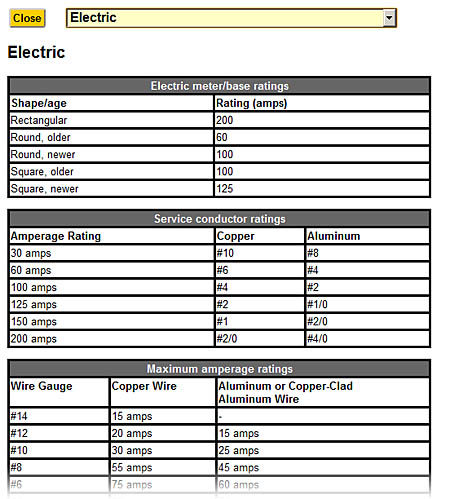 ---
How it Works
ReportHost for tablets is an HTML5 web application. You don't need to download or install software. You simply navigate to a page on our website with your tablet's web browser, and everything ReportHost for tablets needs to operate off-line is downloaded to your tablet automatically. Then, when you're on-line you can start reports or upload them to our website. When you're off-line during an inspection, you can open reports and record your findings. It's easy!
---
Don't have a tablet yet? No problem, you can try it out with your desktop computer to see if you think you'll like it. We think you will.